December 6, 2016
12/6/16
Contemporary large-scale paintings and sculptural hybrids are on view in NO MAN'S LAND: Women Artists from the Rubell Family Collection. The exhibition imagines a visual conversation between 37 women artists from 15 countries exploring images of the female body and the physical process of making. Mira Dancy, Isa Genzken, and Mickalene Thomas use images of the female nude in unexpected ways.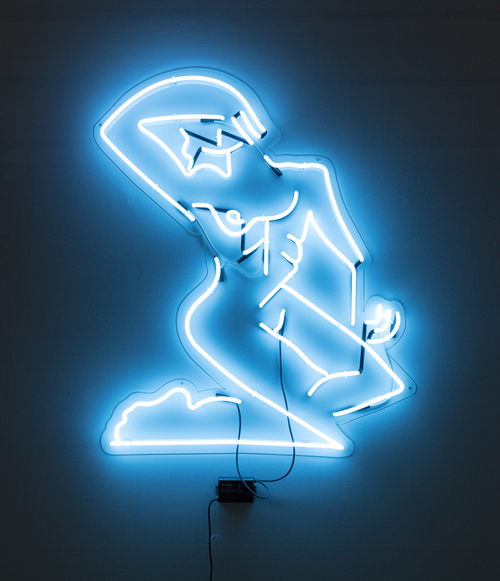 What's On View?
Mira Dancy's Street Ofelia (neon blue), 2014
Mira Dancy (b. 1979, England) says that while her work "revolves around making paintings" her process often "extends into other forms," including neon, vinyl, Plexiglas, video, and poetry.
In her work, Dancy is interested in creating images of women that "summon the implicit trauma that comes with subjecthood, the gaps that are forged between an inner and outer being." Dancy's nudes serve as explorations of broader ideas through the use of the female body. "The bodies I paint are not realistic," she says. "I often think of them as wearing 'nude suits.' Their flesh is silver, blue, green, red, hot pink. The body is not the subject, but the medium."
Isa Genzken's Schauspieler, 2013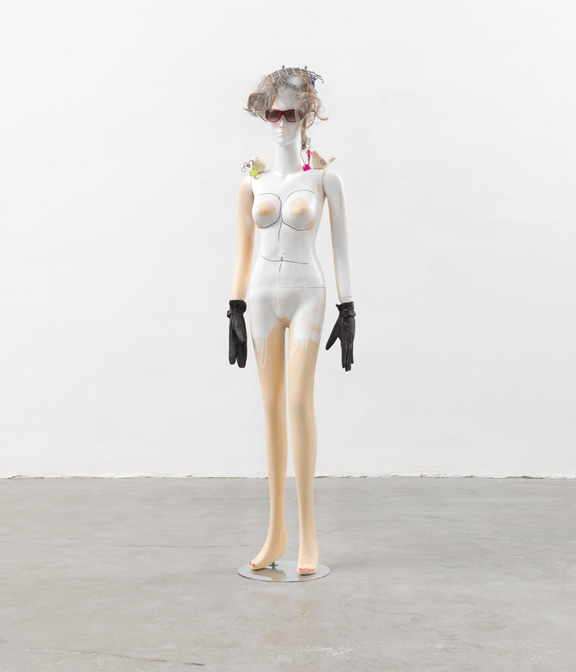 Isa Genzken (b. 1948, Bad Oldesloe, Germany) once said, "I want to animate the viewers, hold a mirror up to them." This attitude is evident in Schauspieler, from a series of life-size mannequins that "appear indistinguishable from those in department store windows," but are "disrupted by lines of spray paint on their bodies, tape wrapped around their mouths, and other interferences."
Schauspieler, meaning "actor," critiques capitalism and commodification of the female body. The figure's wig, glasses, and drawn markings—evocative of plastic surgery—point to the futility women face in their efforts to conform to an unobtainable physical ideal. Through the "role reversal" of channeling art-viewers, Genzken challenges the public to think differently about representations of the female body.
Mickalene Thomas's Whatever You Want, 2004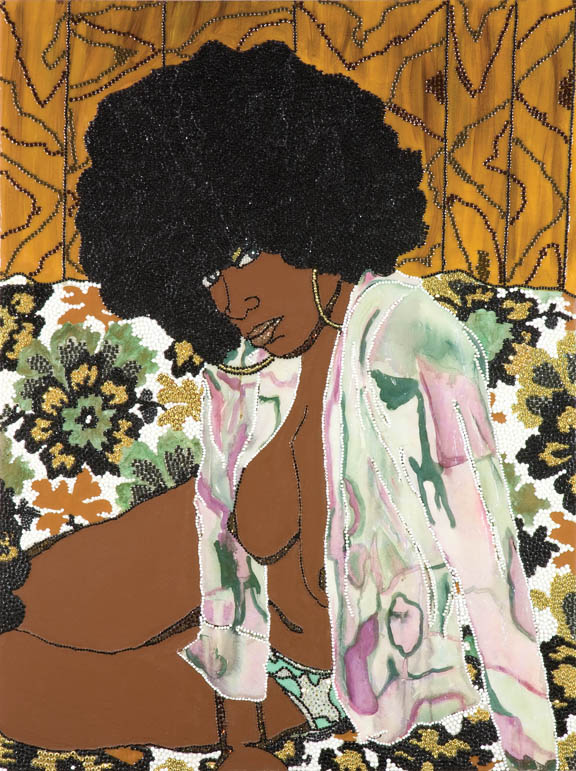 Mickalene Thomas (b. 1971, Camden, New Jersey) reproduces her own photographs as paintings with acrylic, enamel, collage, and rhinestones. Drawing inspiration from sources ranging from 19th-century French painting to 1970s Blaxploitation films, Thomas's work attempts to "inject black women into the art historical canon."
Whatever You Want features a black female protagonist in a pose referencing the portrayal of white female nudes in the Western painting tradition. Thomas's figures typically meet the viewer's gaze "while lounging in outlandishly patterned interiors and exuding an aggressive sexuality." Their confrontational gazes contain "awareness: they exist, are present, and they are not going to let you go away easily." By portraying "real women with their own unique history, beauty, and background," Thomas broadens the representations of black women in art.
Reserve your spot to meet artist Mira Dancy at NMWA on December 13, 2016 for a special in-gallery conversation. Visit the museum and explore NO MAN'S LAND, on view through January 8, 2017.