May 28, 2015
5/28/15
NMWA exhibition Casting a Spell: Ceramics by Daisy Makeig-Jones features work that the artist (1881–1945) created for the Wedgwood pottery company. She is best known for Fairyland Lusterware, a Wedgwood line incorporating fairies, imps, and other fantastical creatures into the intricate decoration of ceramic wares. Lusterwares are made with metallic glazes, producing an iridescent effect on the finished works.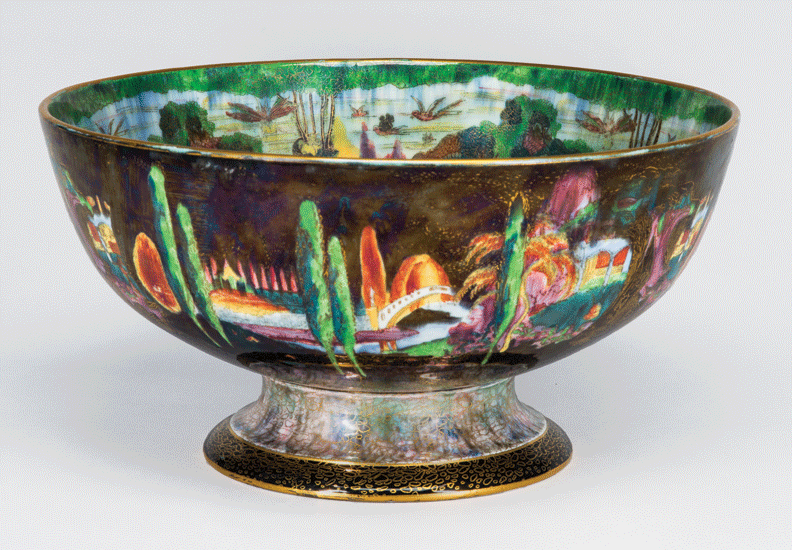 Fairyland Lusterware production was divided into eight color schemes, with four corresponding to types of natural light: day, night, sunset, and moonlight. To achieve an especially dramatic effect, she occasionally paired two color schemes within one vessel.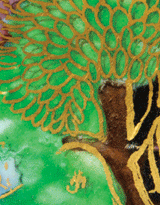 A punch bowl on view displays the "Poplar Trees" design in the Black Fairyland palette on its exterior and the "Woodland Bridge" motif in the soft Daylight palette on the interior.
Although Wedgwood policy prohibited the signing of works, Makeig-Jones added her initials—a small "MJ"—into this variation of Woodland Bridge. The overlapping letters appear five times in this bowl, to the left of the base of the clustered trees.
The initials likely were engraved into the copperplates that Wedgwood artisans used to transfer Makeig-Jones's designs to the ceramic objects.