December 29, 2015
12/29/15
Dynamic women designers and artists from the mid-20th century and today create innovative designs, maintain craft traditions, and incorporate new aesthetics into fine art in Pathmakers: Women in Art, Craft, and Design, Midcentury and Today, now on view at the National Museum of Women in the Arts. Each week, compare and draw parallels between works on view in Pathmakers and NMWA collection favorites.
On view in Pathmakers
Gabriel Maher, DE___SIGN, 2014
Maher examines the ways in which design supports and shapes concepts of "male" and "female." Maher's work in Pathmakers reveals how gestures, movements, and positions can imply gender norms.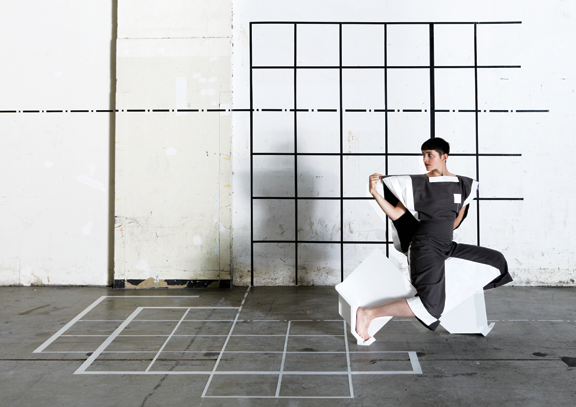 Who made it?
Australian-born designer Gabriel A. Maher (b. 1983) practiced and taught interior architecture in Australia until 2012 and received a Masters degree in Social Design at Design Academy Eindhoven (Netherlands) in 2014. Maher identifies as gender queer and prefers the pronouns "they" and "them"—representing gender as a spectrum.
How was it made?
Clothes can often reinforce "male" or "female" looks. Maher's video work DE___SIGN includes a garment designed for personal use. Lacking gendered colors, the gray outfit—or "behavioral tool" as Maher calls it—can limit or exaggerate body movements and postures. Dancers and models wear the garment in a series of performances. The video also shows performers using a chair designed by Maher that enables the body to move into positions often associated with either "maleness" or "femaleness" including knees together or knees spread apart. Together, the clothes and chair in Maher's work show how gender is constructed and can be reconstructed.
Collection connection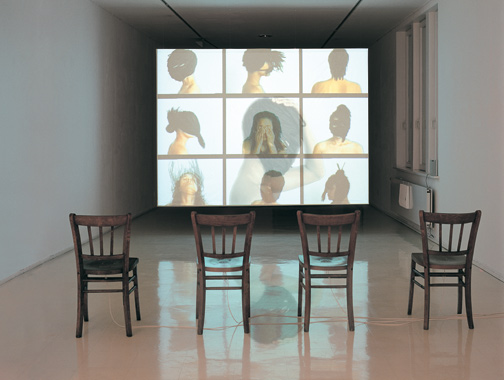 A work in NMWA's collection, Neger Don't Call Me (2000) by Ingrid Mwangi (b. 1975), also explores representations of identity through video performance. A grid of nine frames alternates to a single image showing the artist's face covered and uncovered with masks made from her own hair. Mwangi explained that her hair represents one facet of her identity. The installation incorporates four wooden chairs with speakers attached under the seats. A recording of Mwangi fills the space, repeating stories from her childhood related to the German word "neger," or negro, as it translates in English. The artist explains, "Many people can't say the word because they are so wounded by it, but for me, the more I used it, the history behind the word dissolved."
Throughout her career, Mwangi focuses on issues of "hyphenated" identity. With Kenyan and German roots, Mwangi has lived in Africa and Europe. Her work often investigates Western culture's tendency to label people with a race or nationality. Through video and performance art, Mwangi uses and manipulates her body to confront and dismiss these stereotypes. In 2005, Mwangi and her husband, Robert Hutter, merged their names and biographies as IngridMwangiRobertHutter. They consider all new and old artwork as part of their collective.
Visit the museum and explore Pathmakers, on view through February 28, 2016. Join a conversation with Gabriel Maher and design critic Alice Rawsthorn on January 27, 2016 during FRESH TALK: Can Design Be Genderless?