February 24, 2021
2/24/21
The sixth installment of NMWA's Women to Watch exhibition series, Paper Routes, was presented October 8–December 23, 2020, by the museum with the integral partnership of our national and international outreach committees. The exhibition showcases contemporary artists working in paper, celebrating their wide-ranging approaches and the transformation of this ubiquitous material into complex works of art.
Explore the exhibition online! Listen to an audio guide, watch studio tours with many participating artists, take an exhibition tour, purchase the catalogue, and more.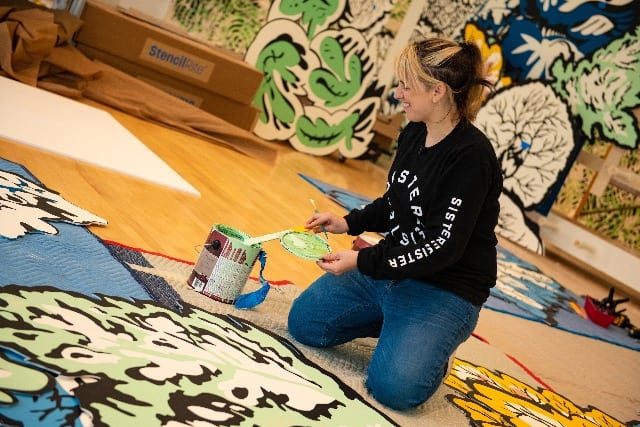 Natasha Bowdoin (b. 1981, West Kennebunk, Maine)
Nominating committee: Texas State Committee
Consulting curator: Katherine Brodbeck, Dallas Museum of Art
Bowdoin, who was raised in Maine and worked as a lobsterwoman before art school, was inspired by her home state's environment to create works with natural elements. She is best known for her large-scale, intricate relief installations that often feature flowers and incorporate cut paper, text, thick ink lines, and painting. In her works, Bowdoin investigates the potential intersections of the visual and the literary, channeling the experience of reading into the activity of drawing, while reimagining our relationship to the natural world. Bowdoin sources text from literature, overheard conversations, remembered song lyrics, and her own stream-of-conscious writing.
The Artist's Voice
"I combine methodical labor with spontaneity as I cut and collage paper by hand. An organic material itself, paper provides me with a crucial flexibility; the relative ease with which I can add on or cut away leaves room for serendipity right to the end, allowing the work to expand, contract, and respond to its environment. Some pieces have more in common with painting, while other work takes on sculptural aspects of site-specificity and ephemerality."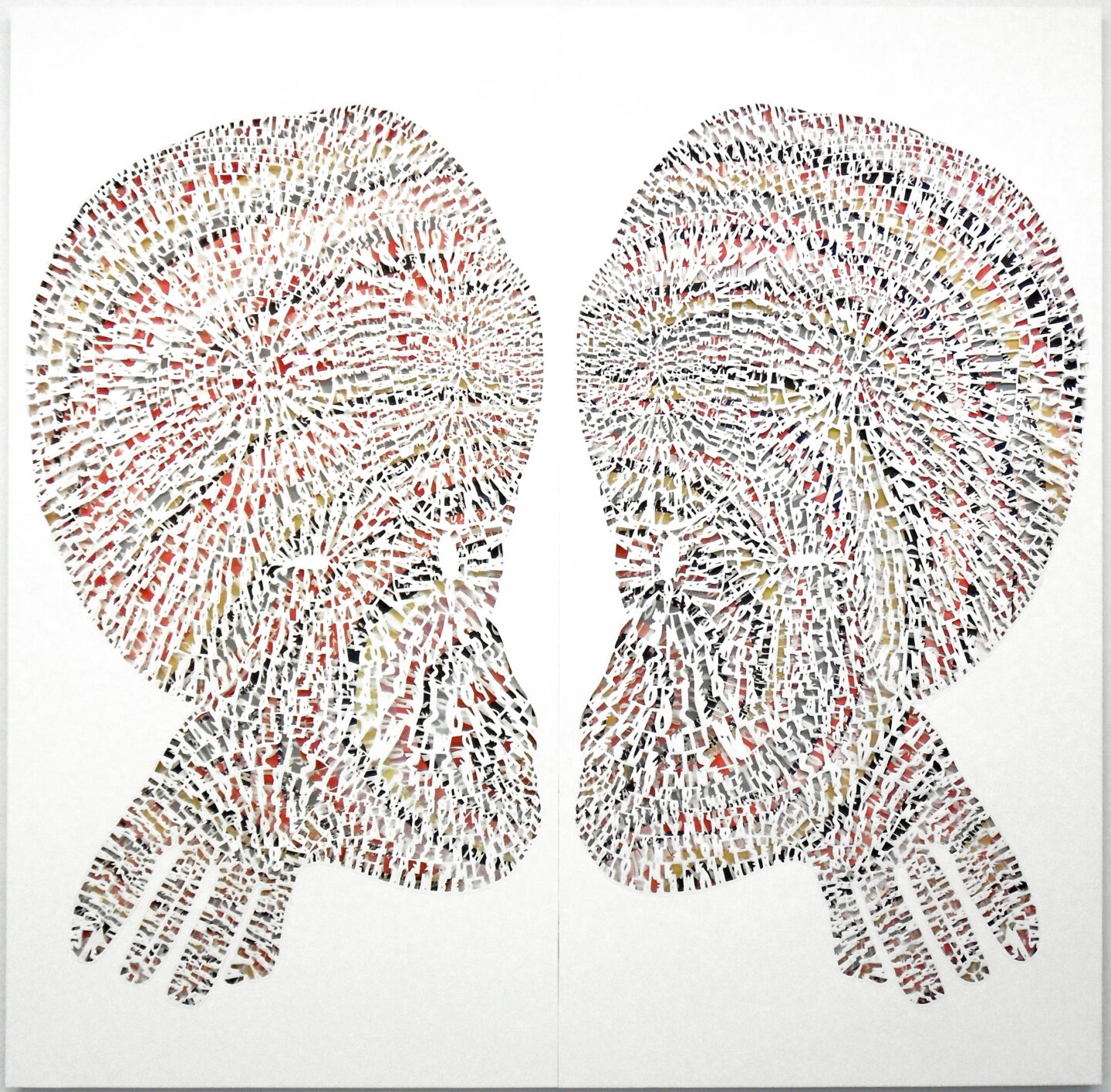 Paper Routes: Women to Watch Highlight
Contrariwise (2011) depicts two symmetrical skull-shaped forms facing each other. Thousands of small cuts in the shapes of letters reveal a deeper layer of paper painted in blue-black, bright red, mustard yellow, and gray. The cut letters are a transcription of the dialogue spoken between Tweedledee and Tweedledum in Lewis Carroll's Through the Looking-Glass (1871). Bowdoin says, "Carroll's text dissolves and regenerates in the guise of twin chattering skulls, blurring the boundary between looking and reading. Paper allows for the element of transformation that is crucial to all that I make."