January 12, 2021
1/12/21
The sixth installment of NMWA's Women to Watch exhibition series, Paper Routes, was presented October 8–December 23, 2020, by the museum with the integral partnership of our national and international outreach committees. The exhibition showcases contemporary artists working in paper, celebrating their wide-ranging approaches and the transformation of this ubiquitous material into complex works of art.
Explore the exhibition online! Listen to an audio guide, watch studio tours with many participating artists, take an exhibition tour, purchase the catalogue, and more.

Paola Podestá Martí (b. 1970, Santiago, Chile)
Nominating committee: Chile Committee
Consulting curator: María Irene Alcalde, Museo de Artes Visuales
Martí studied sculpture and aesthetics at the Pontifical Catholic University of Chile before receiving her master's degree in visual arts from the University of Chile. She is known for large-scale works that incorporate animal motifs and architectural detail. Martí's art explores space and its possibilities, on small and grand scales. Her recent work takes inspiration from the aesthetic of historic palaces and buildings in Chile.
The Artist's Voice
On her choice to work with paper, Martí said, "I came to paper because it is a light material, easy to store and move, noble but simple. I decided to give continuity to my artistic work and, above all, not to use it only as a support for ideas, but to be the message itself, which is part of what I want to communicate in the series: the fragility of scarce luxury in a poor country. A fragility that is not only material, but also social."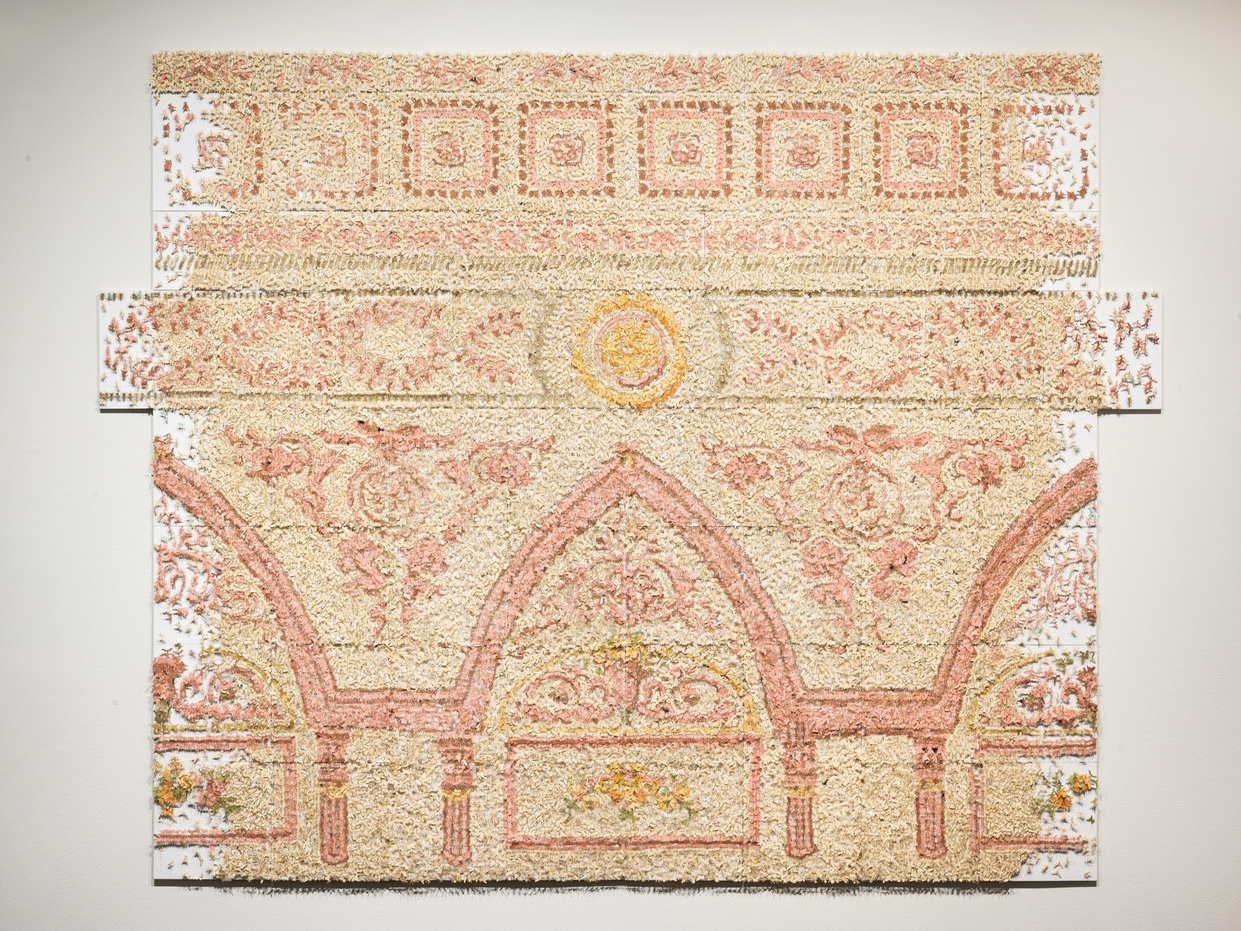 Paper Routes Highlight
Vergara Palace Cornice (2010) is a paper reproduction of an architectural fragment of the Vergara Palace in Viña del Mar, Chile—the former home of the city's founder. Martí painstakingly reproduced a decorative cornice from the palace by creating and placing thousands of laser-cut insects, including ants, cockroaches, moths, and spiders. She chose these insects because they are common critters that take over spaces after humans stop tending to them. Martí also decided to keep burned and imperfect laser-cut insects in the work.
Up close, viewers see the clusters of individual insects, but when seen the work is seen from a distance, the bugs blend together to evoke architectural patterns through their coloring. The paper insects are affixed to a white backing with small black pins, which allows light to cast shadows from the insects, giving the piece depth and additional texture.
Learn more from the artist in this exclusive studio tour: