October 31, 2015
10/31/15
In the spirit of Halloween, explore the painting Will-o'-the-Wisp (ca. 1900) in NMWA's collection. Painted by Elizabeth Adela Armstrong Forbes (1859–1912), the work contains ominous and mystical elements.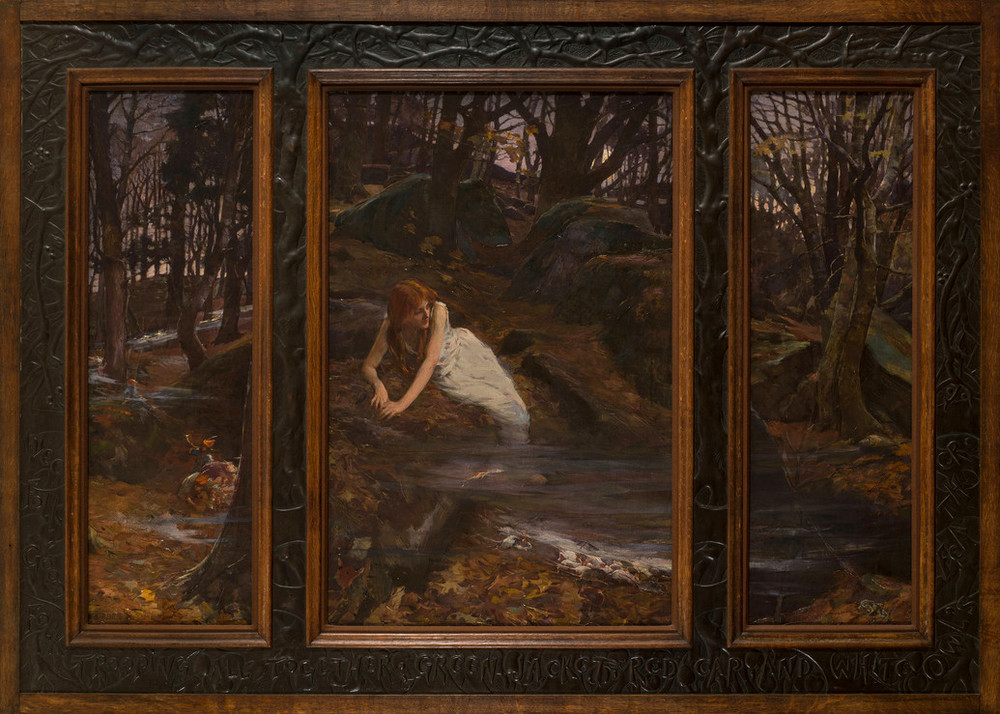 Forbes struggled to balance her art career against societal rules and ideas of propriety. In 1899, Forbes and her husband opened the Newlyn Art School in England. Despite her professional accomplishments and her status as cofounder of the school, she faced the perception that women should not work outside of the home. Still, she won prestigious awards including medals for painting at the 1891 Paris International Exhibition and at the 1893 World's Columbian Exposition in Chicago. Achieving great success, Forbes—fondly called "the Queen of Newlyn"—exhibited and sold more work than most of her male contemporaries at the artist colony.
Forbes is best recognized for her images of children and nature. Will-o'-the-Wisp exemplifies her style and displays the tenets of the Newlyn Art School in its meticulous portrayal of natural detail. However, the work's mythical subject and elaborate hand-wrought oak frame are characteristic of late Pre-Raphaelite works.
Forbes drew inspiration from William Allingham's poem The Faeries. The painting's frame contains a line from the poem among intertwined tree branches: "Wee folk, good folk,/Trooping all together;/Green jacket, red cap,/And white owl's feather!" In Allingham's narrative, a young Irish girl named Bridget is kidnapped by the "wee folk," or "fairies." After seven years of captivity in the mountains, Bridget returns home and finds all her friends have left. She returns to the fairies, who find her dead the next morning from sorrow. Thinking she is asleep, the wee folk take her "Deep within the lake/On a bed of flag-leaves/Watching till she wake."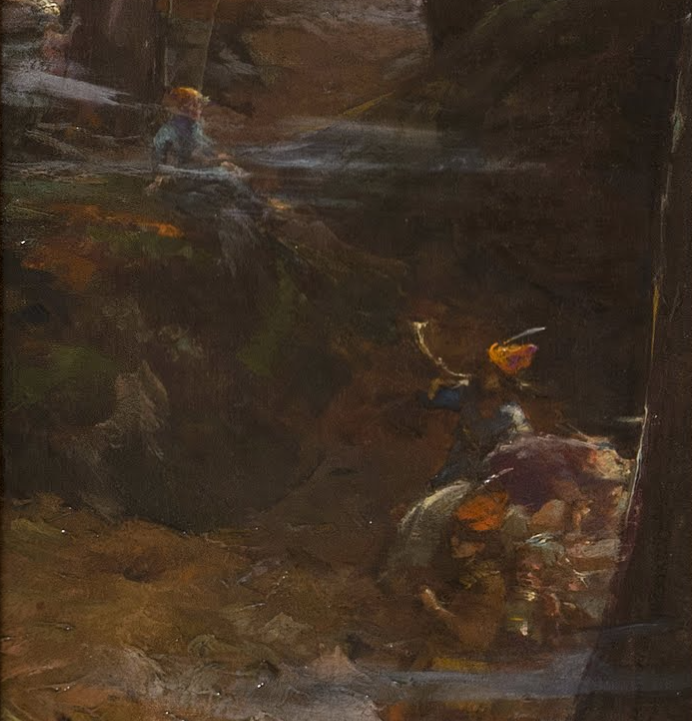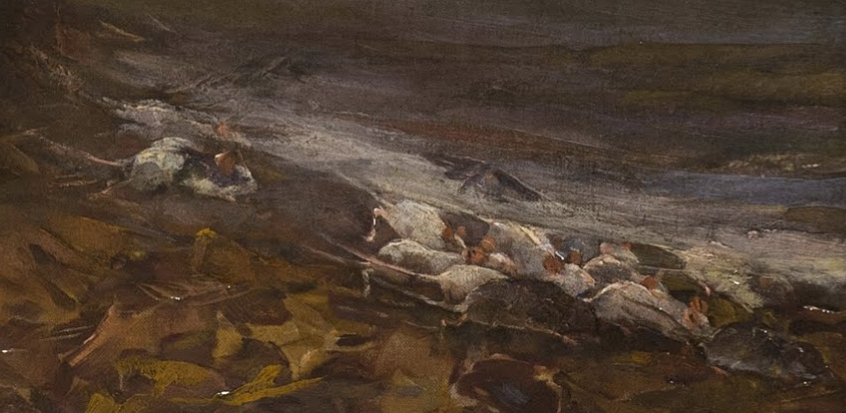 Forbes's painting sets the legend within an autumnal forest at night. The triptych's left panel shows small figures dressed like the fairies in the poem. The woman in the central panel—presumably Bridget—has collapsed, looking weary. A group of mice scurry across the ground and an ethereal fog weaves among the trees. The fog may represent the King of the wee folk, which the poem describes a sitting on a hilltop with a bridge of white mist. Together with skeletal trees and jagged rocks, the mist gives Forbes's painting an otherworldly sense.
A "wisp" is another word for a torch. Sharing a legend similar to Jack-o'-lanterns, wisps have come to symbolize doomed spirits. The Will-o'-the-wisp is often described as a phosphorescent light, or "spook-light" hovering at night. It also serves as a metaphor for a person, object, or hope that is impossible to reach, or for something sinister. Viewers may wonder what the figure in Forbes's work is looking toward outside of the painting's frame. Maybe it's her own will-o'-the-wisp, just out of reach, leading her farther and farther off the path.