November 2, 2015
11/2/15
Dynamic women designers and artists from the mid-20th century and today create innovative designs, maintain craft traditions, and incorporate new aesthetics into fine art in Pathmakers: Women in Art, Craft, and Design, Midcentury and Today, now on view at the National Museum of Women in the Arts. Each week, compare and draw parallels between works on view in Pathmakers and NMWA collection favorites.
A hanging sculpture by Asawa is on view at NMWA, similar to the work that the artist holds in this photograph by her close friend Imogen Cunningham. Made of crocheted copper wire, the work in Pathmakers hangs from above. Asawa's technique emphasizes the sculpture's intertwining lines, organic-inspired forms, and transparency.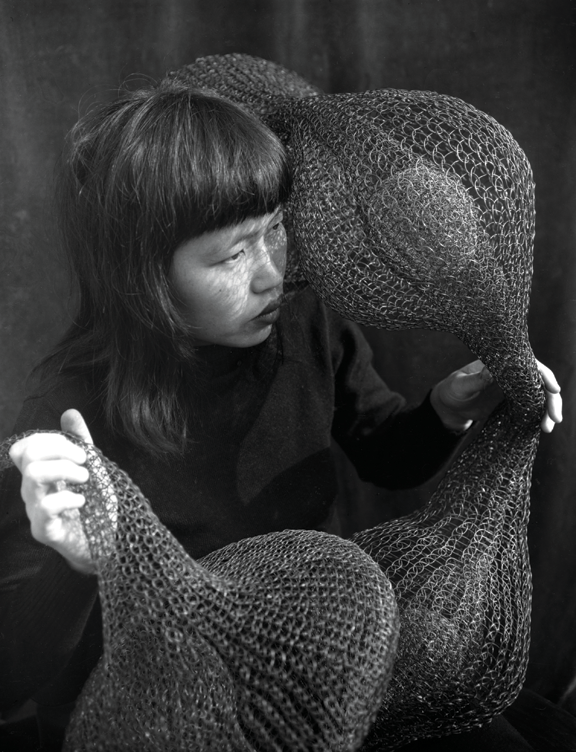 Who made it?
American artist Ruth Asawa (1926–2013) is renowned for her crocheted-wire sculptures, her public art commissions, and her advocacy for the arts. She was born in Norwalk, in Southern California, and was interned during World War II along with her Japanese-American family. Her interest in art grew during that time, as she learned from Japanese-American artists who were also interned. After her education and her move to San Francisco, she became an advocate for arts education—she helped found the San Francisco School of the Arts, which is now named after her.
How was it made?
After World War II, Asawa attended Black Mountain College in North Carolina, where she met Josef and Anni Albers. Josef Albers encouraged Asawa to experiment with non-traditional materials and artistic processes. Asawa learned the basic technique for these sculptures on a trip to Toluca, Mexico, in 1947, from villagers who crocheted wire baskets. She had a long fascination with hourglass forms—as a young girl in California, she used her feet to draw similar shapes in the sand while riding on the back of her family's farm equipment. Asawa created a large body of crocheted-wire sculptures, mainly during the 1950s. Some of these works are long and slender, while others are bulbous, and many have layers—"forms-within-forms"—like the one pictured in Cunningham's photograph.
Collection Connection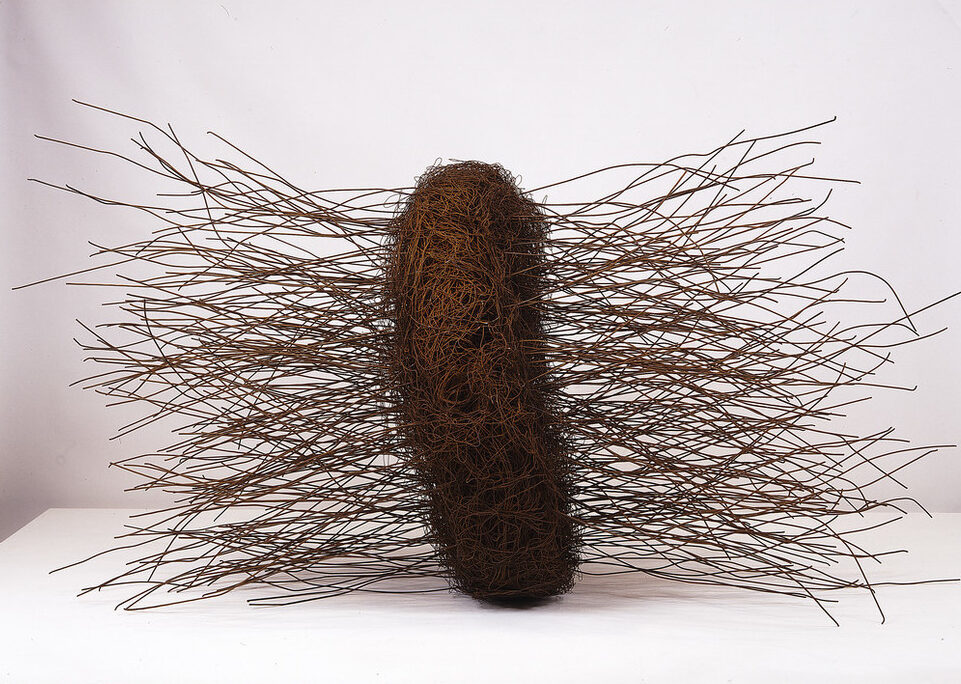 In NMWA's collection, an untitled sculpture by Frida Baranek, created in 1991, also evokes organic forms through an innovative use of metal. In Baranek's work, a wheel-shape tangle of iron wires is bisected by heavy iron rods, and these weighty materials form a piece that calls to mind a tumbleweed, nest, or bramble.
Baranek, born in Rio de Janeiro in 1961, studied industrial design in London and now lives and works in Brazil and New York. She is part of a generation of sculptors using industrial materials in surprising ways, and the sculpture in NMWA's collection is characteristic of her use of metal. Her pieces juxtapose chaos and order, are both airy and weighty, and invite viewers to marvel at familiar materials.
Visit the museum and explore Pathmakers, on view through February 28, 2016.