April 12, 2021
4/12/21
Celebrated California-based artist Hung Liu (b. 1948, Changchun, China) creates captivating images of downtrodden and tragic figures—courtesans, laborers, and migrants. In 2019, the museum acquired its first works on canvas by Liu, Winter with Cynical Fish (2014), a gift from longtime patrons and members of the NMWA Advisory Board Fred Levin and his late wife Nancy Livingston. Following this gift, Liu and Turner Carroll Gallery, in Santa Fe, New Mexico, donated a companion piece, Summer with Cynical Fish (2014), in memory of Livingston.
With the museum's substantial collection of works on paper by the artist, the addition of Winter and Summer enables NMWA to showcase Liu's distinguished skills as a painter and printmaker.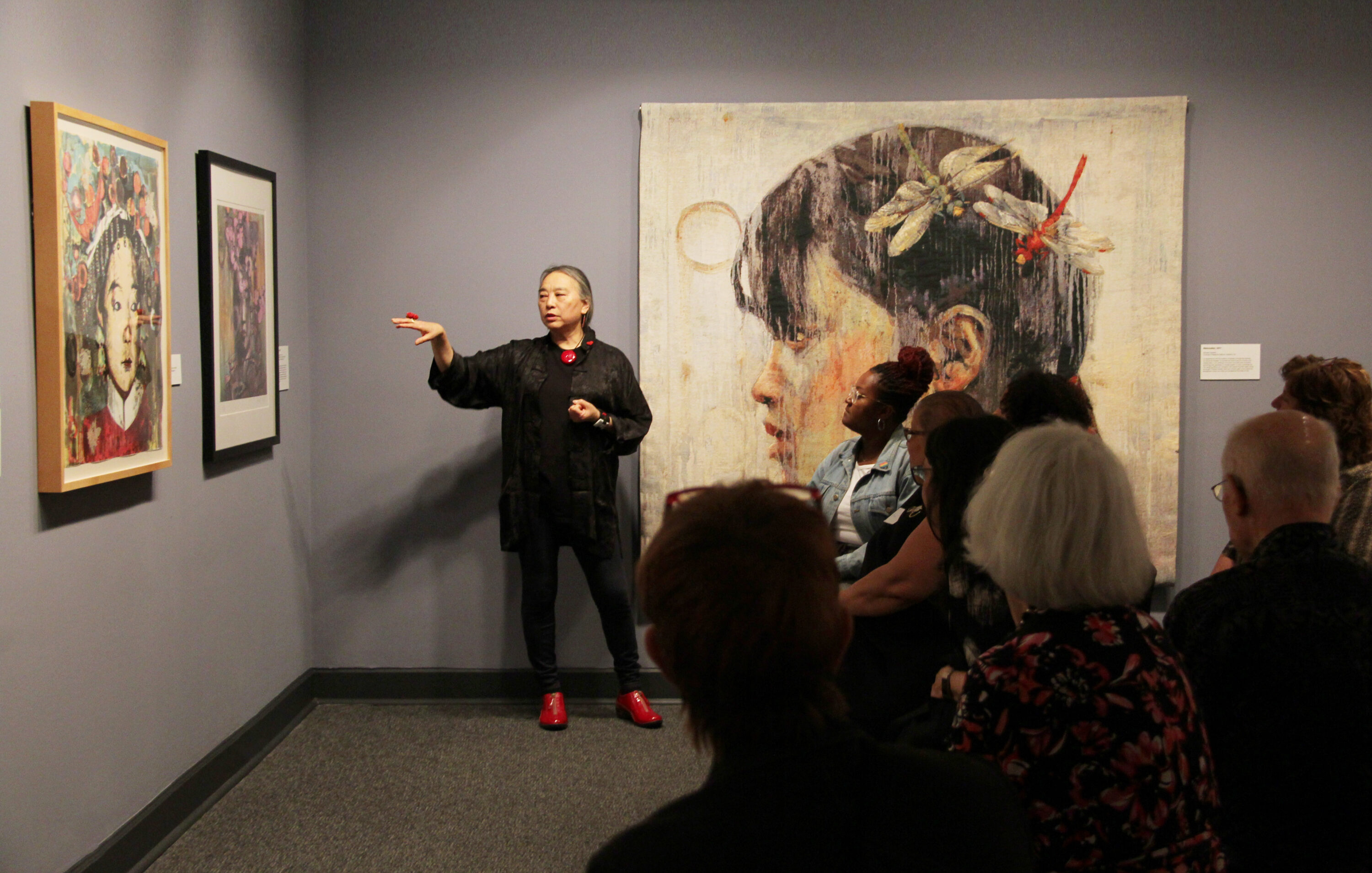 Cynical Fish
The two new acquisitions are part of an untitled series (2012–14) composed of four paintings, each representing one season—summer, winter, autumn, and spring. Summer contains complementary colors of orange-red next to lime green, evoking brightness and warmth. The shorthaired woman holds a pink handkerchief, a traditional sign of propriety and decorum for women. Winter shows a cool-toned palette with lavenders and icy blues. This woman's body is layered under bare branches with white bamboo leaves and an illustration of a scholar's rock—small, ornamental, naturally formed stones seen in imperial gardens and scholars' studios.
Each of the four paintings is a diptych comprising two panels. The wider panel in each work portrays a different young woman, whose likeness was hand-drawn from Liu's found photographs. Liu recalls being mesmerized by the haunting images of the beautiful women, often exploited in their lifetimes and forgotten in history. The narrower panel depicts a fish with a distinct sullen expression.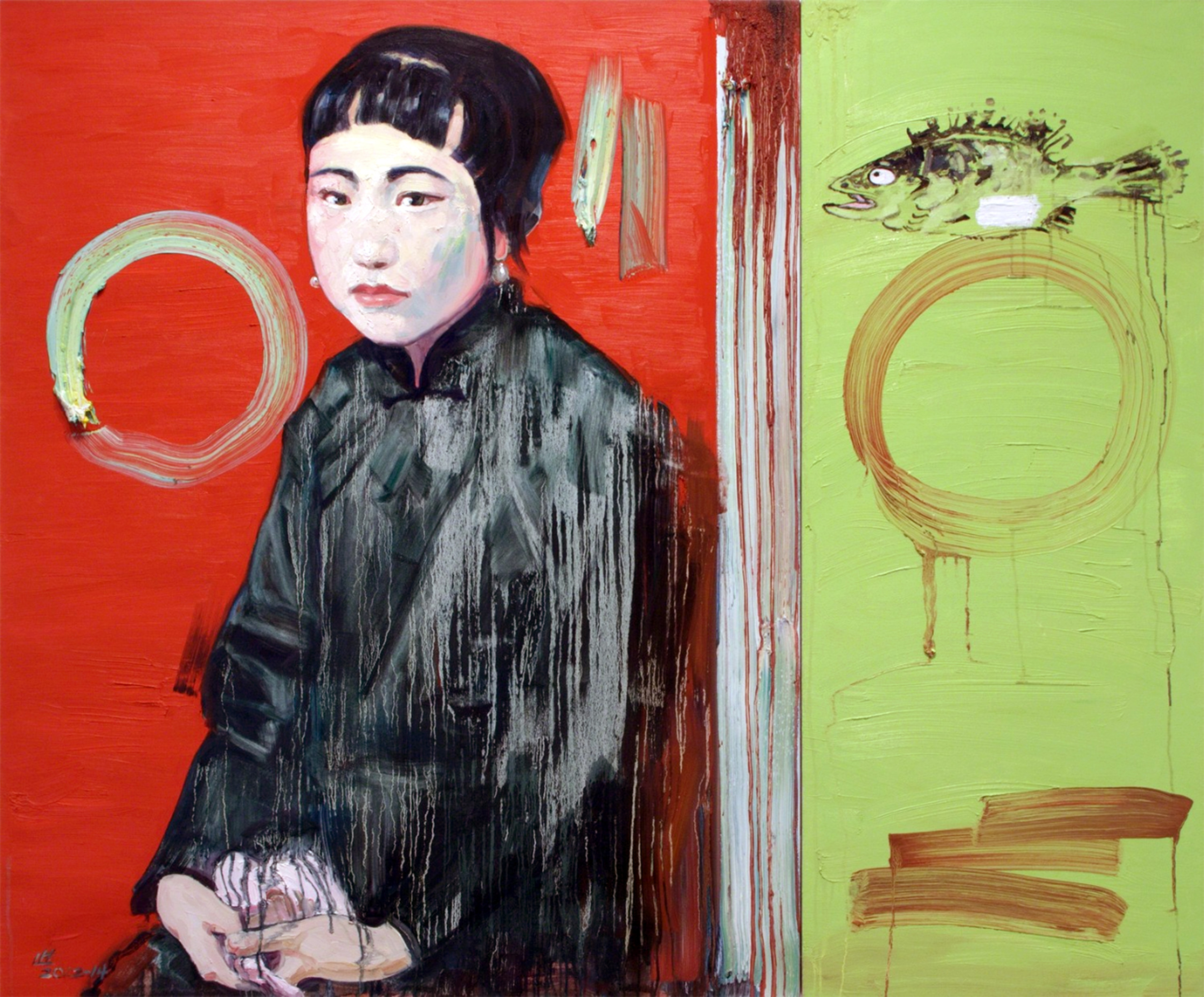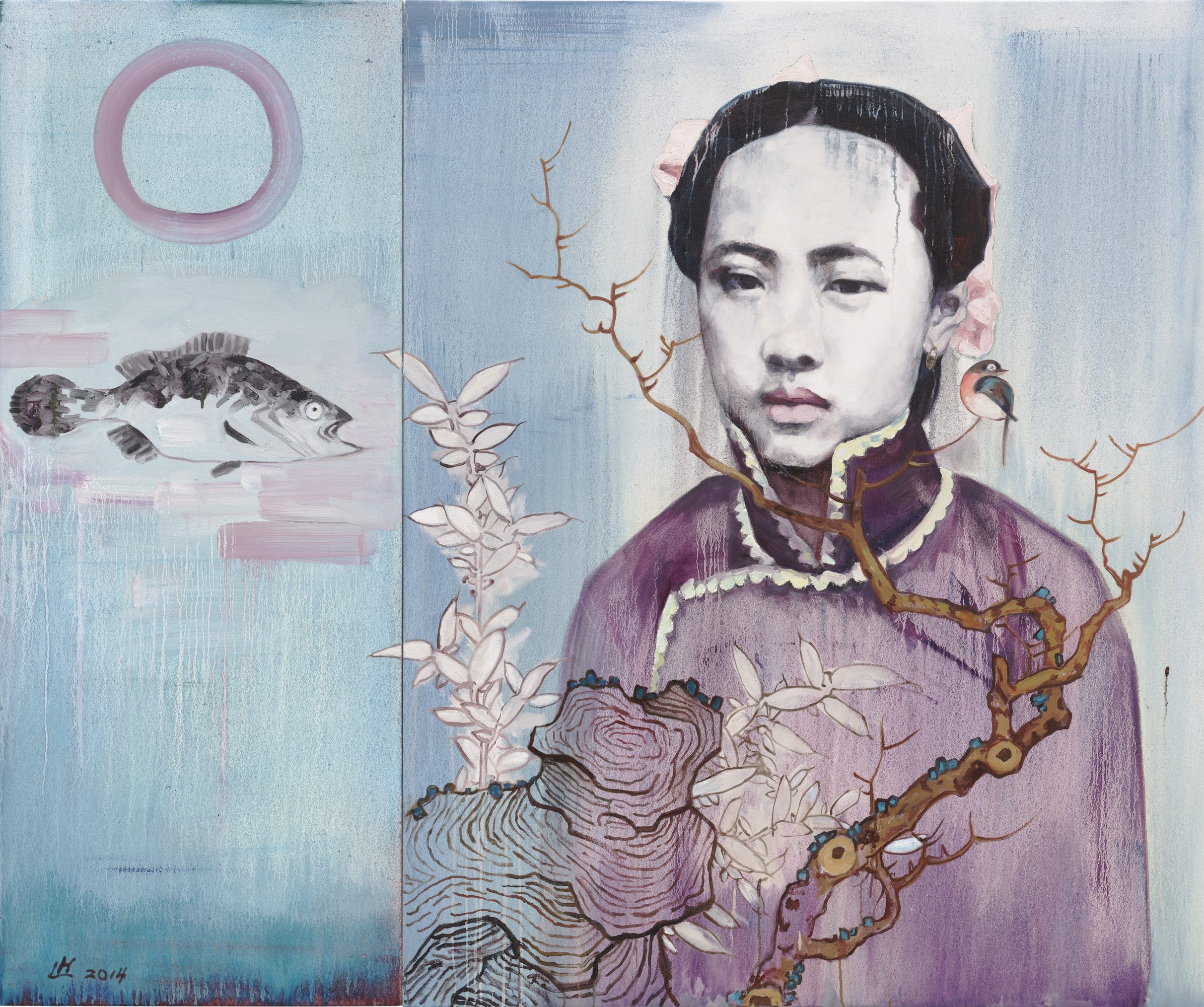 The fish imagery is adapted from the paintings of eminent Chinese artist Bada Shanren (born Zhu Da, ca. 1625–1705). Bada was born into the Ming imperial family and became a monk after the dynasty was overthrown by Qing rulers. Owing to his bitter feelings over his fallen status, Bada created satirical images of birds and fish to reflect certain moods such as sadness, anger, or, as Liu notes, cynicism. As Bada was an elite literato in Chinese society, Liu's pairing of his recognizable symbols of high art and culture with the poor, working-class women elevates the status of these neglected female figures.
Changing Seasons
Liu's paintings have a layered, drip-laden appearance, which she achieves by diluting her paint with linseed oil and trickling it down the surface of the canvas. The effect veils and distorts her subjects, suggesting the blurring of one's memories over time. Yet she simultaneously preserves her subjects for posterity through her art. As the artist describes her intention for this series, "It's my offering to honor them, and the fish can accompany the women in all four seasons…I'd like to summon their ghost spirits, to make sure they are not forgotten. My painting them is to memorialize them." Liu's paintings greatly enrich the narrative we share with visitors to NMWA: the complex and inspiring—yet often suppressed—stories of women and art.