July 15, 2020
7/15/20
In 2019, NMWA acquired more than 170 new works of art for the museum's collection. Long dedicated to telling the fullest possible story of women in art, the new additions include 166 photographs by renowned American documentary photographer Mary Ellen Mark, a large-scale portrait by artist Delita Martin, three photographs by artist Rania Matar, and a sculpture by Portuguese artist Joana Vasconcelos.
---
Internationally renowned Portuguese artist Joana Vasconcelos (b. 1971) creates exuberant mixed-media works that foreground and elevate the collective identity of women in art and society. Emblematic of her bold, feminist sculpture is the nearly six-foot-tall glass and textile chandelier Rubra, an exciting addition to NMWA's collection through a gift from museum patron Christine Suppes.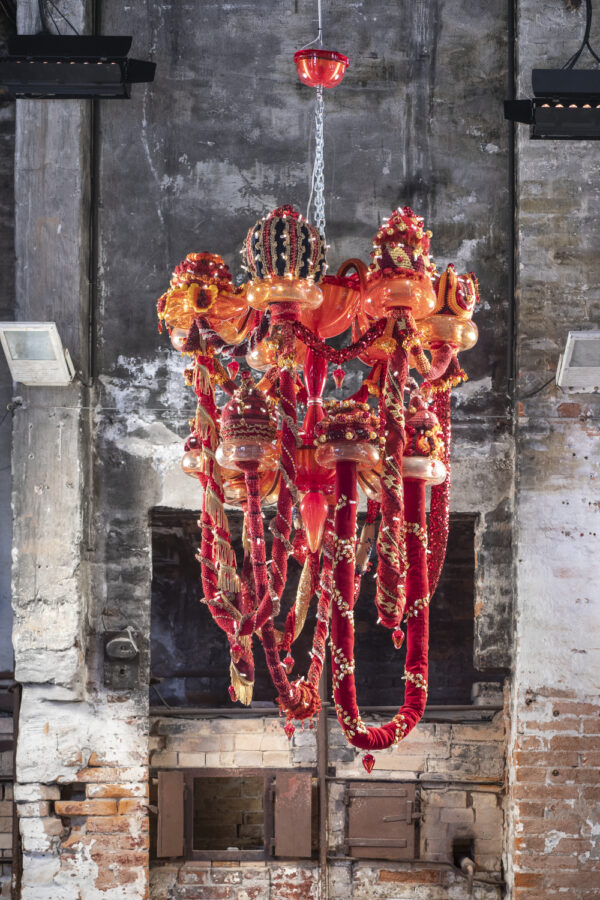 Rubra (Latin for "red") hangs above viewers in a spectacular display of fiery crimson hues and glowing light. The arts of stitching, sewing, and knitting—traditionally perceived as feminine and domestic—take on a central role in the work. The chandelier features a mélange of handmade wool crochet, lace, sequined fabric, gold tassels, delicate beaded ornaments, and Murano glass. Elongated garlands of sewn fabric dangle at various heights, topped by embroidered crowns. Myriad LED lightbulbs studded throughout the piece create dazzling effects.
In Rubra, as in many of her other works, Vasconcelos reinvigorates a traditional craft through contemporary artistic practices. Here,the artist merges the 1,500-year-old art of Murano glassmaking with contemporary design. Smooth, bulbous forms of orange-red glass compose the center column of the chandelier, while other curvilinear elements branch out from the top and connect to the crocheted embellishments. The highly decorative and sensual aesthetic of the work alludes to the Portuguese baroque style of art and architecture from the 17th century, which used rich color, ornate details, expression, and grandeur to create a sense of awe and wonder. Vasconcelos incorporates her cultural history by imbuing the work with this opulence and drama, a vital facet of her art.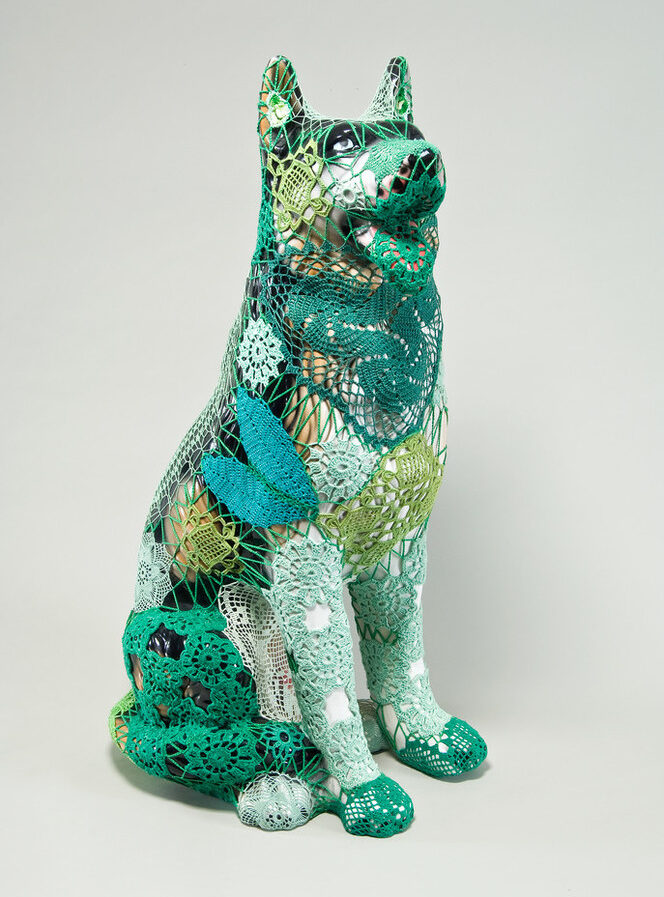 Rubra is the second work by Vasconcelos in the museum's collection. Viriato (2005), a commercially made ceramic German Shepherd swathed in green crochet, was featured in the 2017 exhibition Revival and is a popular object of visitors' fascination in NMWA's collection galleries. Vasconcelos's creative process relies on decontextualizing and appropriating everyday items into surprising iterations and new realities. A tongue-in-cheek commentary on the conditions of domesticity, the yarn fabric covering the dog symbolizes the simultaneous protection and imprisonment of women in the domestic sphere. Both Viriato and Rubra work to recast the art historical canon by challenging hierarchies of materials and subject matter, disrupting and interweaving ideas about "high" and "low" art.
The sparkling Rubra is unabashedly flamboyant, vibrant, and dynamic. This deliberately unsubtle nature of Vasconcelos's work aligns her practice with NMWA's aim—to champion the inclusion of women in the art establishment, and to celebrate their experiences in a multitude of diverse manifestations.