July 21, 2011
7/21/11
Some of the most recent works in NMWA's The Guerrilla Girls Talk Back are from the Girls's 2005 showing at the Venice Biennale, a contemporary art fair that has taken place in Venice every two years since 1895. The fair has a central exhibition pavilion as well as national pavilions for select participating countries.
The Guerrilla Girls were invited to participate in "Always A Little Further," an exhibition curated by Rosa Martínez, co-director of the 2005 Biennale. The Girls created six seventeen-foot posters addressing gender discrimination in Hollywood, Bush administration policies, and the art world in general, but, of course, not even the Venice Biennale itself escaped their criticism. They approached these topics through their typical tactics of shock value and humor, buoyed by factual information and statistics. At NMWA, the Biennale posters are represented with smaller prints.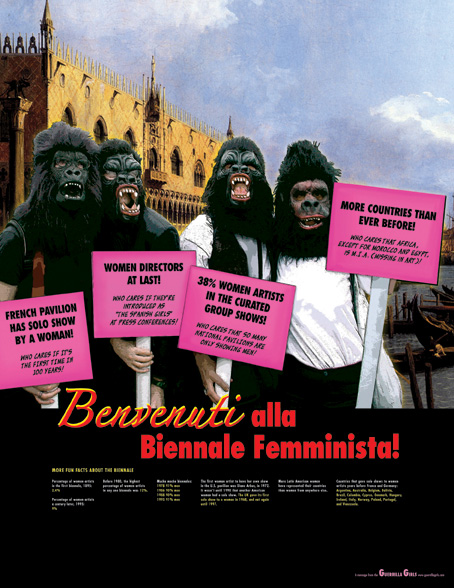 The poster above addresses the Biennale's racial and gender deficiencies. The Girls appear as picketers in front of a Canaletto painting of the Doge's Palace. Their signs draw attention to the historical scarcity of women with solo exhibitions, group shows, and leadership roles in the Biennale. They also take on the underrepresentation of African countries in national pavilions.
However, the signs do suggest that times are changing by 2005, albeit in small steps: two women directed the 2005 Biennale (Martínez and María de Corral), more countries are represented, and 38 percent of the artists in the group shows are women. The latter statistic is particularly striking considering that, as recently as 1995, only 9 percent of the Biennale's artists were female.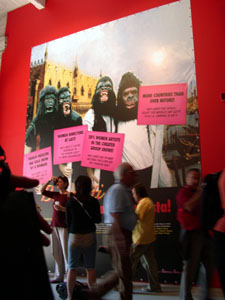 In the 2011 Biennale, 32 of 82 exhibiting artists are women, or 40 percent. The number of participating African countries has doubled in comparison to the Girls's 2005 statistics, though this only brings the total to four. South Africa and Zimbabwe are participating for the first time.
Don't miss seeing the rest of the Biennale posters in The Guerrilla Girls Talk Back, including The Anatomically Correct Oscar and The U.S. Homeland Terror Alert System for Women. These and a representative sampling of the Guerrilla Girls's work over the past twenty-five years are on view at NMWA through October 2.