December 13, 2016
12/13/16
Bold Broadsides and Bitsy Books is on view in the Betty Boyd Dettre Library and Research Center (LRC). From the public nature of broadsides to the intimacy of a tiny handmade book, the LRC revels in contrasts of delightful collection items.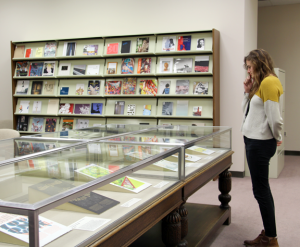 "Bitsy Books" refers to a charming selection of miniature artists' books from the LRC's collection. Miniature books, defined as books no larger than three inches in height, width, or thickness, communicate a sense of whimsy and intimacy from their size alone. The handcrafted quality of artists' books enhances this sense, creating an intimate experience for the viewer. The "Bitsy Books" included in the exhibition vary in content, structure, and material.
The "Bold Broadsides" represent a 21st-century interpretation of a much older medium. Broadsides can be traced back to 17th-century Europe as precursors to modern-day posters and billboards. In the U.S., broadsides are perhaps most famous for their use as "Wanted" signs by 19th-century law enforcement agencies. The broadsides featured in this exhibition celebrate the lives of remarkable women from history. Called the "Dead Feminists," these works are a collaboration between printmaker Jessica Spring and illustrator Chandler O'Leary. Each broadside highlights one woman's achievements through an iconic quote paired with a corresponding illustration.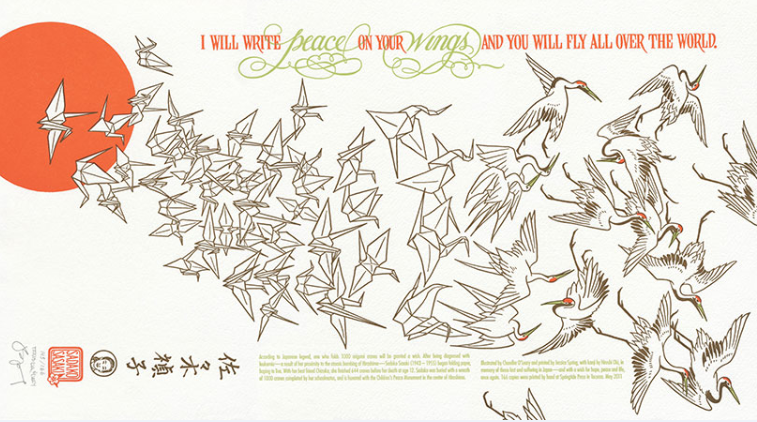 Spring describes their process as "a mix of traditional and contemporary letterpress processes…Our series is completely hand drawn by Chandler, using original illustrations and typography…then I print [the broadsides] by hand on a 1960s Vandercook Universal One printing press." Spring selects women to feature and writes the colophon for each. O'Leary creates an illustration in pencil, refines it, and re-draws it in ink. At this stage, Spring creates the photopolymer plates needed for printing. Both artists sign and package the finished prints, and O'Leary launches the work online.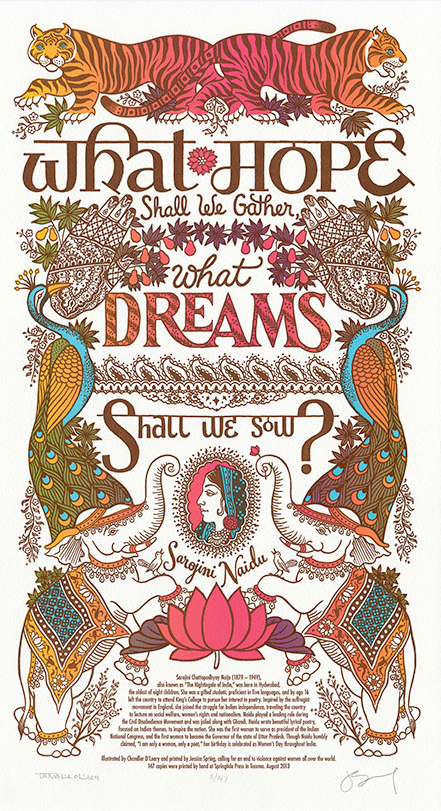 Not only stunning as visual works, each broadside highlights a relevant social justice issue. For example, the fight for marriage equality prompted Spring and O'Leary to create Love Nest, featuring a quote from activist Emma Goldman. Nightsong, honoring Indian heroine Sarojini Naidu, implores an end to domestic violence. Through the Dead Feminists Fund, Spring and O'Leary donate a portion of the series' proceeds to nonprofits that align with the social issues they address.
In October 2016, Spring and O'Leary also released a letterpress book compilation of the series titled Dead Feminists: Historic Heroines in Living Color.
Visit NMWA's Betty Boyd Dettre Library and Research Center through March 17, 2017 to see Bold Broadsides and Bitsy Books. Located on the museum's fourth floor, the LRC is open Monday–Friday, 10 a.m.–12 p.m. and 1–5 p.m.