October 20, 2021
10/20/21
What does it take to move a library like NMWA's Betty Boyd Dettre Library and Research Center (LRC)? The museum's building closed in August for an extensive renovation, and staff have moved to off-site offices as we continue our work. Lynora Williams, director of the LRC, spoke with Elizabeth Lynch, director of publications, about the work of preparing for the move, planning the reopening, and the projects that she and her staff will focus on in the meantime.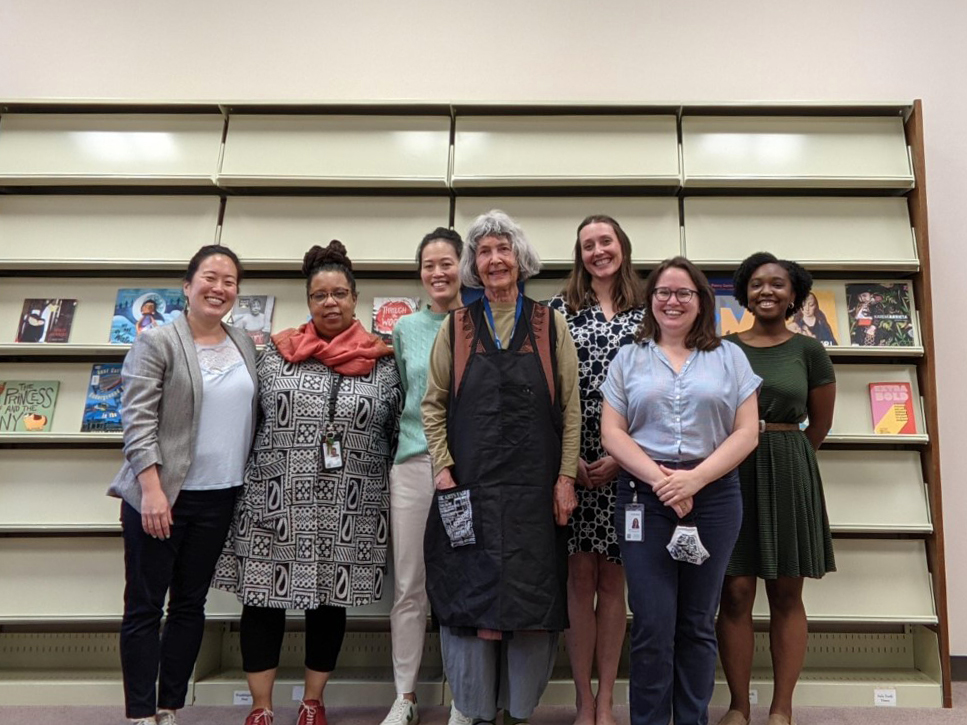 ELIZABETH LYNCH: Let's talk about the logistics of moving a library! These collections—books, archival materials, artists' books, and much more—have been growing since before NMWA opened in 1987. How did you approach the mammoth task of moving to a temporary site?
LYNORA WILLIAMS: We started by quantifying every physical collection or section that needed to be moved. That encompasses books, flat files, supplies, and more. We have about fourteen categories, and we prepared each of them separately. The library's collections include:
An estimated 19,400 monographs (library-speak for "books")
About 1,000 rare books
An estimated 16,000 artist files
About 800 of the museum's 1,000 artists' books
Five bankers' boxes of media (DVDs, CDs, and VHS tapes)
More than 35 archival collections in the Archives of Women Artists
Our holdings are unique materials that make up one of the nation's most valuable collections of women's history. As stewards of these materials, we are responsible for handling and tracking them with care.
EL: What are your goals for the closure period?
LW: Internally, we see this as an opportunity to turn our attention to projects that we haven't had time for with the library's daily traffic and small staff. One is processing new archival collections—we're eager to make them more available. A lot of our planned projects will increase accessibility to our materials.
Externally, we will provide as much reference service as we can. Contact us at lrc@nmwa.org and we'll do everything possible to provide answers and help with research, whether casual or scholarly. We'll also continue collaborating with colleagues on public programs. It's a great way to showcase our resources. Nothing has been more gratifying than having someone say, "I was watching the happy hour last week and saw this material, and I thought I'd come check it out."
EL: What are you looking forward to in the redesigned library?
LW: I cannot overstate how much it will mean to have a new physical space that's more adaptable to contemporary library practice and more welcoming for visitors. It will be comfortable, spacious, and technologically up to date. We'll have a large-format monitor that people can use for their work, comfortable chairs, and other touches that are important to today's library user. We will also have state-of-the-art storage space for our collections that need special climate control. Our layout will include the common area as well as a small scholar's room for serious research. Many small improvements will add up to an enticing new space.
---
Visit the LRC online to explore past exhibitions, now viewable online; learn about the 800 unique artists' books in the LRC's collection; access archival information; and more! E-mail lrc@nmwa.org with your research-related questions.