May 24, 2016
5/24/16
This April, some of NMWA's oldest paintings entertained the museum's youngest audience. In a series of pilot tours for preschoolers, NMWA's Education staff led 140 energetic Pre-K and kindergarten students through the galleries to examine portraits, colors, and shapes. Seated on rainbow-colored carpet squares, tiny visitors listened to stories, explored paintings, and experimented with diverse materials in their own art projects.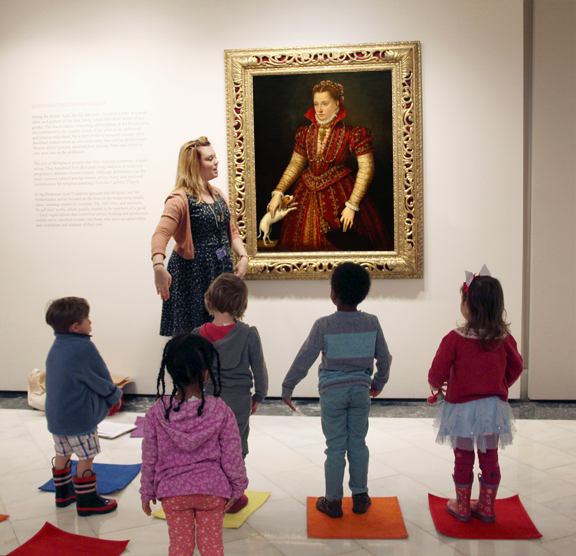 As the intern charged with crafting this new tour experience, I quickly realized that flexibility was key. Months of planning and research culminated in three thought-out lesson plans. However, unexpected obstacles still arose. School buses ran late, large events occupied the museum's Great Hall, and an educator was accidentally scheduled to give two tours at once. I designed the tours to last 45 minutes, allow for ten students per educator, and conclude with an art-making activity in the Great Hall. In the end, the tours lasted an hour and art-making occasionally shifted locations.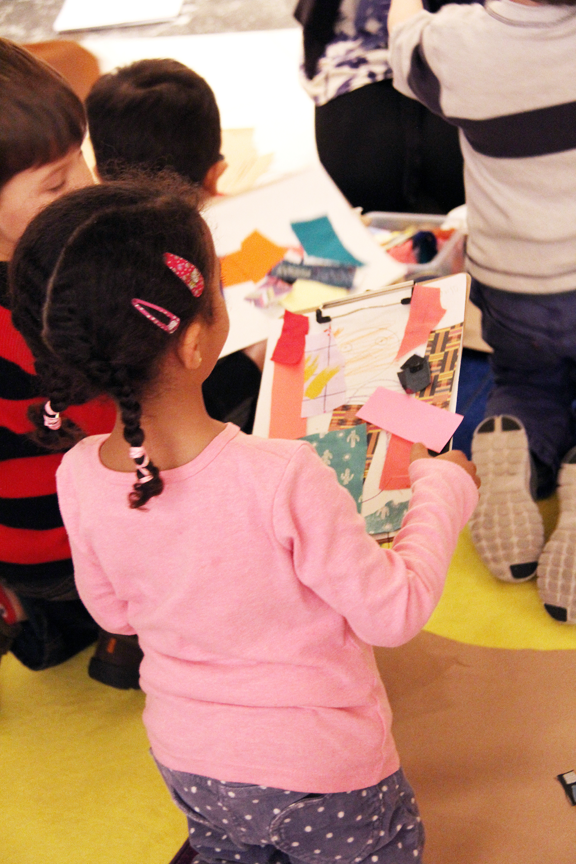 Activities morphed based on the students' interest, participation, and cooperation. Some of the preschoolers enjoyed using viewfinders to act like "color detectives" while other groups found the tool distracting. By the last program, we had figured out the most efficient ways to use materials in the galleries.
The art-making, movement activities, and stories captivated our young audience. The preschoolers found the dog in Lavinia Fontana's Portrait of a Noblewoman and the unicorn in Amy Sherald's It Made Sense…Mostly in Her Mind easy to talk about—as well as the eye-catching outfits of each painting's subject. They enjoyed mimicking shapes and lines with their bodies in front of Chakaia Booker's Acid Rain and using "magic paintbrushes" to imagine the expressive brush strokes in Joan Mitchell's Orange. Students were eager to mix oil pastels and rip colored tape in their hands-on art activities. While creating self-portraits, they used hand mirrors to admire their faces. They were proud to take their artwork home as a reminder of their experience.
Overall, the program was a huge success! Logistical hurdles aside, we received positive feedback from teachers and chaperones who thought the tours were engaging and age-appropriate. Hearing kids say, "Wow! This place is cool!" or mention how much fun they had made the entire experience worth every ounce of effort it took to make it happen. I am excited for the future of these tours and cannot wait to hear how they play out during the next school year.