December 4, 2014
12/4/14
Tomorrow, December 5, the National Museum of Women in the Arts opens Picturing Mary: Woman, Mother, Idea. This new exhibition explores the concept of womanhood represented by the Virgin Mary—who has for centuries been viewed as an ideal figure by Christians—as well as the social and sacred functions her image has served. Visit the museum to encounter this iconic figure through more than 60 Renaissance- and Baroque-era artworks.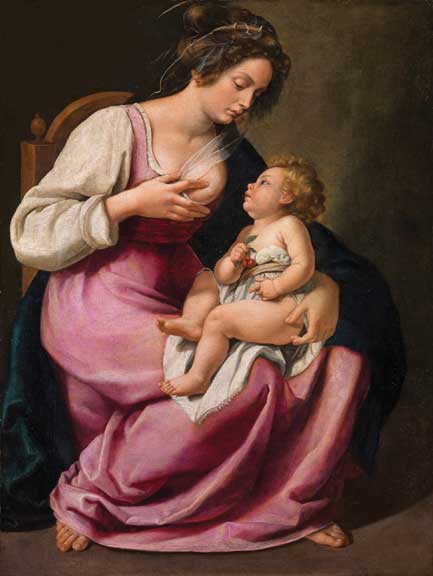 How did artists represent this figure of "ideal" femininity? How did Mary's depiction change over time? From a queenly, exalted figure in the medieval era, to a human and nurturing mother in the Renaissance, each image reflects its society and time.
These works, from the Vatican Museums, Uffizi Gallery, and other museum, church, and private collections in Europe and the United States, are presented in six thematic sections. Mary is shown as a daughter, cousin, and wife; the mother of an infant; a bereaved parent; the protagonist in a rich life story developed through the centuries; a link between heaven and earth; and an active participant in the lives of those who revere her.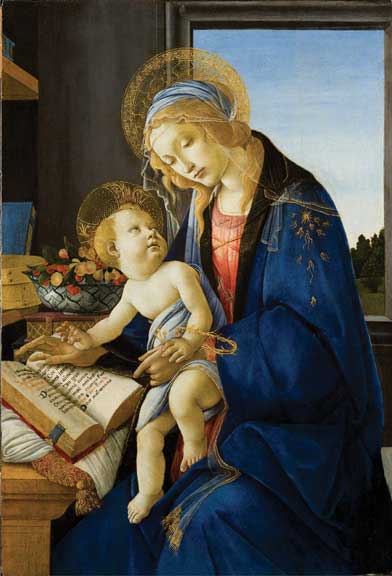 This exhibition examines Mary from a historical perspective, with works by male and female artists. Paintings by Sofonisba Anguissola, Artemisia Gentileschi, Orsola Maddalena Caccia (an Ursuline nun who ran a bustling painting studio in northern Italy), and Elisabetta Sirani highlight women artists' images of Mary. Their works are featured alongside treasured paintings, sculptures, and drawings by Fra Filippo Lippi, Botticelli, Michelangelo, Pontormo, Giovanni Battista Tiepolo, and others.
From altarpieces to monastic houses, to intimate figures used for personal worship, Picturing Mary illuminates many facets of the familiar Madonna figure.
A different variety of Madonnas appear in NMWA's first-ever online exhibition, A Global Icon: Mary in Context, which showcases a broader artistic landscape. As Christianity spread to new areas of the world, due to missionaries, colonialism, and many other factors, Mary's image spread, too, reflecting a profusion of diverse aesthetic traditions.
Visit NMWA before April 12, 2015, start online, or check out the varied talks, workshops, and programs on the calendar for Picturing Mary.