February 7, 2019
2/7/19
NMWA's exhibition Rodarte celebrates the innovative American fashion house, founded by sisters Kate and Laura Mulleavy. The show—open until February 10, 2019—is a survey of the designers' visionary concepts, impeccable craftsmanship, and impact on the fashion industry. The dresses on view share visual appeal and many common threads with works in NMWA's collection. From technique to theme, dive into five innovative works by artists at NMWA in this series, "Connecting the Threads."

In Wonder of the Natural World
Molecular biologist-turned-photographer Amy Lamb (b. 1944) has always loved plants. She spent her childhood collecting and preserving flora, and built a successful career studying biological structures and their processes. Lamb now uses the camera to create striking large-scale portraits of fruits and flowers. She attributes her shift to photography to a desire to "communicate the beauty I was seeing [as a biologist] and the sense of wonder it was evoking." Lamb's imagery doesn't just begin with the camera—she grows most of her subject matter in her own extensive garden and greenhouse.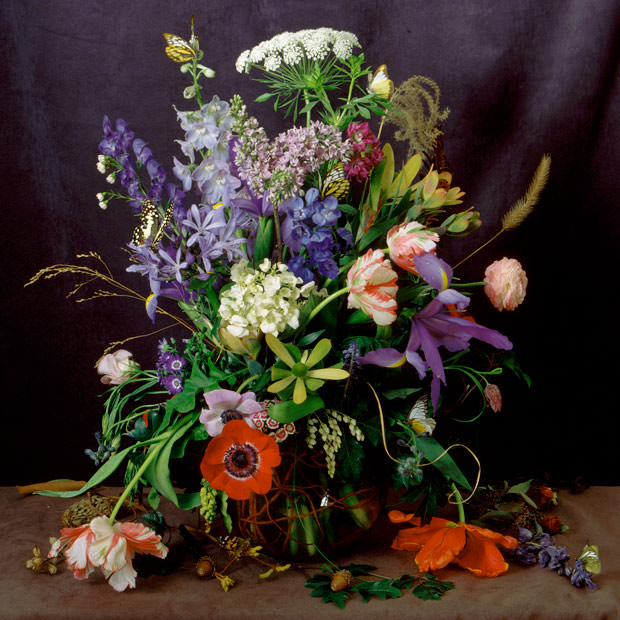 In Vase of Flowers I (1999, printed 2011), currently on view at NMWA, Lamb's lavish bouquet deliberately echoes flower paintings by artists such as Rachel Ruysch (1664–1750). Like Ruysch, Lamb portrays real flowers and insects, but the resulting composition is not "natural." Lamb carefully balanced the flowers to achieve the illusion of an overflowing vase, although the pictured vase did not actually have the capacity to contain them all. She also used cold temperatures to ensure that the insects remained still long enough to be photographed. The lush, painterly result demonstrates Lamb's extensive process along with her emphasis on color, texture, and imagination.

For Rodarte, the garden is a reoccurring theme throughout their collections, from 2006 dresses with self-fabric floral appliqués to the recent Spring/Summer 2018 collection. In the Mulleavys' work a garden is a symbol of a specific memory, touch, or scent. Laura says, "Nature inspires our choice of colors and the way that we build garments—with a layering of fabrics that reference growth patterns of flowers, and our use of textural materials reminiscent of the details found in nature."

For the Spring/Summer 2017 collection, inspired by the poetic Spanish film El espíritu de la colmena (The Spirit of the Beehive) (1973), models were sent down the runway in yellow, white, and black-hued layers of ruffled lace and dotted tulle reminiscent of a honeycomb. Yet, a subject as seemingly serene as a flower garden has deeper implications; that same spring, the North American rusty patched bumblebee was added to the endangered species list for the first time.
In the garden, the Mulleavys present a fully romanticized femininity, manipulating tiny seed pearls, caviar beads, floral appliqués, and lace nets into creations as delicate as flower petals. It is also the ideal setting for Rodarte to explore a wide color palette, from scarlet reds and brilliant yellows to soft pinks and airy whites. In the garden—with texture, meticulous planning, and imagination—Rodarte's painterly sensibilities flourish.