January 23, 2019
1/23/19
NMWA's exhibition Rodarte celebrates the innovative American fashion house, founded by sisters Kate and Laura Mulleavy. The show—open until February 10, 2019—is a survey of the designers' visionary concepts, impeccable craftsmanship, and impact on the fashion industry. The dresses on view share visual appeal and many common threads with works in NMWA's collection. From technique to theme, dive into five innovative works by artists at NMWA in this series, "Connecting the Threads."
Landscape & Memory
In the 1950s, Joan Mitchell (1925–1992) emerged as a leading member of the second generation Abstract Expressionist movement. One of just a small group of women painters to gain acclaim in the movement, Mitchell is known for her expansive paintings and ecstatic, gestural brushstrokes. In her work, she sought to capture the emotional and psychological impressions of landscapes and experiences—each painting a preservation of feeling. "I could certainly never mirror nature. I would like more to paint what it leaves me with," she once said. In Sale Neige (which translates to Dirty Snow) (1980), on view in NMWA's collection galleries, Mitchell evokes impressions from childhood in her native Chicago—frozen Lake Michigan, falling through the ice in a sledding accident, and competing as a champion figure skater.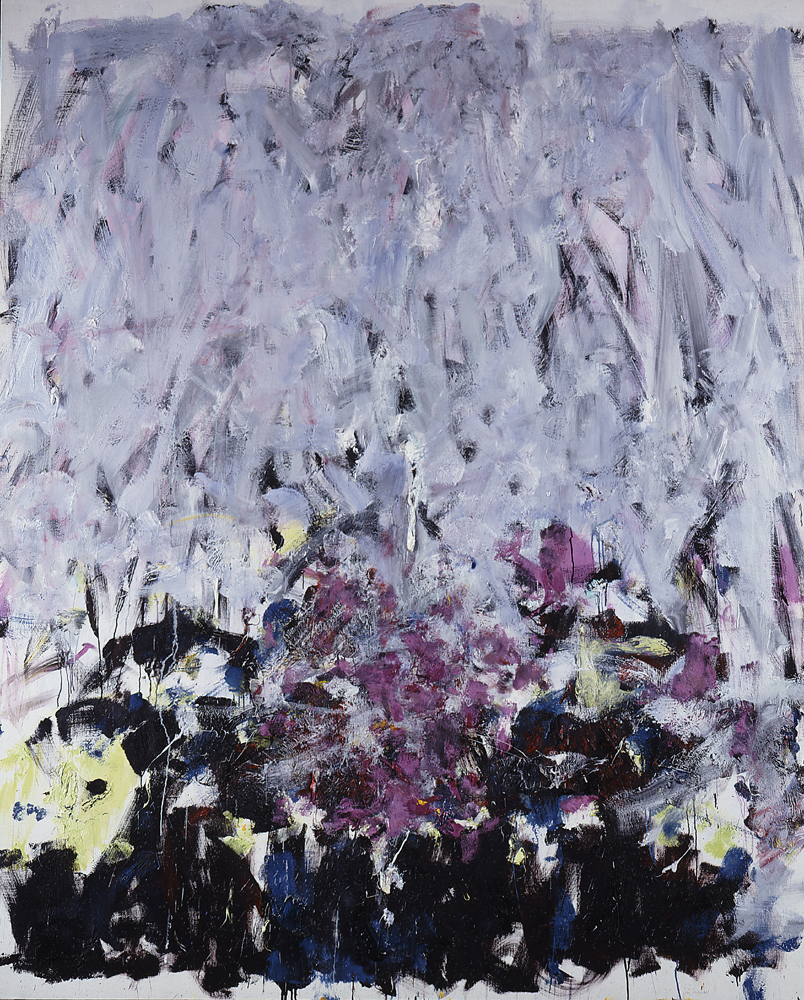 Mitchell spent much of her career in France—moving to Paris in 1959, and later, the small village of Vétheuil in 1968. There, with nature as a backdrop, her work changed significantly, encompassing more spaciousness and light. In her book Ninth Street Women, Mary Gabriel described this change: "In an environment so rich in natural bounty…a part of Joan long buried awakened. The 'violent' high notes of yellows and reds she first used as a girl returned. Joan's canvases shone like light." Mitchell herself once explained the refuge she found in rendering nature: "I become the sunflower, the lake, the tree. I no longer exist."
***
Ever-present in the Mulleavys' work is the landscape of California. This influence is deeply rooted in their childhood, which was spent outdoors, exploring the redwoods and beaches that surrounded their home in Aptos, California. Kate says, "There is probably a little bit of California's natural beauty in every one of our collections." Laura describes "tide pools, redwood forests, mustard fields, California poppies, and apple orchards…the entire landscape had a sort of hazy atmosphere. Hare Krishnas, psychedelic skaters, hippies, punks, surfers—all of these memories shaped the way we think creatively."
[URISP id=14551]
Rodarte's Spring/Summer 2011 collection reflects the Mulleavys' memories of growing up in 1970s and 1980s suburbia. Dresses echo the faux-wood paneling of their childhood home, the blue-and-white porcelain in their house, and a bronze Minerva, the Roman goddess of wisdom, shown on the Great Seal of California. Other dresses reflect impressions of Santa Cruz, where two subcultures—the surfers and hippies—are transformed into printed silk gowns that replicate tie-dye combined with neoprene bibs. California, thus, is not only a source of inspiration, but also an ideological point of reference, both free-thinking and iconoclastic.