September 7, 2017
9/7/17
In celebration of NMWA's 30th anniversary, and inspired by the museum's focus on contemporary women artists as catalysts for change, Revival illuminates how women working in sculpture, photography, and video use spectacle and scale for expressive effect.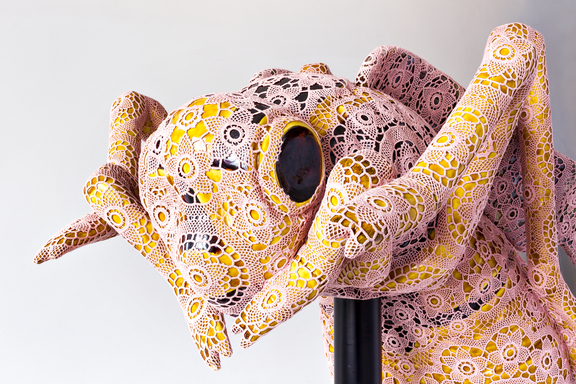 Joana Vasconcelos (b. 1971, Paris, France)
Joana Vasconcelos grew up traveling to museums across the globe with her family and her work expresses sensibilities cultivated during that time. Vasconcelos is interested in expressing universal themes through techniques and materials that are traditionally identified as Portuguese. "My creative process is based upon the appropriation, de-contextualization and subversion of pre-existent objects and everyday realities," says the artist. Vasconcelos combines the exaggerated scale of her sculptures with the delicacy of traditionally feminine handcraft. Her explorations of the paradoxical dichotomies between power and vulnerability captivate audiences, prompting them to engage with her work.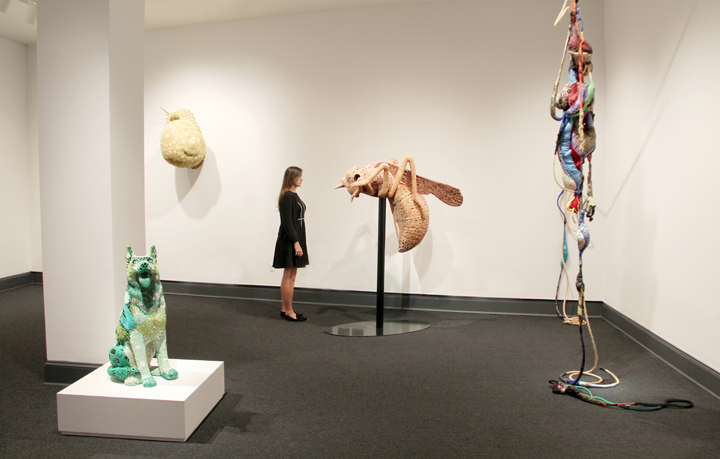 The Artist's Voice:
"The use of crochet and the compartmentalization of forms restates the idea that we often act and live divorced from our conscience, that we don't question our perceptions enough. Lace is paradoxical in that it was used by Portuguese women to fill the emptiness of their lives; it was the only means of expression available, the sole response to an absolutely passive social situation."
"Lace decorates and protects, but protection is another manifestation of imprisonment. It's for the spectator to decide what the crochet means for him, whether it's showpiece or dungeon."—Joana Vasconcelos, in an interview published in Joana Vasconcelos: Versailles (LeYa, 2012)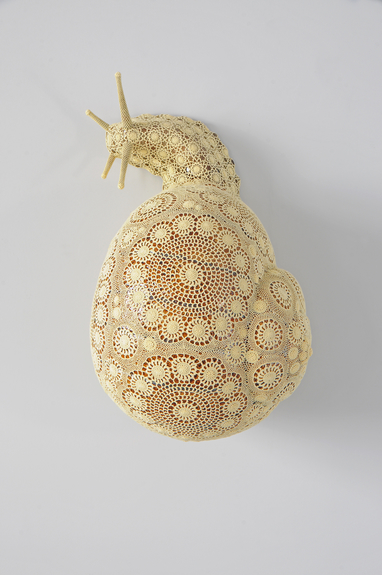 Revival Highlight:
Vasconcelos's works in Revival question viewers' assumptions about nature. She presents large, mass-produced forms of a German shepherd, an enlarged snail, and a larger-than-life wasp—their forms covered in patterned lace. Rather than simply delight viewers, the over-sized representations of these creatures unsettle, startle, and even frighten the viewer. The intricate crochet encasing them raises more questions. Does the lace protect or imprison these animals? Does lace adorn the creatures or hide something treacherous about them?
Vasconcelos combines mass-produced lawn ornaments made in Portugal with Azores lace. Although lawn decorations and crocheted works are often associated with domesticity, Vasconcelos transforms them into high art, challenging the art establishment's traditional conceptions of artistic value. Within the ambiguity of her combined symbols, she reveals the face of domesticity, its double-binding nature of simultaneous entrapment and protection.
Visit the museum and explore Revival, on view through September 10, 2017.