August 9, 2017
8/9/17
In celebration of NMWA's 30th anniversary, and inspired by the museum's focus on contemporary women artists as catalysts for change, Revival illuminates how women working in sculpture, photography, and video use spectacle and scale for expressive effect.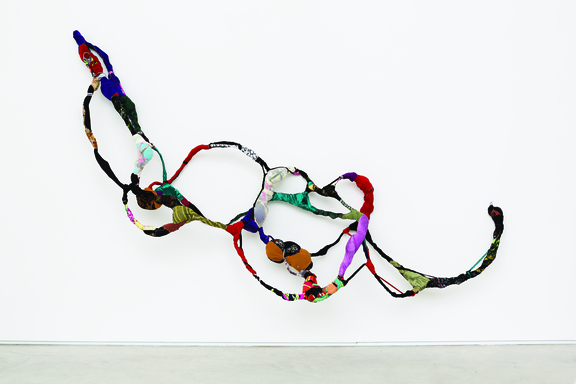 Sonia Gomes (b. 1948, Caetanópolis, Brazil)
After beginning her career at the age of 45, Sonia Gomes quickly gained recognition in the global art scene, participating in exhibitions around the world and influencing a younger generation of Brazilian artists. Gomes uses a range of fabrics, thread, and rope—often gifted or found—to create multi-dimensional sculptures. These structures twist, spiral, converge, and taper in organic and graceful ways that recall biological forms and sacred objects. Her use of fabrics carries collective and personal stories embedding the idea that something passed could be brought back to life again. Gomes's works are inspired by her family, including her maternal grandmother, whose traditional dress and rituals as an indigenous spiritual healer and midwife influenced her, and her father's family that worked in a textile factory.
The Artist's Voice:
"Sometimes I think my work might look like my insides because it's extremely visceral. . . . And I make art by necessity. I think if I haven't been doing what I do, I would have gone crazy or I might have been in trouble because I can't live without it…so I discovered life through art."
"For me, art is about truth. I don't get politically involved in Afro-Brazilian movements. I participate through my work and now that I'm starting to receive recognition I think it's important to give my contribution."—Sonia Gomes, in a video interview with Arterial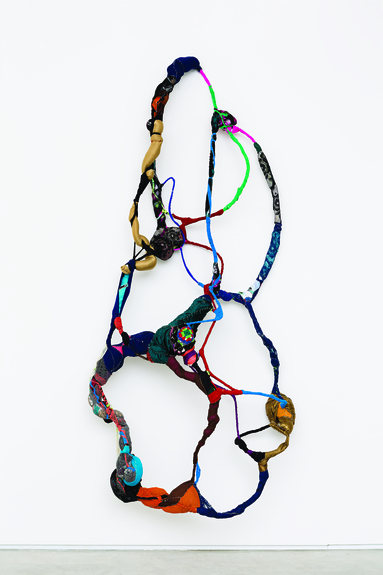 Revival Highlight:
Courtesy of the Rubell Family Collection, four sculptures by Gomes are on display in Revival. These sculptures project from the wall, hang from the ceiling, and, in some cases, wander onto the floor. In an untitled work from 2015 from her series "Torção," Gomes uses fabric, wire, thread, and beads. She binds, knots, and sews together opaque and shear fabrics that evoke the domestic realm while simultaneously forming symbolic re-creations of the body.
Gomes explores issues of identity and memory. Historically, black women have been at the bottom of Brazil's social strata experiencing limited visibility. Addressing this subject figuratively, Gomes's sculpture hangs from the ceiling, hovering before the viewer as an insistent placeholder for the absent or unseen body.
Visit the museum and explore Revival, on view through September 10, 2017.