April 18, 2011
4/18/11
One of the artists featured in Eye Wonder: Photography from the Bank of America Collection is Gertrude Käsebier (1852—1934), (pronounced "KAY-zerr-beer"), one of the most influential photographers of the early 20th century known for soft imagery of mothers and children, as well as a stunning collection of portraits of the Sioux Indians.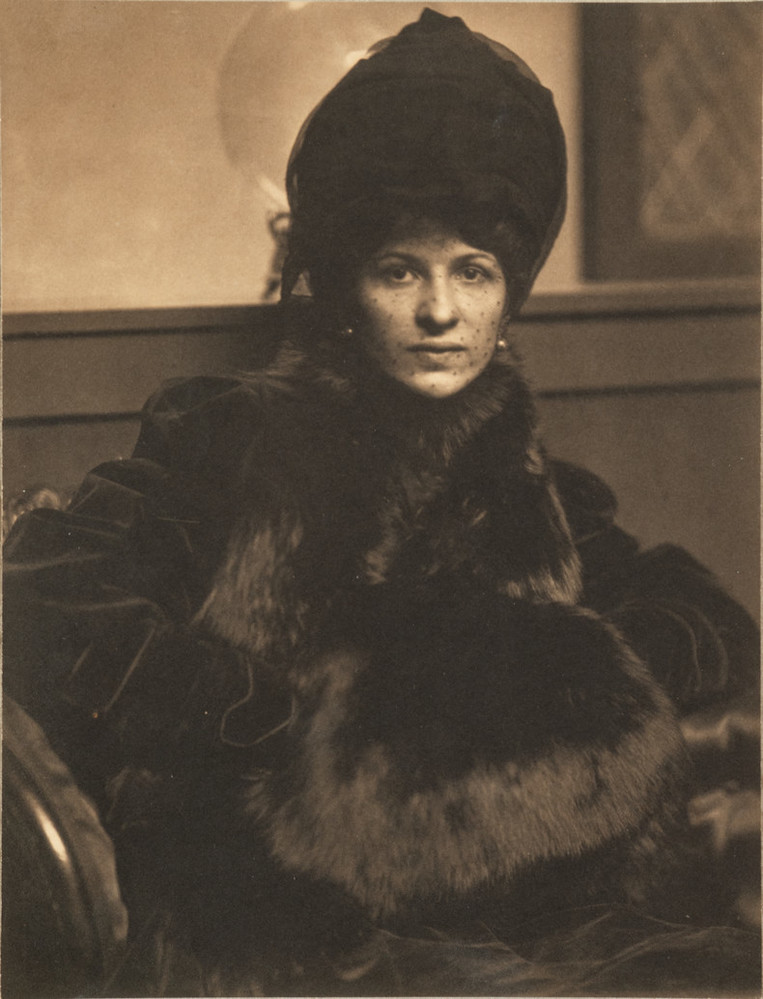 Born in Des Moines, Iowa, Käsebier moved to Colorado with her family at a young age where her father was a silver miner. In 1873 she married shellac importer Eduard Käsebier, and moved with him to Brooklyn, New York. Her marriage was not a happy one: after her husband's death in 1910, she is quoted as saying "If my husband has gone to Heaven, I want to go to Hell." Her marital strife later served as inspiration for a famous photograph of two oxen titled Yolked and Muzzled – Marriage (c. 1915).
Käsebier did not begin her artistic career until middle age, after her three children had entered high school. She attended the Pratt Institute and studied photography in Paris. In 1897, she opened a portrait studio on Fifth Avenue and achieved instant success attracting wealthy clients. As her husband aged and his health failed, Käsebier increasingly supported her family with commissions from her portraits.
In addition to producing portraits, Käsebier was a key figure, along with American photographer Alfred Stieglitz, in advancing the photographic movement known as Pictorialism. Pictorialism emphasized the artistic, as opposed to the purely documentary, aspects of photography and held that photography should emulate the qualities of painting. As a woman artist, Käsebier's embrace of Pictorialism would have raised eyebrows during her lifetime: at its inception, photography was widely considered a purely mechanical, imitative process, ideally suited for women due to its "point and click" nature and the supposed lack of creative intent on the artist's part.
One of Käsebier's most famous works, The Manger (on view in Eye Wonder and part of NMWA's collection), is an ideal example of the creativity and preparation involved in creating a photograph: the model is staged carefully holding a bundled baby (in reality, there was no baby beneath the swaddling for this image), with light illuminating the mother's clothing in a soft, ethereal manner.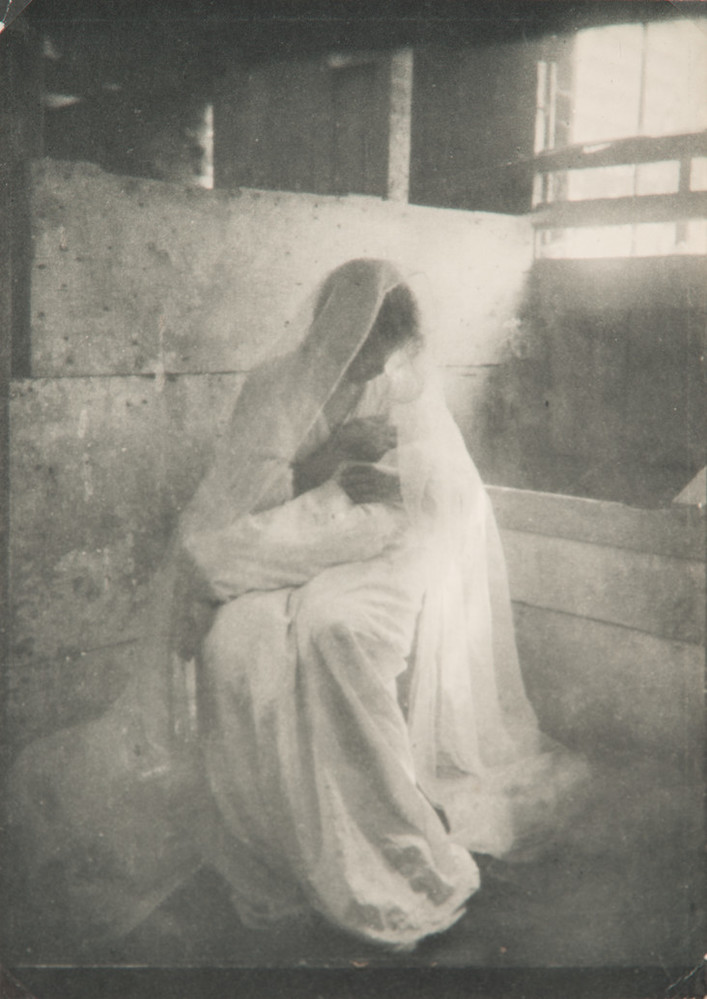 In 1902, Käsebier was a founder—along with Stieglitz—of the Photo-Secession, an organization that promoted Pictorialism. Stieglitz featured Käsebier's work in the first edition of his periodical Camera Work, hosted an exhibition of her work at his New York gallery 291, and heaped praise upon her work throughout much of her career. After her husband's death in 1910, Käsebier supported her family with sales of her photographs, and began to pursue photography with an increasingly commercial interest. This approach lead to a falling out with Stieglitz, who believed that photography should be pursued solely for its artistic merit rather than financial gain.
In the 1890s Käsebier produced a stunning portfolio of portraits of the Sioux Indians who were touring New York as part of "Buffalo Bill's Wild West" show. She first discovered the troupe on parade when glancing out her studio window, and became enthralled with their appearance and stories. She eventually invited them to her studio where she photographed them, got to know them, and eventually became sympathetic to their plight. Unlike the work of other photographers interested in Native American subjects at the time—who posed them with tomahawks and loin cloths to appeal to a voyeuristic public—Käsebier's portraits are sincere portrayals of the Sioux as regular people, often highlighting the relationships between a husband and wife, or a mother and child. Sixty of Käsebier's Sioux portraits will soon be on view in Buffalo Bill's Wild West Warriors: Photographs by Gertrude Käsebier at Smithsonian's Ripley Center. For more information visit http://www.si.edu/Museums/ripley-center.