April 4, 2011
4/4/11
"I love story, I love narrative, I use it in my work, I tell stories. The stories are anecdotes about events. And they're selected because they mean something to me. I choose them because I see meaning in them." –May Stevens
Born in Dorchester, MA and bred in Quincy, MA, both near Boston, May Stevens grew up in a working-class family. Women's poverty and lack of opportunity, which she perceived in the environment surrounding her, strongly influenced her outlook on society. Stevens studied at the Massachusetts College of Art in Boston, the Art Students League in New York, and the Académie Julian in Paris. Her artwork is in several prestigious collections, including the Brooklyn Museum, the Whitney Museum of American Art, the Metropolitan Museum of Art, and the Museum of Fine Arts, Boston.
When introducing artist May Stevens (b. 1924) in the preface of her book, May Stevens, Patricia Hill writes that Stevens "speaks for a social and political conscience that demands attention be paid to past and present issues—of racism, gender inequalities, abuses of power. She will often switch from speaking in the past tense…to the present tense, as the emotion of memories takes hold of her." Both an activist and an artist, by the 1970s, Stevens banded together with other women artists and art critics to create a "consciousness-raising" feminist group that would not just question patriarchal authority but would engage actively in social change. Twenty women joined this collective, creating a quarterly magazine Heresies: A Feminist Publication on Art and Politics.
Four members of the Heresies collective (artist and writer Harmony Hammond, performance artist Marty Pottenger, teacher and pattern artist Miriam Schapiro, and critic Lucy Lippard) appear in Steven's acrylic painting, SoHo Women Artists (1978), on view in NMWA's collection galleries. Stevens includes herself in the rear left, turning to face community neighbors: Signora D'Apolito from a local bakery and two elderly Italian men she frequently saw on the street. Another Heresies artist, Joyce Kozloff, is pictured sitting with her son, Nikolas, on the floor while conceptual artist Sarah Charlesworth appears with her bicycle. Lastly, Louise Bourgeois, an artist whose work is also in the same NMWA gallery, is depicted in the center of the work, immersed in her soft sculpture of breast forms. In the background, Stevens has included sections of three of her own paintings, Benny Andrews and Big Daddy, Artemisia Gentileschi, and Big Daddy Draped.

SoHo Women Artists is part of her "history painting" series, in which she represents an alternative history recognizing women artists, in part reacting to the inflammatory Art News article asking "Why are there no women artists?" and realizing that the standard art history textbook by J.W. Hansen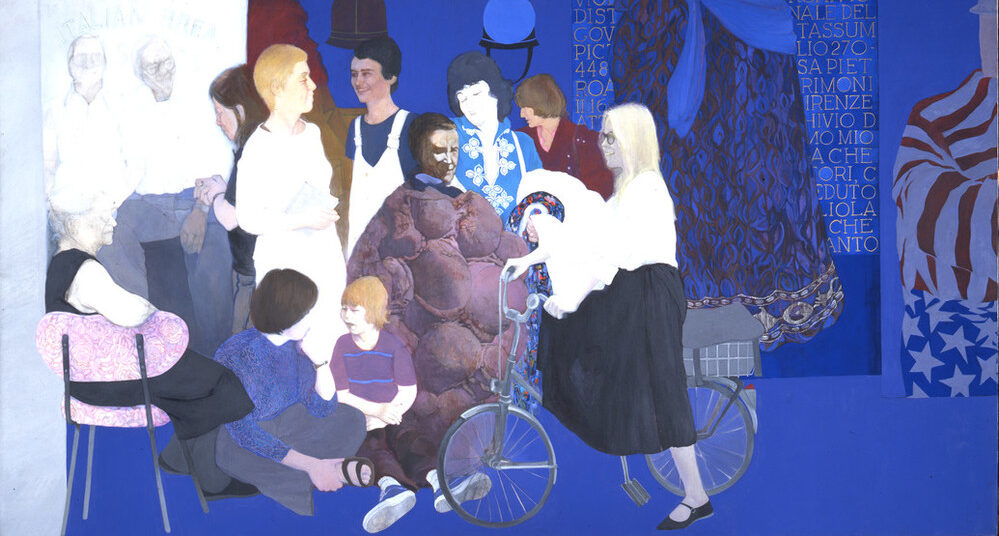 did not mention a single women artist. She created this larger-than-life painting by using photographs to place her friends in a frieze-like composition. As Hill describes, "Her aim was to highlight feminists working independently but in concert" and deconstructing history to showcase silenced and unrecorded lives.
Stevens creates thick layers of paint because she wants the paint to act and flow like water. Her most recent work aligns with this, Stevens painting lyrical works that incorporate water as both the subject and content. The Water Remembers: Recent Paintings and Works on Paper by May Stevens 1990-2005 was on view at NMWA in the winter 2005-2006.
Work Cited
Hills, Patricia. May Stevens. Petaluma, CA: Pomegranate Communications, Inc, 2005.