March 21, 2017
3/21/17
The exhibition New Ground: The Southwest of Maria Martinez and Laura Gilpin explores how potter Maria Martinez (ca. 1887–1980) and photographer Laura Gilpin (1891–1979) brought the American Southwest into focus as a culturally rich region that fostered artistic expression. Martinez and Gilpin were friends in New Mexico over many decades. The artworks in this exhibition overlap in content and display to underscore the artists' relationship with each other, which transcended boundaries of place and culture.



Gilpin first got to know Martinez and other Pueblo and Navajo people through her lifelong companion, Betsy Forster.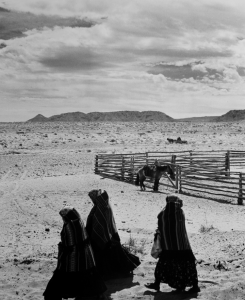 In 1930, Forster and Gilpin moved from Colorado to New Mexico, where Gilpin planned to photograph the rugged terrain. Forster became a field nurse with the New Mexico Association on Indian Affairs, a position through which she—and Gilpin—became intimately connected to the local population.
Laura Gilpin frequently photographed artists in the process of creating rugs, jewelry, and pottery. Over the years, Gilpin photographed Maria Martinez and her family during the many stages of making pottery, from processing raw clay to shaping bowls and jars, painting decoration, and even firing the pieces. Gilpin never photographed anyone without their permission, and she frequently formed relationships with her subjects. Her documentary prints are intimate portraits that capture the personalities and detailed features of her individual sitters.
For Maria Martinez, relationships with family, community members, friends, and people from the art world were a guiding force throughout her life.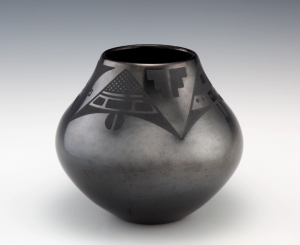 She learned pottery-making techniques from an aunt, and later added new methods as she collaborated with her husband and other family members. She collaborated with her husband, Julian, until his death in 1943, but she also worked with her sons—particularly Popovi Da—as well as daughters-in-law, and her grandson Tony Da, who was Popovi's son. She also shared these processes with others, demonstrating her unique form of artwork in her home community and at art shows and expositions around the country. These collaborations cemented her legacy and lasting influence on Pueblo pottery.
Visit the museum and explore New Ground, on view through May 14, 2017.
Adapted from text by Virginia Treanor, associate curator at the National Museum of Women in the Arts, Christina Burke, curator of Native and non-Western art at the Philbrook Museum of Art, and Catherine Whitney, chief curator at the Philbrook Museum of Art.