July 25, 2017
7/25/17
In celebration of NMWA's 30th anniversary, and inspired by the museum's focus on contemporary women artists as catalysts for change, Revival illuminates how women working in sculpture, photography, and video use spectacle and scale for expressive effect.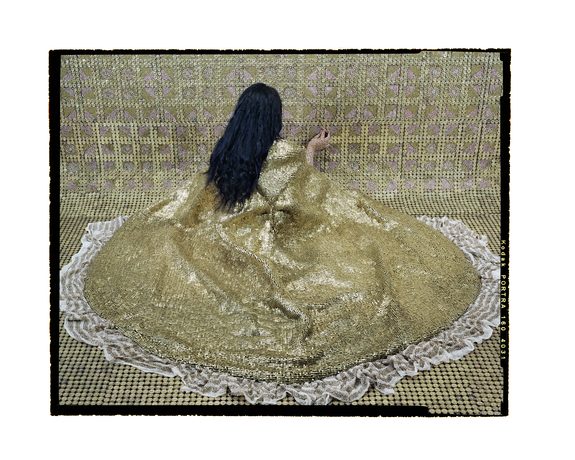 Lalla Essaydi (b. 1956, Marrakesh, Morocco)
Born and raised in Morocco, Lalla Essaydi now lives and works in New York. She received her MFA from the School of the Museum of Fine Arts at Tufts University in 2003 and has since participated in several major exhibitions around the world.
Essaydi's intricately staged photographs not only draw the viewer in with their scale and beauty, but go further to challenge 19th century Orientalist mythology, which portrayed Arab women as sexual objects for male fantasy. While she often imitates the poses of Orientalist painters, she controls the gaze. Essaydi portrays her subjects clothed and covered in henna calligraphy. This stylistic choice challenges the tradition of calligraphy as a male-dominated art form.
The Artist's Voice:
"In my art, I wish to present myself through multiple lenses—as artist, as Moroccan, as traditionalist, as Liberal, as Muslim. In short, I invite viewers to resist stereotypes."—Lalla Essaydi, artist's website
"There are so many layers to my work, and some of them are just for me. If the viewer does not discover it on their own, I'm not going to talk about it because I have always been told how to behave, what to say, how to see things, how to think, and I don't want to impose that on the viewers by stating everything. I do what I do for myself, before anything else. "—Lalla Essaydi, interview in Africa is a Country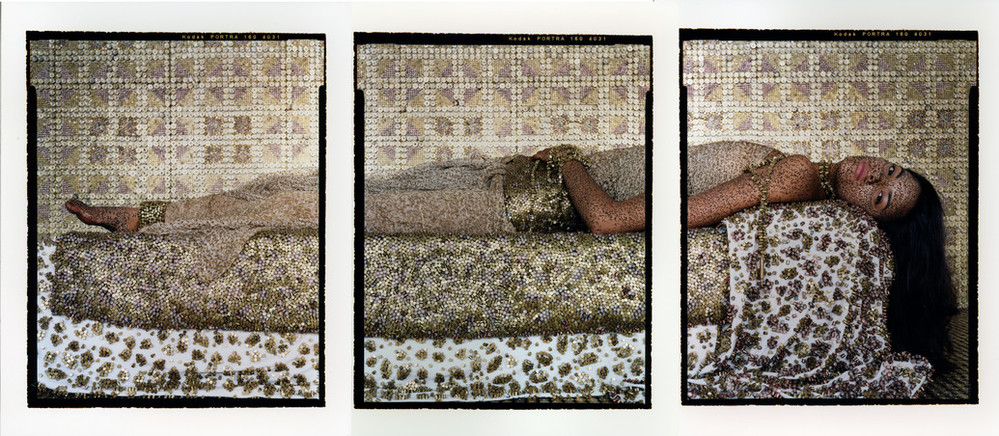 Revival Highlight:
Two of Essaydi's photographs from her "Bullets Revisited" series are on view. A recent acquisition into NMWA's permanent collection, the triptych Bullets Revisited #3 (2012) portrays a reclining woman, whose skin and garments are covered in henna calligraphy, against a background embellished in silver and gold bullet casings. By presenting this photograph in a triptych format, the fragmentation of the body denies a voyeuristic view of the figure. In Bullets Revisited #20 (2014), she cocooned her seated model with a cape encrusted with similar casings. Essaydi explains her use of bullets as a commentary on violence against women in a new post-revolutionary era following the Arab Spring.
Visit the museum and explore Revival, on view through September 10, 2017.