August 24, 2015
8/24/15
The fourth installment of NMWA's biennial exhibition series, Organic Matters—Women to Watch 2015 is presented by the museum and participating national and international outreach committees. The exhibition's artists redefine the relationship between women, art, and nature.
Organic Matters—Women to Watch 2015
Artist: Jiha Moon
Nominating committee: Georgia Committee / Consulting curator: Michael Rooks, High Museum of Art
Jiha Moon is known for her blend of traditional materials and pop culture iconography. Like a "cartographer of cultures," Moon is interested in creating images that can be read differently by people with different backgrounds. The Korean-born artist says, "Translating cultural incongruities is one of the most exciting and nerve-wracking experiences I have."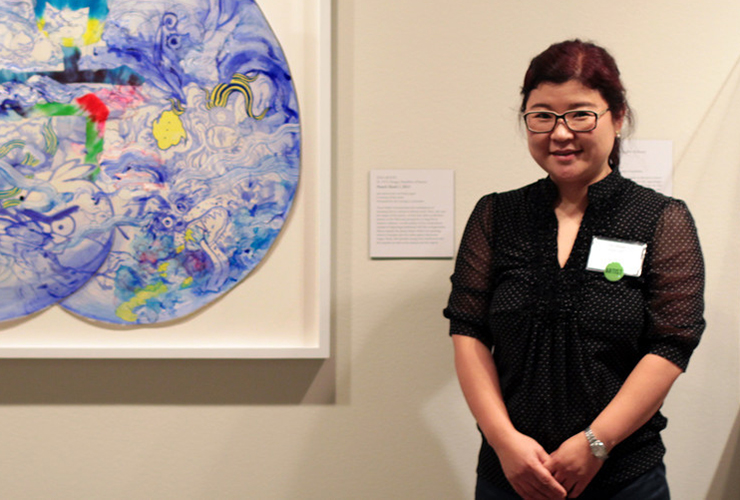 Moon mixes nature and culture in Peach Mask I, Leia, and Immortal Dessert—all on view in Organic Matters. Each work incorporates the shape of a peach. A prominent symbol in the state of Georgia, the peach also represents happiness and longevity in Korean culture.
The works in Organic Matters are exemplary of Moon's cross-cultural artistic style. In many of her works, Moon deconstructs and layers iconic images into uncharacteristic positions. Peach Mask I mixes acrylic forms together with calligraphic ink swirls. Upon closer examination, the viewer can find recognizable shapes—like those of the video-game characters Angry Birds. Through combining figurative elements and abstract, gestural strokes, Moon hopes to create kaleidoscopic works that are "somewhat familiar yet very strange at the same time."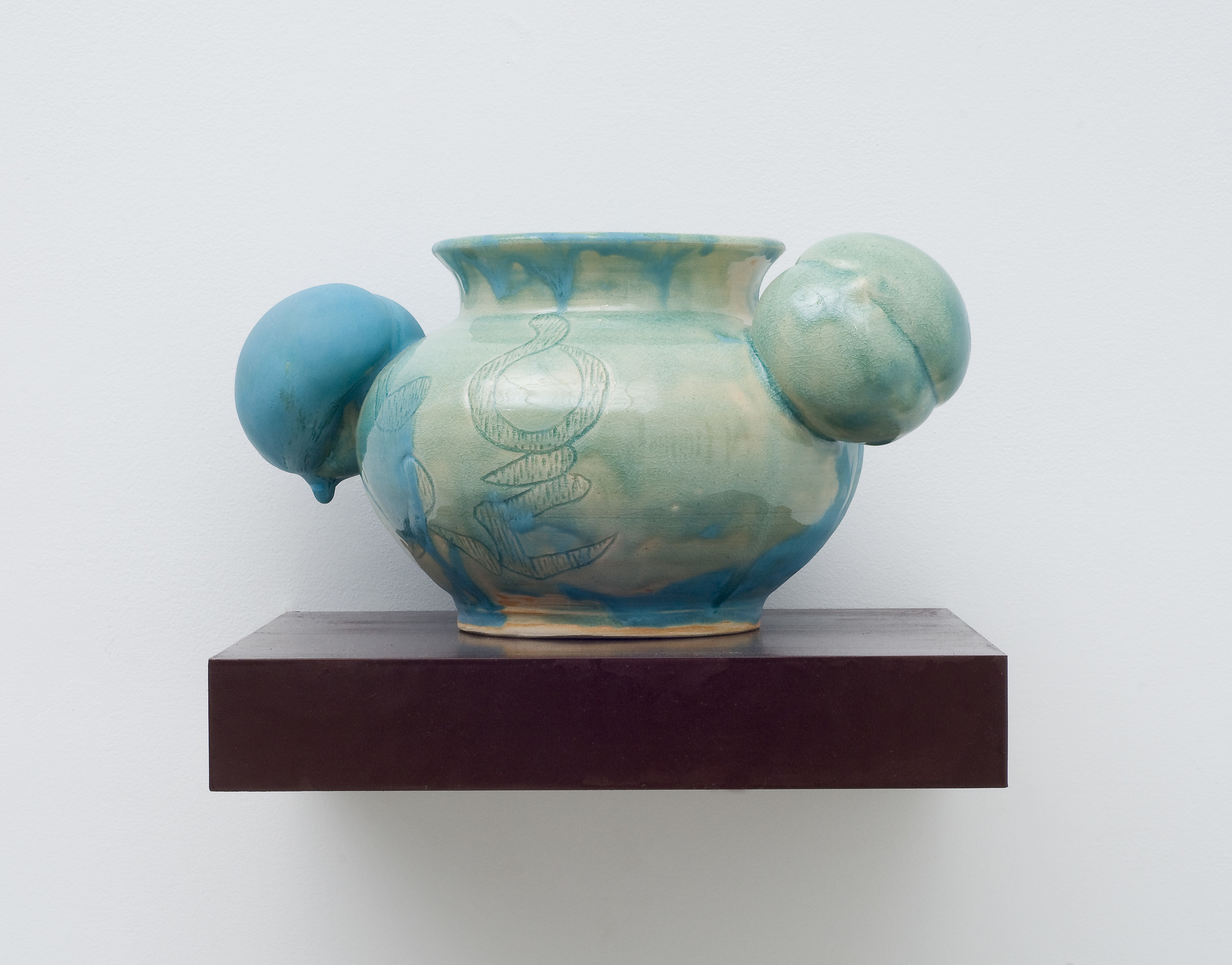 Although she was trained as a painter, she has also explored textiles and ceramics. Moon's fascination with clay lies in its "long history connecting East and West. As an Asian American artist, this is such a rich area to explore and to research." Two of her ceramic works are showcased in Organic Matters. Leia incorporates traditional colors found in Asian ceramics with Star Wars references. Similarly, Immortal Dessert melds a Cheshire cat, smiley face emoticons, and fortune cookies. All are common motifs for Moon. Fortune cookies—an American invention—are of particular interest to the artist as the "biggest misunderstanding of Asianness."
Although her works use images from today's culture, her materials are often traditional. She frequently uses Hanji, a Korean Mulberry paper. She said, "I buy a year's supply when I visit Korea."
In a gallery talk at the museum, Moon told visitors her influences are "where I travel, who I meet, and . . . things I see in nature." She compares her surrealistic works to her life in the U.S., saying, "I always feel like I'm sort of in between places all the time and I try to find the beauty within that . . . Identity is something really complex and shifty and changeable and that type of thing is always present in my work."