November 27, 2019
11/27/19
DMV Color presents artists' books, graphic novels, photobooks, and zines by women of African American, Asian American, and Latina heritage with ties to the District of Columbia, Maryland, and Virginia—known locally as the DMV. The works on view depict intimacies of family life, legacies of enslavement, dislocation tied to immigration, changes resulting from rampant development, and more. On view in NMWA's Betty Boyd Dettre Library and Research Center through March 4, 2020.
Washington, D.C., resident Malaka Gharib (b. 1986) is an editor at NPR, co-founder of the D.C. Art Book Fair, and zine artist. Her graphic memoir I Was Their American Dream (Clarkson Potter, 2019), chronicles her multicultural upbringing as the daughter of a Filipino Catholic mother and an Egyptian Muslim father. From her multiethnic hometown in suburban Los Angeles to the majority white upstate New York town where she attended college, Gharib constantly negotiated between her Filipino and Egyptian heritage—and the ideals of white America. "What are you?" is a question the artist explores with heartfelt insight and humor in this joyous tribute to her immigrant family.
The intricacies of family life and cultural tensions are major themes throughout DMV Color, and Gharib addresses them with nuance and authenticity. In playful red, white, and blue illustrations, Gharib depicts navigating clashing familial relationships, cultural values, religion, and food. Even within her high school's diverse cultural pool, Gharib's own ethnic ambiguity and fascination with white people in popular culture earned her a label of "white-washed" and treatment as a misfit. To be "normal" was to be white, according to teenage Gharib. Eventually, she found her stride as part of a motley, punk-loving, creative crew. She also learned to blend her family's distinct cultures together, creating an identity all her own. Reading like a conversation with a close friend, this is the story all children of immigrants might have wished they had growing up.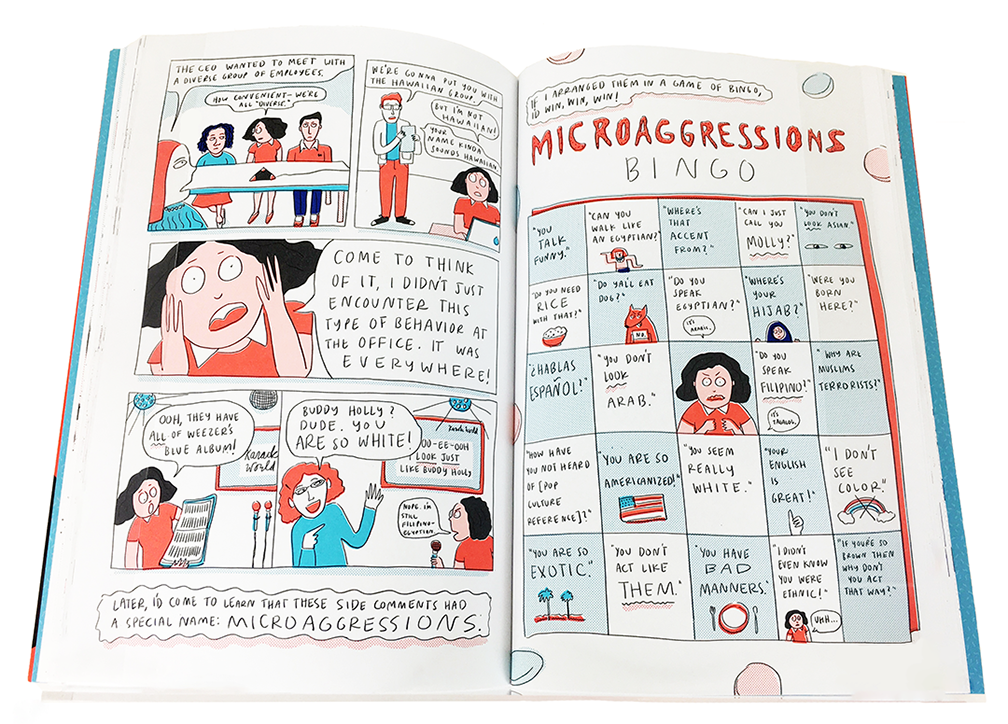 Gharib's memoir is delightfully designed, featuring interactive elements including a family recipe for the Filipino soup monggo, a cheeky-yet-pointed bingo chart of microaggressions, and a paper doll of the author with various outfits that highlight her code-switching in college. Her simple and unique character designs reject racial caricaturing, reimagining race with a refreshing lens. In one section, Gharib's renderings of her high school classmates' yearbook pictures represent the diversity of her school without relying on stereotypical depictions. The artist flatly rejects monolithic narratives and depictions of immigrants and their families.
In an interview with the Asian Journal, Gharib explained how the negative, one-dimensional, anti-immigrant rhetoric of 2016 catalyzed her to write the memoir. "I thought about my dad who liked gardening and loved the movie Forrest Gump. He's totally harmless. I wanted to correct the narrative that I was seeing." In I Was Their American Dream, Gharib invites readers on a journey into her colorful world and leaves us with renewed empathy and understanding.