August 12, 2010
8/12/10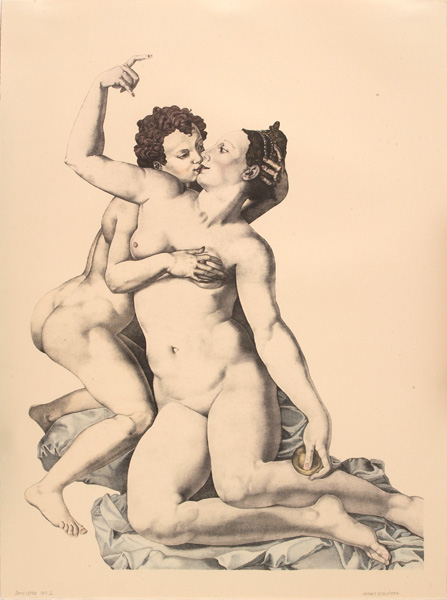 Dotty Attie's work—mannered, realist, delicate—is all about violence. Masterpieces copied, cut, contextualized anew. Images of women manipulated to accentuate their vulnerability to the powerful male and his gaze. Text interspersed throughout, accentuating divisions and creating a narrative previously unimagined. Visitors to NMWA this summer have the opportunity to experience this original approach to art history and postmodernism—Attie's Mother's Kisses, 1982, is on display through September 13 as part of The Collaborative Print: Works from SOLO Impression.
Born in 1938, Attie's career began in the 1950s when she studied at the Philadelphia College of Art. She first exhibited in the 1960s and has continued to do so since that time; her most recent show was What Would Mother Say? in 2009 at P.P.O.W Gallery in New York. Within that 40 year time span, she has emerged as voice fighting for recognition for women in a male-dominated art world.
Precise, painterly reproductions of Old Master pieces dominate her work. Through copying, Attie finds room for personal reinterpretation. She often only includes specific details and rearranges a large canvas into a series of significantly smaller squares. Usually she includes text when recreating these works, spurring the common comparison of her art to comic strip narratives. Throughout her 40-plus year career, these elements have proven to be important stylistic constants.
Despite this continuity, her work remains relevant. Attie often searches out new subject material, most recently incorporating images from pop culture into her grand tableaux. A textual refrain like "Resistance and Refusal Mean Consent," which she has included in much of her most recent work, ground her pieces in an unchanging reality in their insistent repetition, demonstrating the effectiveness of the copy-original duality in her art. What she achieves is a forceful reinterpretation of the history of visual culture. Taking the subjects that men depict, she analyzes them anew, revealing the violence hidden when one talks of beauty. In a work like 1998's Vermeer's Wife, the Dutch Master's portraits become a space where women are victim to the male-controlled actions around them, with little voice of their own. In this example, Vermeer's famous female musician sits mute and disembodied, unable to respond to recently delivered news.
Mother's Kisses exemplifies these aesthetic and intellectual themes. Here, the classical female nude becomes an object vulnerable to male desires. Sampling from Bronzino's An Allegory with Venus and Cupid, mythical references and symbols of Renaissance refinement are stripped away, indicating the erotic undertones of the work. The woman becomes subject to her son—the 26 small panels accompanying the larger single lithographic sheet include text explaining male power in an incestuous relationship where the mother becomes the victim.
"Making art is a way of life for just about everyone who does it," Attie has said. "It may seem contradictory for someone who takes images and often text from other sources to feel her work is completely personal, but in fact, I do."
For a glimpse into this personal realm, check out The Collaborative Print, open through September 13. And remember to visit "Broad Strokes" throughout the summer for more spotlights on SOLO artist!