July 19, 2016
7/19/16
Some viewers might say Angela Strassheim seems obsessed with death—her eerie photographs were once described as "CSI meets Billy Graham." The artist's uncomfortable upbringing as a born-again Christian and her background in forensic photography imbue her images of crime scenes, domestic activities, and oddly posed figures with an unsettling feeling.
Strassheim's work references religion, art history, and the experience of growing up in the American Midwest. Three photographs from her "Left Behind" series (2004) and two from "Pause" (2006)—currently on view in NMWA's third-floor galleries—are partly inspired by her family and childhood memories.
Histories Repeating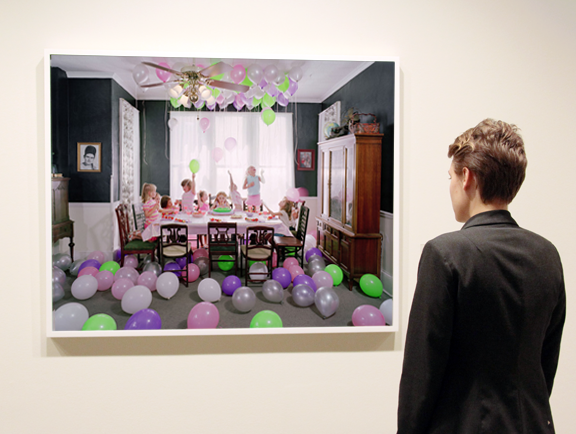 Combining art-historical and biblical references, Untitled (Savannah's Birthday Party) (2006) echoes depictions of the Last Supper. Strassheim transposes this scene to a suburban dining room filled with young girls—merging her memories with an iconic artistic and religious tableau. The work's central figure meets the viewer's gaze, creating an unsettling feeling of being watched.
Although her photographs are meticulously staged, Strassheim says that they ring "true" by representing a past feeling or memory. The artist based Untitled (Isabel at the Window) (2004) on an incident from her adolescence. The photograph's perspective, strange crime-scene quality, and placement of the nude girl in a room alongside works of art create a sense of voyeurism and transgression. The ambiguity of Isabel's position—it is not clear whether or not she knows she is being watched—adds to the intrigue of this investigation of power, gender, and vision.
Power and Control
Untitled (Horses) (2004) from "Left Behind" incorporates dread and humor in a playful image. The series' title refers to the Christian concept of the apocalypse: that true believers will be raptured into heaven while the unsaved will remain on Earth for a period of chaos and violence. In the photograph, toy horses (a reference to the apocalypse) seem to flee from a young girl who is bathed in light, wearing costume wings, and reading a small Bible. To her right, a boy sleeps peacefully, while another child lurks underneath the bed to her left.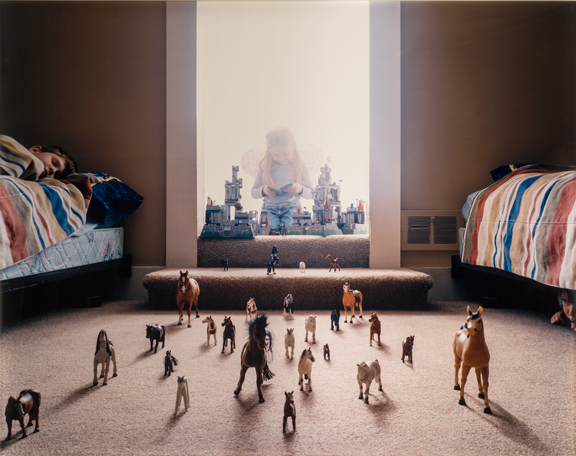 Strassheim's restaging of the apocalypse as a children's game and portrayal of a young girl (a surrogate for the artist's childhood self) as a figure of authority subverts a belief that weighed heavily on Strassheim for the first 18 years of her life. Overall, the compulsively detailed staging and sense of static perfection in these photographs suggests an intense desire for control.
Horses exemplifies Strassheim's artistic style. Polished, unsettling, and ambiguous, this photograph conjures a myriad of associations and emotions. The sense of terror lurking beneath everyday domesticity, the implication of violence disturbingly depicted through children's bodies, and the unsettling sense of being watched make her photographs disquieting but endlessly engaging.
Posted In
Artist Spotlight
From the Collection