August 24, 2011
8/24/11
NMWA's current exhibition, Pressing Ideas: Fifty Years of Women's Lithographs from Tamarind, features three works by Ynez Johnston, The Black Pagoda III, The Black Pagoda IX, and Principalities Suite Cover Page.
Ynez Johnston's works throw viewers into a world that blends the ancient with the modern. A Northern California native, Johnston was born in Berkeley on May 12, 1920, but her travels have taken her across the world and heavily influenced her work. While she was attending high school in Oakland, Johnston routinely ditched classes to wander through the harbors of nearby San Francisco and streets of Chinatown. After high school, she earned her BA in 1940 from the Universityof California, Berkley, and received a grant to paint in Mexico, which fostered her love of travel and adventure.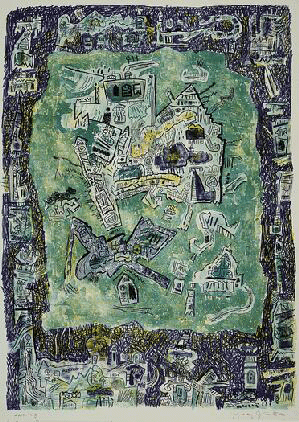 Johnston spent three years in Mexico soaking up the vitality of the country's life and culture. In 1943, she returned to San Francisco, where the San Francisco Museum of Art invited her to hold a solo exhibition. Financial success came slowly, though: she still needed the more constant income she received as a data analyst for the Navy, a job with flexible hours that allowed her to paint and earn her MFA, which she received in 1946 from UC Berkeley. In the years after she completed graduate school, Johnston experienced a dark period, experiencing anxiety and depression. However, she continued to work and received a number of grants, awards, and travel opportunities. The six months she spent in Italy on a John Simon Guggenheim Fellowship allowed her to explore other parts of Europe. In the mid-1950s, Johnston returned to California, where she continued to work and teach etching. During a residency at Los Angeles's Rustic Canyon, she met her husband, John Berry, a poet and novelist; the couple married in May 1960. Johnston and Berry collaborated on projects and travel, spending in time in Cambodia, India, and Nepal.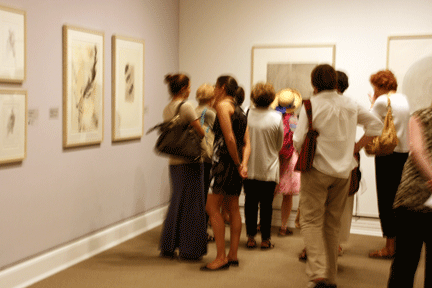 In the 1960s, Johnston came to the Tamarind Institute to produce a series of lithographs. Currently at NMWA, Johnston's Untitled (The Black Pagoda III), 1966, is packed with simple line drawings—of people, architectural elements, and landscapes. In a range of blue-green, yellow, and black tones, the composition tightly juxtaposes these smaller elements, evoking references as diverse as graffiti, travel, and universal iconography. This work, like many of Johnston's, absorbs viewers with vibrant lines and a crowded, energetic composition. Johnston's Cover Page (Principalities I), 1966, and Untitled (The Black Pagoda IX), 1996, are also on view in Pressing Ideas.
Johnston's most recent works are mainly fabricated from sculpture and bronze casting, but her previous explorations in lithography showcase her unique blend of the modern and ancient worlds. These lithographs, as well as artwork by other significant women artists who visited the Tamarind Institute, can be viewed on the second floor of NMWA through October 2.
Posted In
Artist Spotlight
NMWA Exhibitions