December 1, 2020
12/1/20
Note: Please discard previous calendars. This information is current as of January 2021. For more news about the National Museum of Women in the Arts (NMWA), visit the press room.
Upcoming Exhibitions
RECLAMATION: Recipes, Remedies, and Rituals
January 18–December 31, 2021
RECLAMATION, an online participatory exhibition and ingredient archive, examines food as a creative medium and connective tool for exploring intergenerational and intercultural experiences. Through a focus on ingredients used in cooking, curatives and ceremonies, this exhibition re-presents the traditional role of women in providing sustenance and healing. The exhibition's innovative design centers around the kitchen table, the central domestic object for gatherings of family and friends. Nine artists will activate their kitchen tables, sharing photographs, videos and stories of how they use this most important domestic object. Museum visitors will leave their mark on the exhibition by sharing recipes, anecdotes and reflections related to food through a digital ingredient archive. RECLAMATION opens a year-long season of programming that examines the relationship between food, art, and women as part of the Women, Arts, and Social Change initiative.
Sonya Clark: Tatter, Bristle, and Mend
March 3–May 31, 2021
Textile and social practice artist Sonya Clark (b. 1967) is renowned for her mixed-media works that address race and class, celebrate Blackness and reimagine history. This midcareer survey includes the artist's well-known sculptures made from black pocket combs, human hair and thread as well as works made from flags, currency, beads, sugar, cotton plants, pencils, books, a typewriter and a hair salon chair. The artist transmutes each of these objects through her application of a vast range of fiber-art techniques: Clark weaves, stitches, folds, braids, dyes, pulls, twists, presses, snips or ties within each work. By stitching black thread cornrows and Bantu knots onto fabrics, rolling human hair into necklaces and stringing a violin bow with a dreadlock, Clark manifests ancestral bonds and reasserts the Black presence in histories from which it has been pointedly omitted.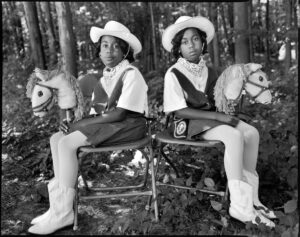 Mary Ellen Mark: Girlhood
March 3–August 8, 2021
An icon in modern photography, Mary Ellen Mark (1940–2015) documented people around the world who would otherwise be unknown or forgotten. From street children in Seattle to circus performers in India, Mark captured the lives and stories of individuals with empathy, humor and candor. Drawn from an exceptional recent donation of more than 160 photographs by the artist, given to the museum by members of the Photography Buyers Syndicate, this exhibition presents approximately 30 images Mark made throughout her career depicting girls and young women. Photographs from many of the artist's best-known series reflect her wondrous and uncanny vision of girlhood.
Current Exhibitions
New York Avenue Sculpture Project: Betsabeé Romero
Through May 2, 2021
The dynamic works of Mexico City-based artist Betsabeé Romero
(b. 1963) form the latest chapter in NMWA's public art program, the New York Avenue Sculpture Project. Signals of a Long Road Together comprises four sculptures developed expressly for this installation. Using a process similar to tattooing, Romero carves figures and intricate patterns into the sidewalls and treads of tires, which are then filled with gleaming metallic paint. The tires are assembled into totemic structures that speak to themes of human migration and the natural environment. Romero's sculptures are the first in the New York Avenue Sculpture Project to incorporate interior lighting, which gives each piece an otherworldly glow after dark.
Julie Chen: True to Life
Through June 30, 2021
Renowned book artist Julie Chen combines highly complex structures and poetic reflections to create ambitious artists' books that raise questions about time, memory and human survival. Chen carefully engineers books in ways that create unmistakable, powerful unity of text and object. Julie Chen: True to Life presents a selection of the California-based artist's captivating works from throughout her 33-year career.