September 8, 2021
9/8/21
WASHINGTON—The National Museum of Women in the Arts (NMWA) announces recent major collection acquisitions that embody its mission to support and celebrate diverse women artists. Newly acquired works include an etching by Emma Amos, photographs by Dianne Smith and a large-scale cast-bronze sculpture by Deborah Butterfield. The selection features highlights from recent exhibitions, including works by textile and social practice artist Sonya Clark that were on view in Sonya Clark: Tatter, Bristle, and Mend and pieces by renowned documentary photographer Mary Ellen Mark featured in Mary Ellen Mark: Girlhood. The museum's building is now temporarily closed to begin a major renovation, with a planned reopening in fall 2023.
"As we embark on a period of transformation, it's a delight to share the news of these acquisitions that encompass essential and varied perspectives," said NMWA Director Susan Fisher Sterling. "From monumental to intimate scale, these works further the museum's commitment to growing our strong collection of modern and contemporary art."
About the Acquisitions
Emma Amos (1937–2020)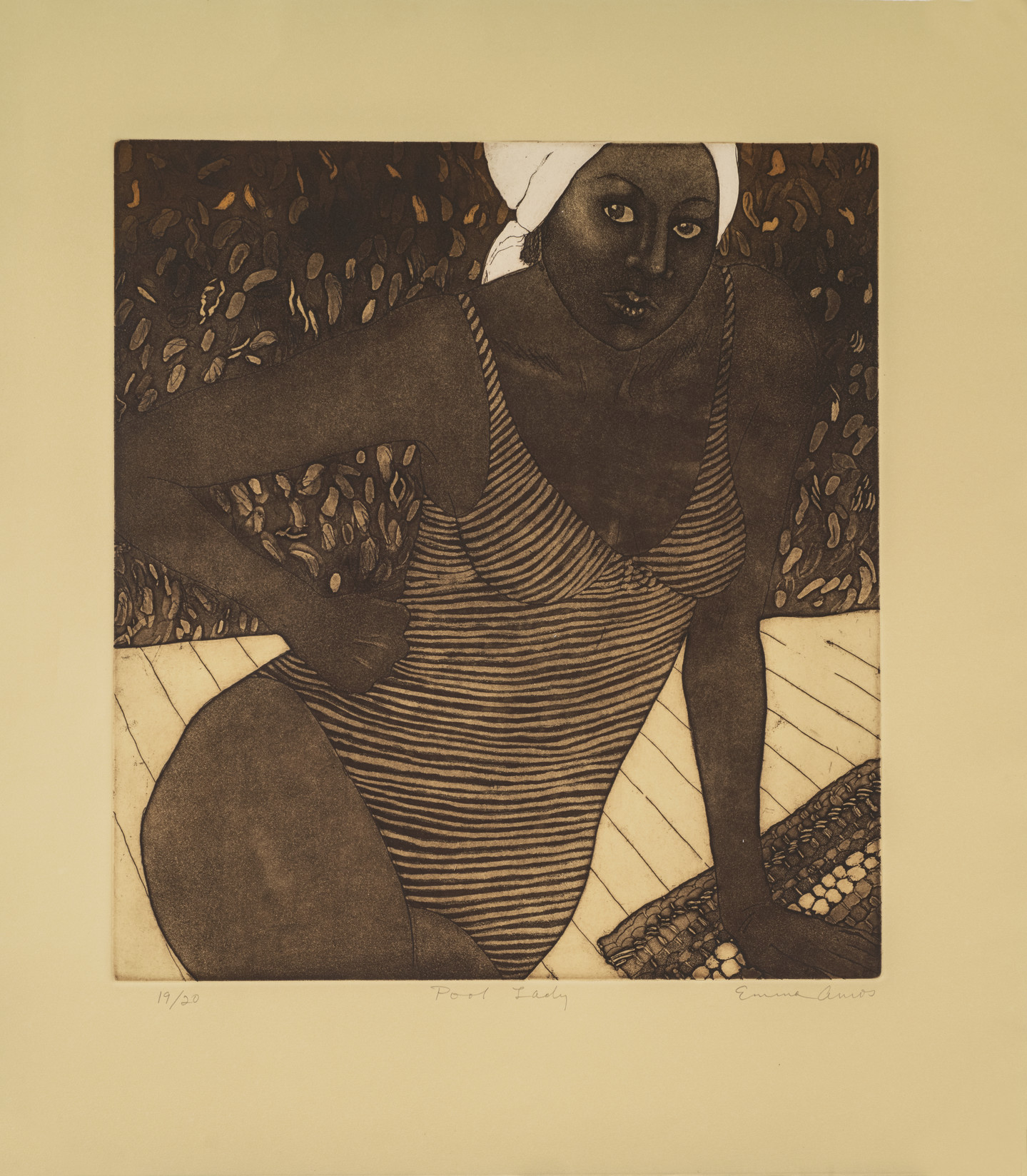 Emma Amos was best known for interrogating the art-historical status quo through an inventive approach to color and form in her figurative and abstract paintings, prints and textiles. Influenced by Western European art, Abstract Expressionism and the civil rights and feminist movements, Amos probed issues of racism, sexism and ethnocentrism in her art. In 1963, she became the sole female member of Spiral, a short-lived but significant collective of African American artists in New York City that explored the role of Blackness in art.
Pool Lady is Amos's contemporary take on the bather subject commonly found in art history. She features a Black woman—likely a self-portrait—rarely seen in portrayals of "bathers" in Western art. This confident figure confronts the viewer with a direct gaze and defies stereotypes associated with Black femininity. Amos's skill as a printmaker and her experience as a weaver and textile designer are evident in the masterful handling of the rich tones of brown aquatint and contrasting textures.
Deborah Butterfield (b. 1949)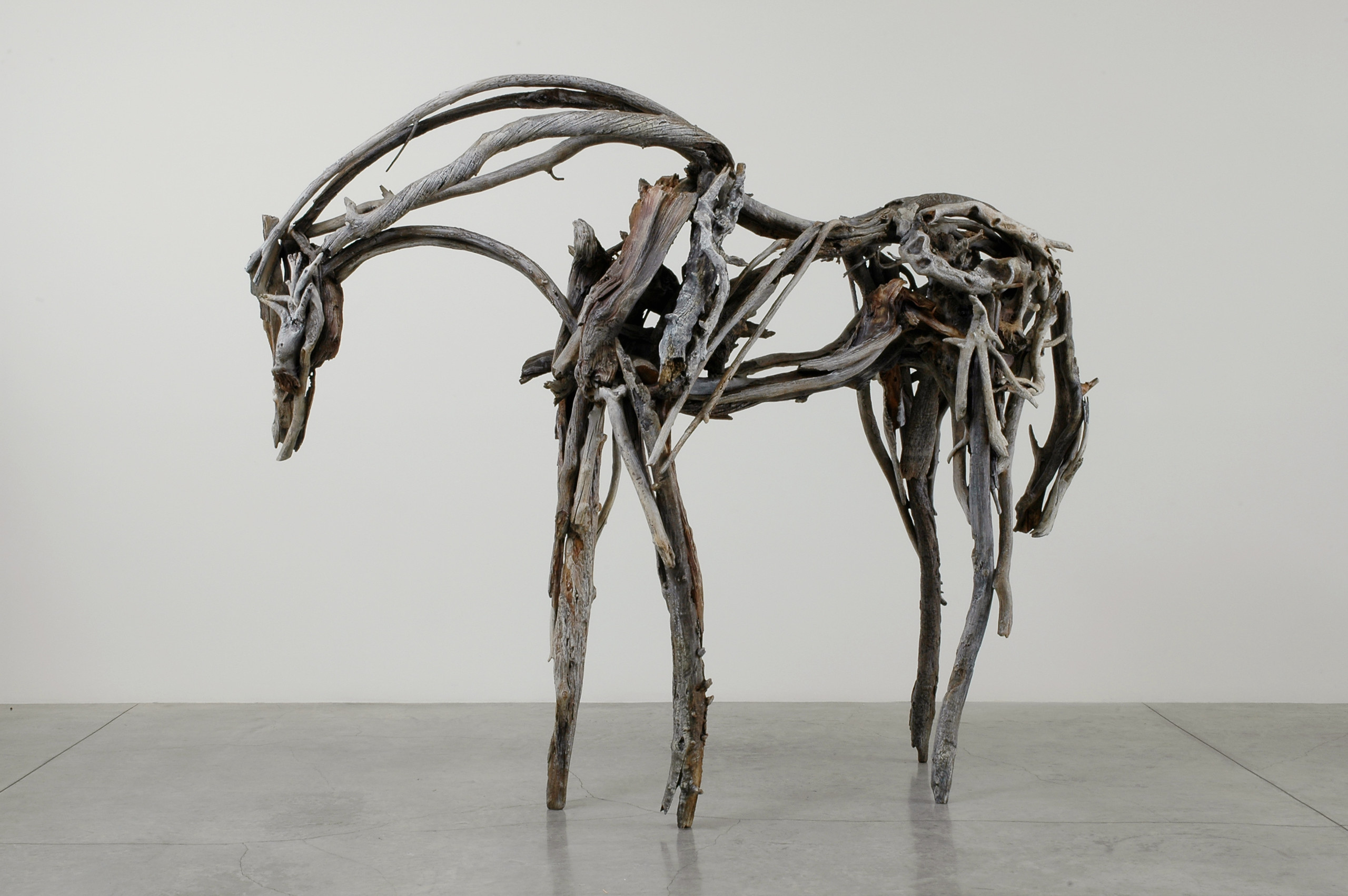 Deborah Butterfield is renowned for the sculptures of horses that she has been creating for more than 40 years. A skilled equestrian, Butterfield has centered her practice on sculptures that—while semi-abstract—demonstrate her expert knowledge of equine anatomy. Her horses are imbued with complex psychological and emotional states, evoking the animals' spirits. While equestrian subjects have historically been a masculine subject matter, Butterfield has said, "I wanted to do these big, beautiful mares that were as strong and imposing as stallions but capable of creation and nourishing life. It was a very personal feminist statement."
Over seven fe et tall and more than nine feet long, Big Horn is named after an area in Bozeman, Montana, close to where Butterfield lives part of the year and where she sourced materials to create the sculpture. As is characteristic of her style, the sculpture involved a labor-intensive process of casting bronze from wooden branches, which she then assembles and welds into the structure of the horse, evoking movement, shape and color. Her large-scale bronze sculptures can weigh more than 1,000 pounds. Each work, including Big Horn, is a one-of-a-kind cast sculpture.
Dianne Smith (b. 1965)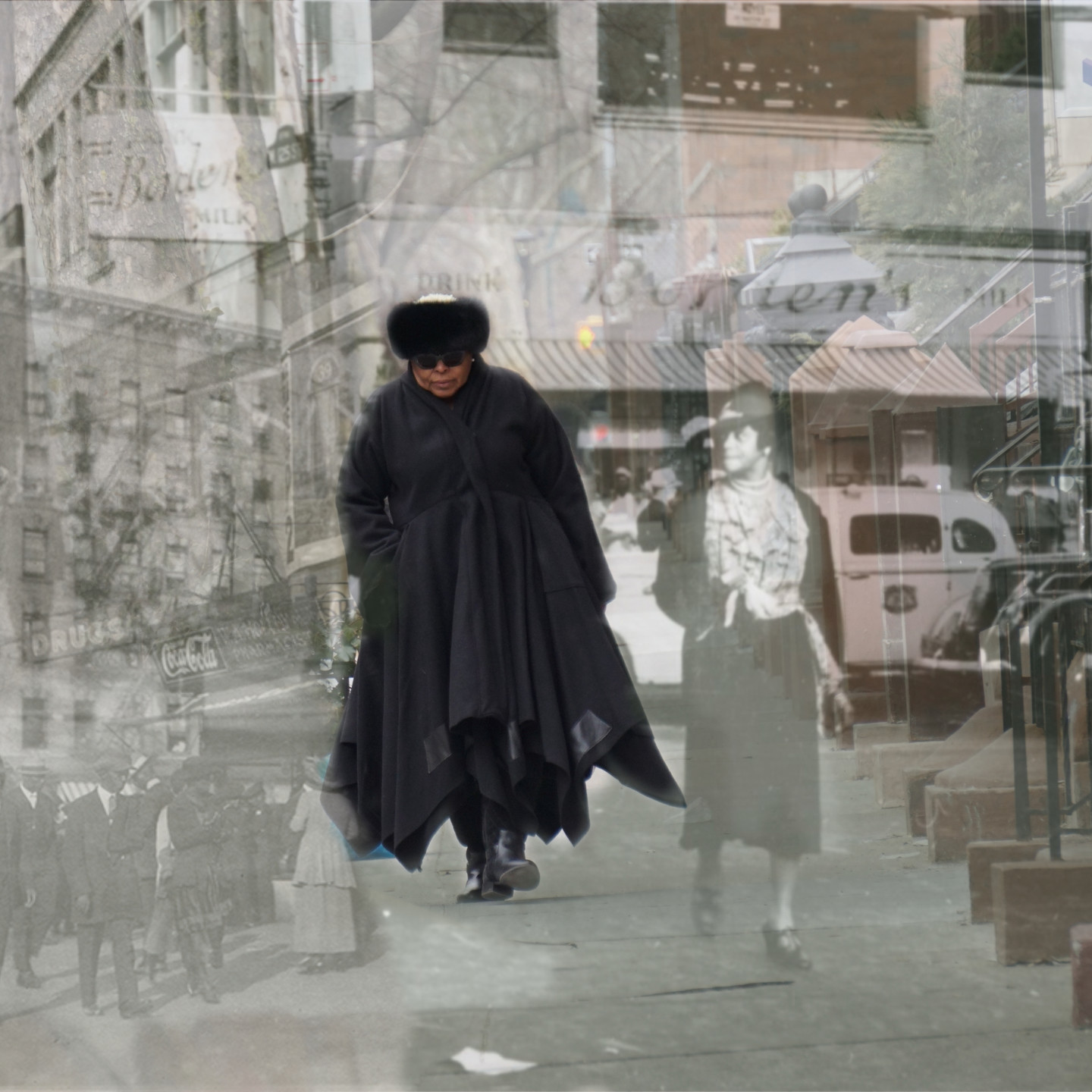 Harlem-based artist Dianne Smith is a photographer, abstract painter, sculptor and installation artist whose work incites emotions with rhythmic and evocative movements, textures and organic shapes. Her career as a multidisciplinary artist, art educator and cultural worker spans almost two decades. She often portrays the connections that all human civilizations and cultures have to Africa.
Since the 1990s, Smith has documented the impact of gentrification in her Harlem community. Between Harlem and Me is part of the artist's most recent body of work. The montage overlays her photographs of present-day Harlem with historical images of the area from the archives of the New York Public Library's Schomburg Center for Research in Black Culture. In an aim to normalize Black and Brown life in America apart from the white gaze, Smith documents the neighborhood and its residents as she sees them. Through her work, she connects past and present while exploring the future of Harlem's ever-changing yet unceasingly vibrant landscape, culture and people.
Sonya Clark (b. 1967)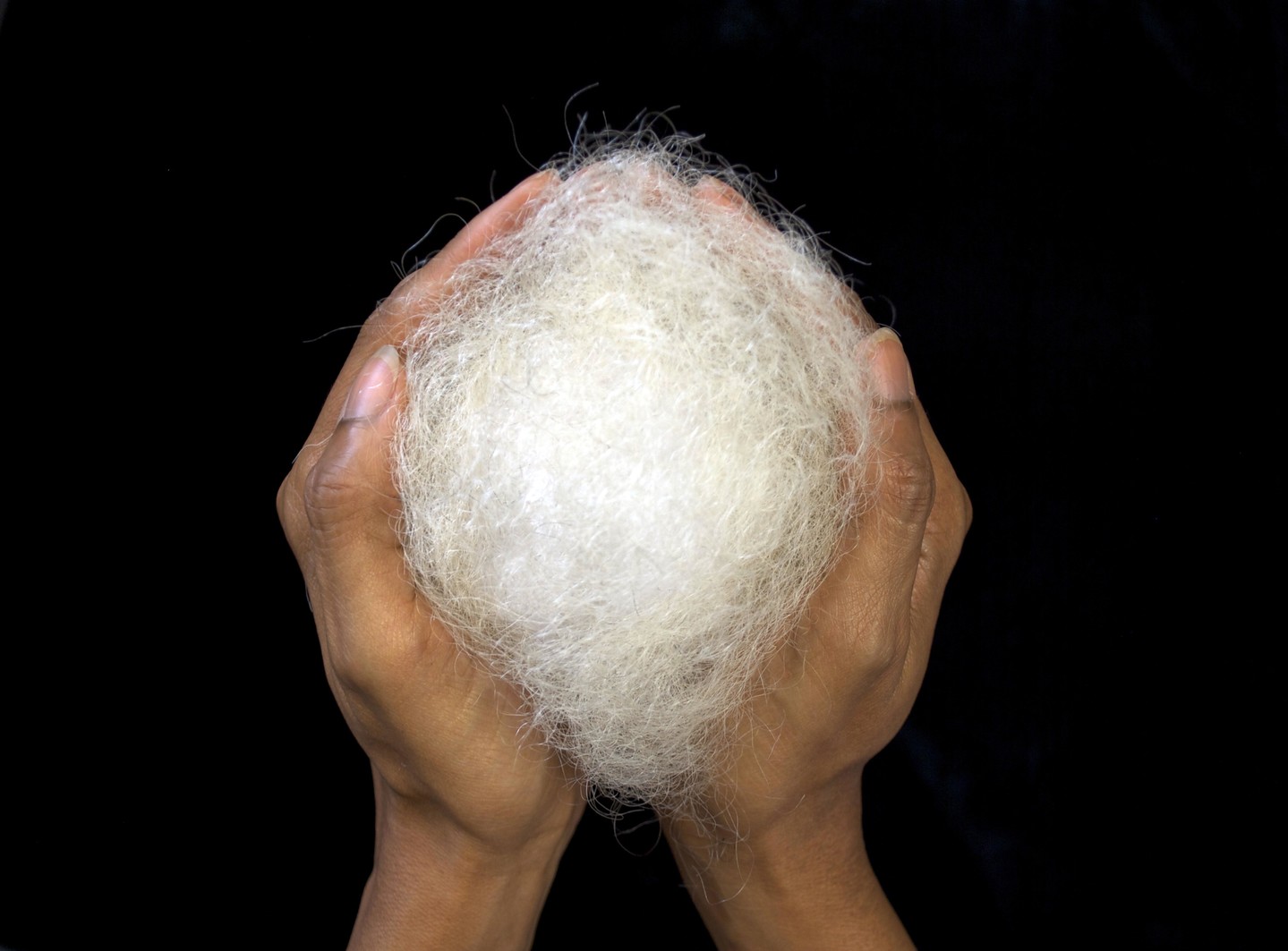 Sonya Clark transforms simple materials into powerful revelations of injustice and stirring tributes to her ancestors. She applies a range of fiber art processes, including weaving, stitching, snipping, braiding and beading to hair, combs, thread and found objects. The complexity of her handwork belies her economy of form—and from relatively spare forms, she draws out momentous narratives on race, visibility, heritage, labor and the urgent need to redress history. Materials such as hair, sugar, beads and gold signify her individual ancestry as well as the force and reverberation of the African diaspora.
Clark's sculptures assembled from combs or hair-like threads, such as Curls and Ties that Bind, illuminate her embrace of hairdressing as the fundamental fiber art—and as the nexus for hair politics surrounding race and gender. Esther Mahlangu's Touch is a beaded panel that depicts renowned South African Ndebele artist Esther Mahlangu (b. 1935) painting a mural for the Virginia Museum of Fine Arts in 2014. The work has a connection to NMWA's own history, as Mahlangu created a mural on NMWA's building exterior in 1994. Clark also excavates language as a way to expose latent racism that passes through time without reflection. In Schiavo/Ciao, the illuminated sculpture toggles between the word "schiavo," the Italian word for "slave," and "ciao," the informal salutation that extends from an Italian phrase meaning "I am your slave."
Mary Ellen Mark (1940–2015)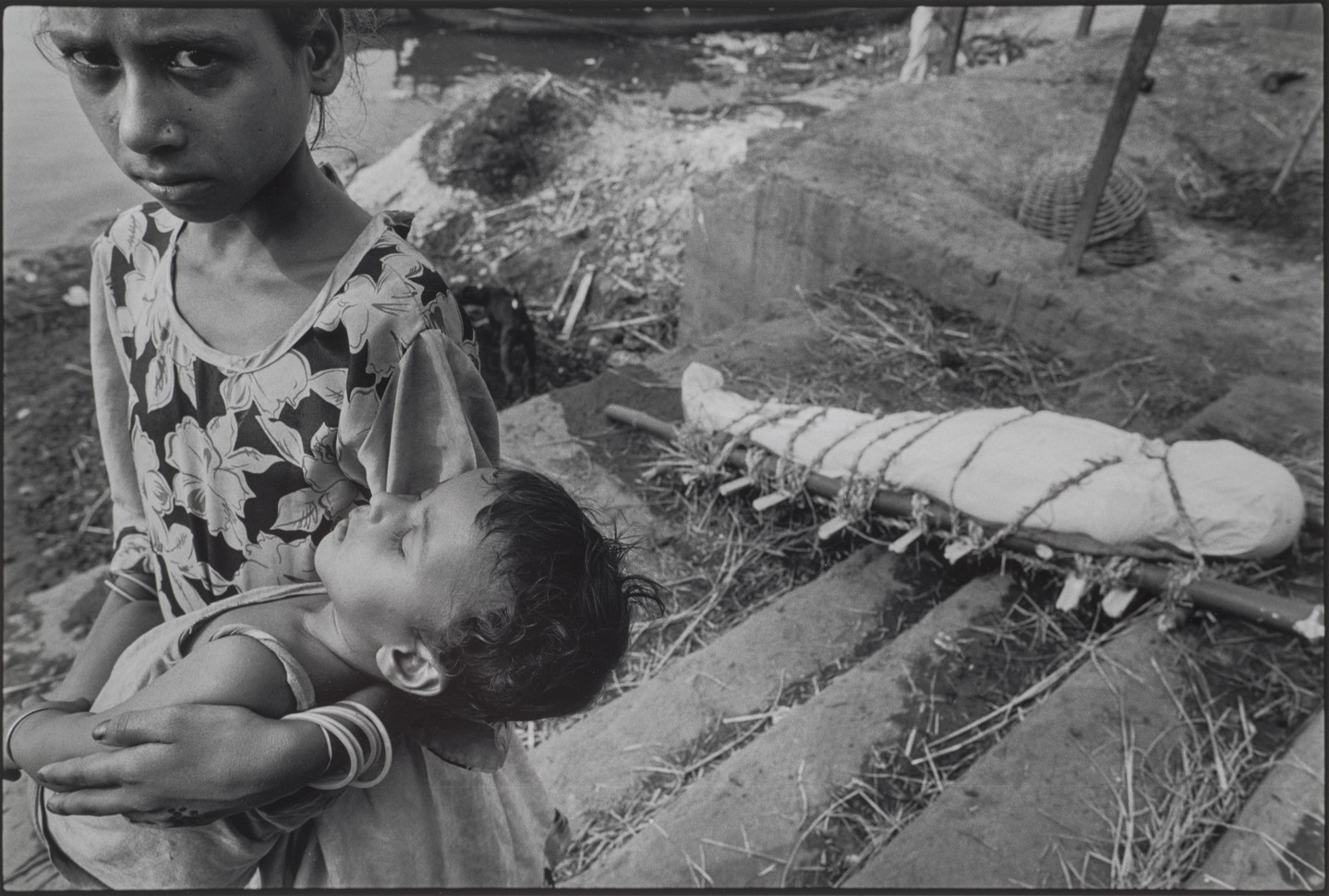 Drawn to subjects who were "away from mainstream society and toward its more interesting, often troubled fringes," Mary Ellen Mark was known for her documentary-style photography and portraiture. Throughout her life, Mark traveled the world and explored pressing social issues through her photographs, capturing homelessness, poverty, prostitution, transvestite culture, the women's liberation movement and New York City parades.
Mark's photographs of India were integral to her documentary career. She famously captured Mother Teresa's efforts with people who were impoverished and terminally ill in Calcutta, children suffering from blindness and leprosy, and sex workers in Mumbai as well as the culture around Indian circuses. In her arresting views of the United States, she captured subjects as varied as innocuous backyard activities, the harsh conditions faced by unhoused youth and the quirkiness of America's subcultures. While Mark built a reputation as a photojournalist, contributing photo essays and portraits to publications such as Life, the New Yorker and Rolling Stone, her work also has been exhibited in galleries and museums worldwide. These recent acquisitions build upon a donation of more than 160 photographs by Mark that were given previously to the museum.
National Museum of Women in the Arts
The National Museum of Women in the Arts (NMWA) is the first museum in the world solely dedicated to championing women through the arts. With its collections, exhibitions, programs and online content, the museum inspires dynamic exchanges about art and ideas. NMWA advocates for better representation of women artists and serves as a vital center for thought leadership, community engagement and social change. NMWA addresses the gender imbalance in the presentation of art by bringing to light important women artists of the past while promoting great women artists working today. The collections highlight painting, sculpture, photography and video by artists including Louise Bourgeois, Mary Cassatt, Judy Chicago, Frida Kahlo, Shirin Neshat, Faith Ringgold, Pipilotti Rist, Amy Sherald and Élisabeth Louise Vigée-LeBrun.
The museum building is closed for a major renovation, with plans to reopen in fall 2023. Visit nmwa.org/renovation for more information. During the building closure, NMWA continues its mission-based work and engages supporters and friends through a dynamic slate of online programs and events, off-site and virtual exhibitions, and digital content. For information, call 202-783-5000, visit nmwa.org, Broad Strokes blog, Facebook, Twitter or Instagram.
Media Contact
Amy Mannarino, amannarino@nmwa.org, (202) 783-7373
Additional images available upon request.