Frida Kahlo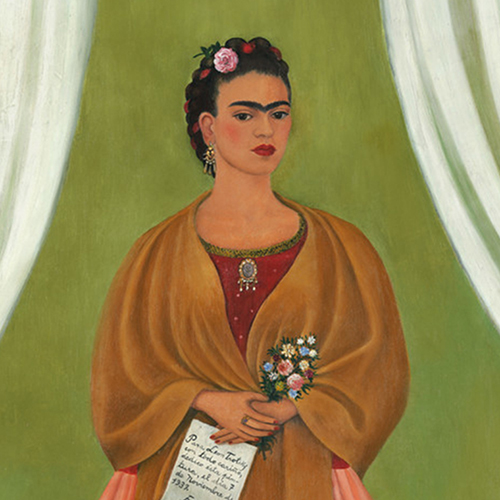 Kahlo was the third of four daughters born to a German Hungarian-Jewish father and a mother of Spanish and Mexican Indian descent. She did not originally plan to become an artist; rather, Kahlo, who was a polio survivor, entered a prestigious pre-medical program when she was 15. Three years later, Kahlo was gravely hurt in a bus accident. She spent more than a year in bed, recovering from multiple fractures of her back, collarbone, and ribs, as well as a shattered pelvis and shoulder and foot injuries. Kahlo spent the rest of her life in constant pain, finally succumbing to related complications at the age of 47.
During her recovery, Kahlo started painting in oils, creating deliberately naive self-portraits and still lifes filled with the bright colors and flattened forms of the Mexican folk art she had always loved. In 1929, Kahlo married the much older Mexican muralist Diego Rivera, whose approach to art and political activism complemented her own. Theirs was a volatile relationship that underwent marital infidelities, the pressures of Rivera's career, a divorce and remarriage, and Kahlo's deteriorating health.
Kahlo and Rivera traveled to the United States and France, where she encountered many influential figures from the worlds of art and politics. In 1938, she had her first solo exhibition at the Julien Levy Gallery in New York. She enjoyed international success beginning in the 1940s. Her reputation soared posthumously, beginning in the 1980s with the publication of numerous books about her work by feminist art historians and others.