April 27, 2022
4/27/22
Although NMWA's building is currently closed for an extensive renovation, members and friends can see highlights from our collection at partner museums. NMWA is lending art to special exhibitions around the world, and a number of gems are on view for extended periods in our region.
Just a mile away from their home at NMWA, 11 collection works are on display on the walls of the National Gallery. This collaboration enables the art in both collections to be understood and experienced in a fresh context.
Modern Visions
In addition to our old mistresses, the National Gallery is also hosting select NMWA works by artists from the 20th century to the present. Harry Cooper, senior curator and head of the Department of Modern and Contemporary Art at the National Gallery, says, "These generous loans have allowed us to supplement our East Building permanent collection galleries with…an iconic self-portrait by Frida Kahlo, a minimalist relief by Eva Hesse, and a sensitive figure painting by Amy Sherald. [These works fill] specific gaps in our collection while allowing us to better represent the key contributions of women to the history of modern and contemporary art."
Kahlo's Self-Portrait Dedicated to Leon Trotsky (1937) shows the artist framed between drawn curtains as if presenting herself to her intended viewer—the Russian exiled revolutionary, with whom she had a brief affair. Adorned in flowers, jewelry, and traditional attire, Kahlo (1907–1954) imbues her image with elegance and self-assurance. The painting not only makes references to Kahlo's cultural heritage through her preference for Tehuana dresses, but also demonstrates her Marxist political inclinations via her association with Trotsky.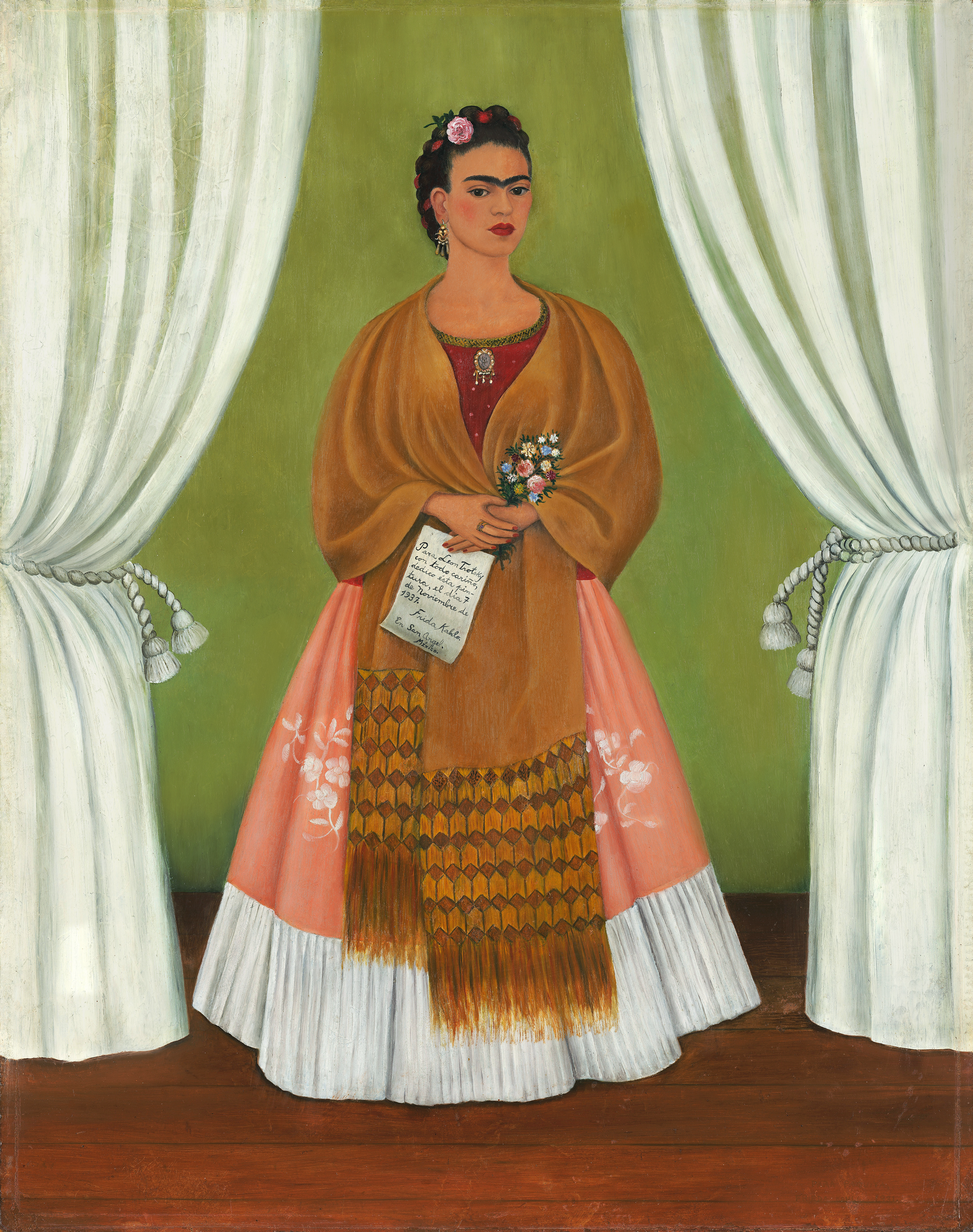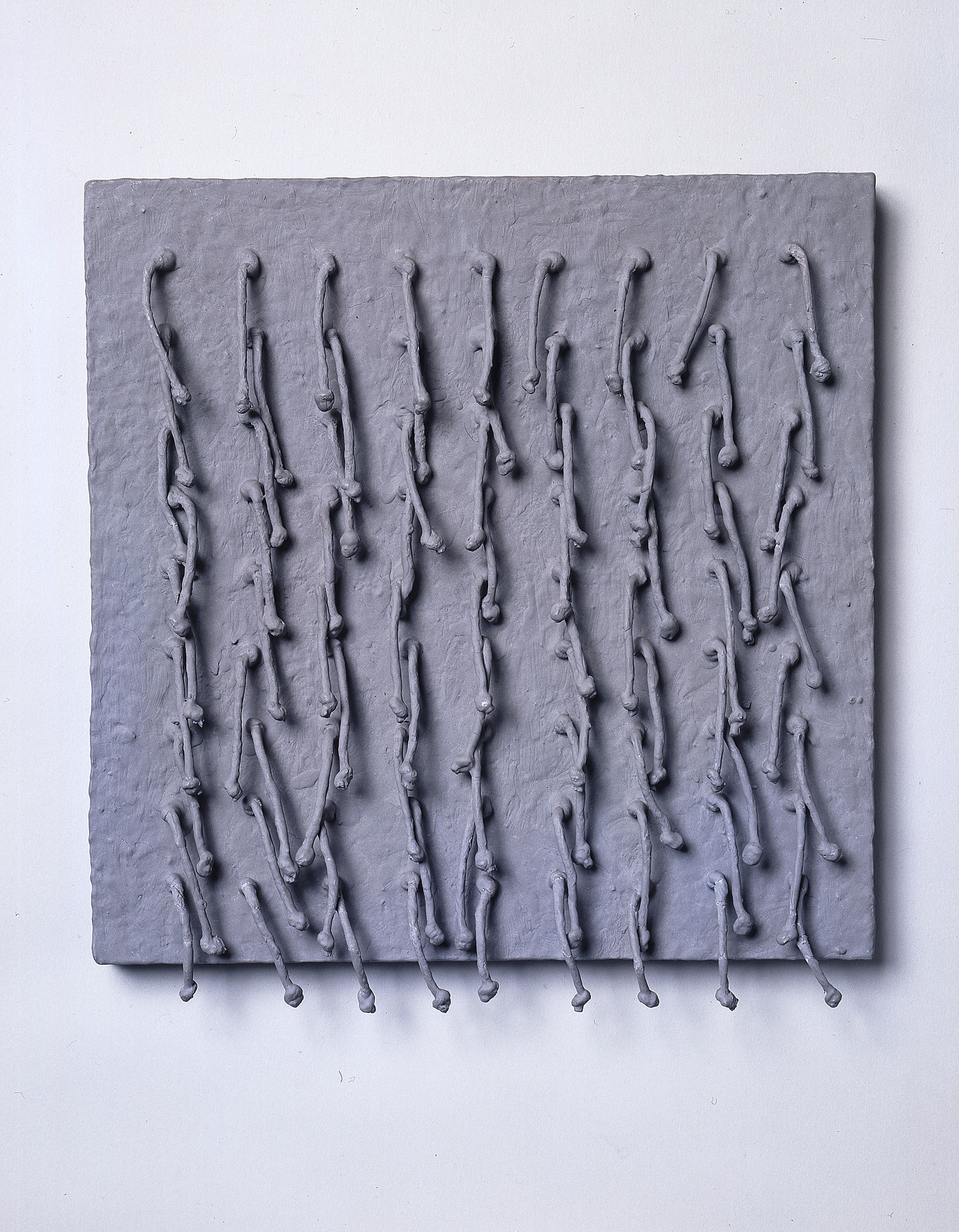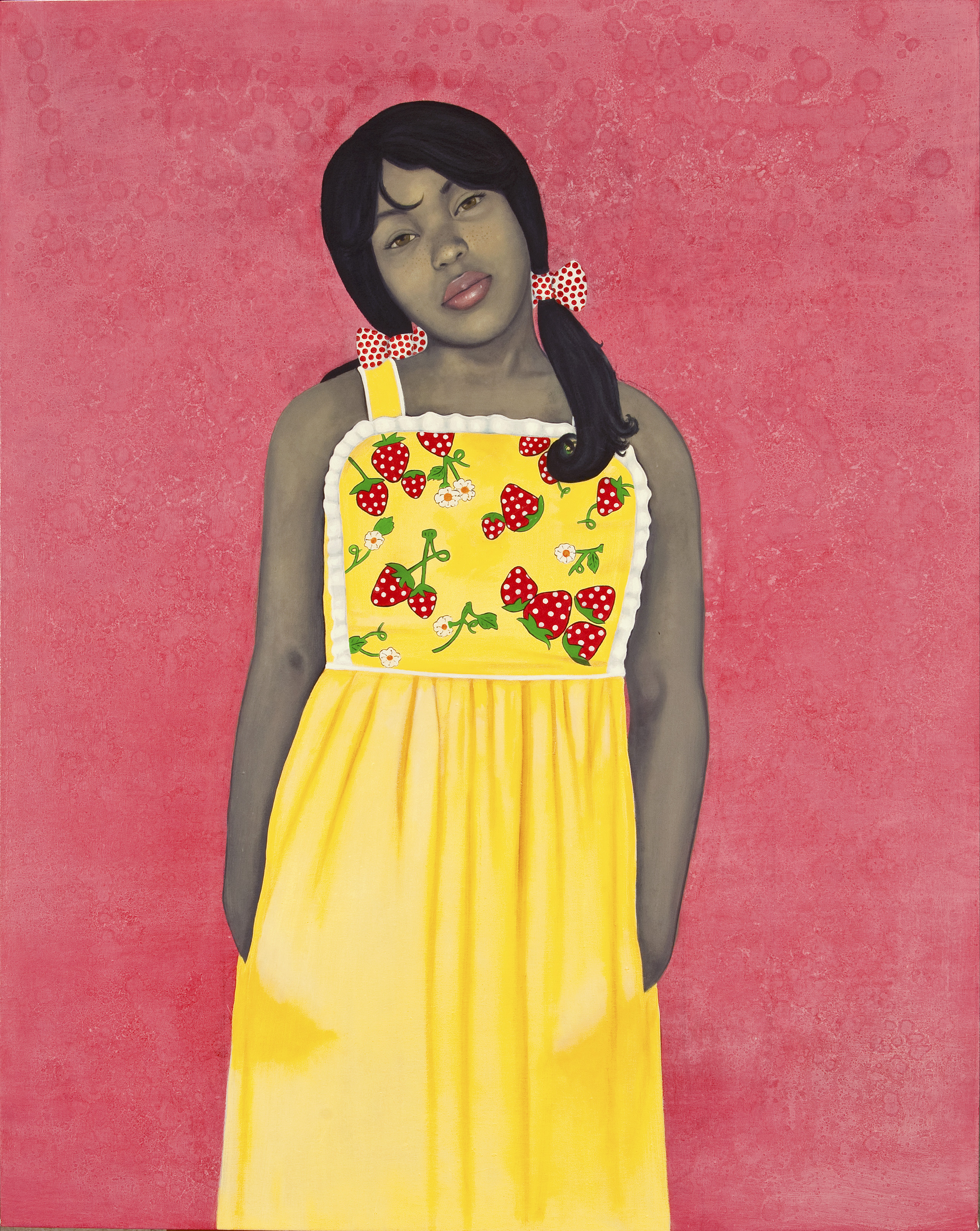 Known for her pioneering sculptural work in fiberglass, latex, and plastics, Hesse (1936–1970) explored the ways in which simple materials could suggest a wide range of experiences and states of mind. She often employed grids in her work, as seen in Study for Sculpture (1967), in which tightly knotted cords dangle in nine-by-nine rows and columns from a Masonite surface. The industrial, artificial qualities of metal and varnish contrast with the organic, corporeal feel of pliant materials that protrude and hang limply into sexually ambiguous forms, expressing balance and unity through opposites.
The use of gray for Amy Sherald, as with Hesse, plays a critical role in her art. While Hesse explored geometric forms and the effects of light, Sherald (b. 1973) uses mono-chromatic elements to deconstruct social codes about race. They Call Me Redbone, but I'd Rather Be Strawberry Shortcake (2009) depicts a young girl in the artist's signature grayscale. The artist's works are often grounded in self-reflective perspectives, as she herself experienced being labeled the term "redbone," slang for a biracial or light-skinned person of African descent. Through the absence of skin tones associated with Black identity, she challenges common perceptions of racial markers, instead choosing to represent Blackness through her own unique lens. The figure of the young girl in the lemon yellow dress almost appears to float in space against the bright pink background, seemingly unconfined by societal and cultural borders.