April 20, 2022
4/20/22
Although NMWA's building is currently closed for an extensive renovation, members and friends can enjoy seeing highlights from our collection at partner museums. NMWA is lending art to special exhibitions around the world, and a number of gems are on view for extended periods in our region.
Just a mile away from their home at NMWA, 11 collection works are on display on the walls of the National Gallery. This collaboration enables the art in both collections to be understood and experienced in a fresh context.
Historical Heroines
NMWA's historical art has always elucidated the integral roles that women have played in the creative movements of their times. Now, several works from the museum's collection—encompassing figural, religious, and still-life scenes from 16th- and 17th-century Flemish and Dutch art through 19th-century American paintings—are exhibited in the National Gallery's West Building, interspersed with their works from those eras.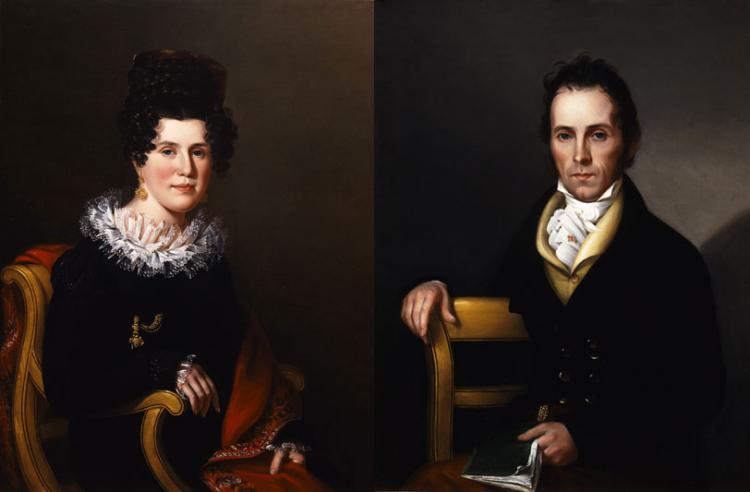 Pendant portraits of Samuel and Susan Avery by Sarah Miriam Peale (1800–1885) are displayed alongside paintings by the artist's relatives Rembrandt Peale, Charles Willson Peale, and James Peale. Regarded as the first professional woman painter in the U.S., Peale was a highly successful society portraitist in her lifetime. Nancy Anderson, head of the Department of American and British Paintings at the National Gallery, says, "Because the museum's collection does not yet include paintings by Sarah Peale, we are especially pleased to be able to show paintings by another member of the remarkable Peale family." The Avery portraits were likely painted on the occasion of the couple's wedding—they sit in formal poses, richly attired to showcase their wealth and status. Luxury commodities like her tortoise-shell comb, gold jewelry, vermillion-red cashmere shawl, and even the stylish furniture on which they sit attest to their desire to display their cosmopolitan tastes.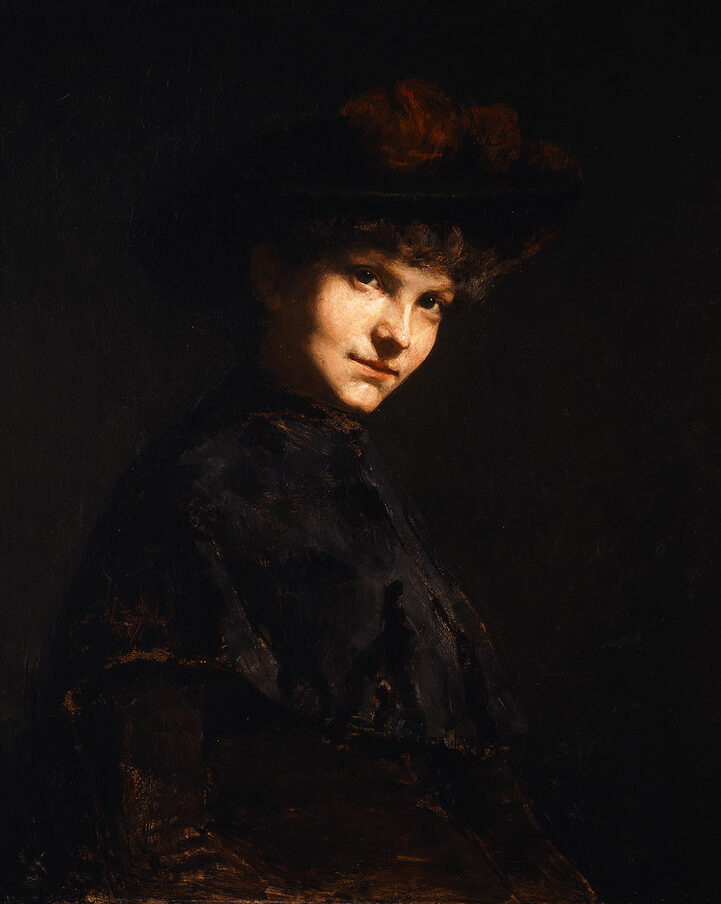 Likewise, wealthy and elite Philadelphians sought out powerful portraits by Cecilia Beaux (1855–1942), as did acquaintances and relatives. Ethel Page (Mrs. James Large) (1884) is a wholly arresting portrait of the sitter, who was the artist's friend and a descendant of Roger Williams, founder and governor of Rhode Island. At the National Gallery, NMWA's canvas is seen opposite Beaux's later painting Sita and Sarita (ca. 1921). While Ethel Page is presented in an enigmatic, dark composition, her face the only illuminated part of the painting, Sita and Sarita depicts the artist's cousin dressed in a white gown with an inquisitive black cat on her shoulder. Together, the two paintings illustrate Beaux's skillful impressionistic handling of black and white tonalities and her use of dramatic light and shadow.
Contextualizing NMWA's works alongside the National Gallery's expansive collections not only offers insight into the stylistic breadth of these women artists, but also shows them in relation to their male contemporaries. Describing the installation, Anderson notes, "Although the room is devoted to images of women, most of the paintings on view are by men. Thus we are especially pleased to add works addressing the same themes by equally accomplished women."