Eva Hesse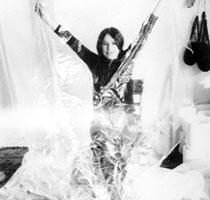 Hesse also used techniques traditionally associated with feminine occupations, such as wrapping, winding, and threading. Though abstract, her sculptures retain references to the body and expressed seemingly contradictory associations: female/male, soft/hard, or freedom/confinement. Considered a part of Eccentric Abstraction or Post-Minimalism, Hesse's sculptures possess a psychological intensity that helped broaden the possibilities for sculptors in a decade dominated by Minimalism.
Born to an Orthodox Jewish family in Hamburg, Germany, Hesse and her family fled Nazi Germany for the U.S. in 1939. Hesse studied in New York City and at the Yale School of Art and Architecture. A year after her first solo exhibition, German collector Arnhard Scheidt invited Hesse and her husband Tom Doyle to spend a year in Kettwig-am-Ruhr working in an empty factory space.
While there, Hesse first created sculpture using industrial materials. Despite her untimely death of a brain tumor in 1970, Hesse's work has continued to influence other artists to this day. Her allusions to body parts, sexuality, and a feminine element have made her work particularly meaningful to many female sculptors, including Petah Coyne, Rona Pondick, and Kiki Smith.