Louise Nevelson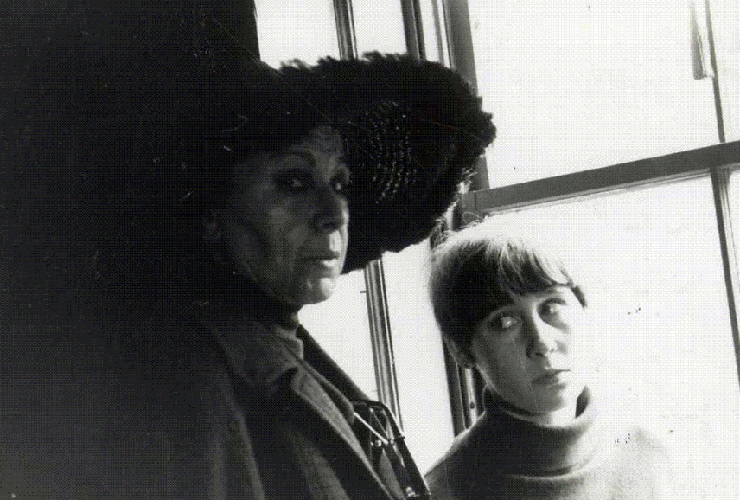 Nevelson was born in Kyiv, then part of the Russian Empire, but her family settled in Rockland, Maine, in 1905, where her father operated a lumberyard. Nevelson grew up playing with scraps from the lumberyard, and by the age of ten had declared her intention to be a professional sculptor. In 1920, she married wealthy ship owner Charles Nevelson and moved to New York. Nevelson gave birth to a son two years later, but the marriage did not last; they separated in the early 1930s and divorced in 1941.
In 1931–32, Nevelson studied with abstract painter Hans Hofmann in Munich and later New York. Through him, she discovered Cubism and collage, which greatly influenced her artistic development. She also worked for a time as an assistant to Diego Rivera on a mural project, and as an art teacher hired by the Works Progress Administration, which helped support many artists in the 1930s.
Though she had her first solo exhibition at the Nierendorf Gallery in New York in 1941, Nevelson did not develop her signature monochromatic, spray-painted wooden assemblages until the late 1950s. She constructed abstract compositions by arranging scavenged bits of discarded wood in boxes, stacking them to form sculptural walls and environments, and unifying them by painting them a single color.
A 1958 exhibition of Nevelson's all-black environments caused a sensation. Her room-size, all-white Dawn's Wedding Feast sculptural group garnered major recognition for Nevelson at Sixteen Americans, a group show at The Museum of Modern Art in 1959–60.
Though she had been working actively as an artist for decades, she was in her sixties by the time her reputation began to soar.  During the 1960s, she represented the United States at the prestigious Venice Biennial art fair and was honored with a retrospective exhibition at the Whitney Museum of American Art. In subsequent years, Nevelson received six honorary doctorates and continued to exhibit her work regularly in Europe and the United States.