November 5, 2018
11/5/18
Impress your friends with five fast facts about What if Women Ruled the World (2016) by Yael Bartana (b. 1970, Kfar Yehezkel, Israel), on display in the third-floor galleries.
1. New Neon
NMWA acquired the neon sculpture What if Women Ruled the World (2016) by Israeli artist Yael Bartana in 2017, in celebration of the museum's 30th anniversary.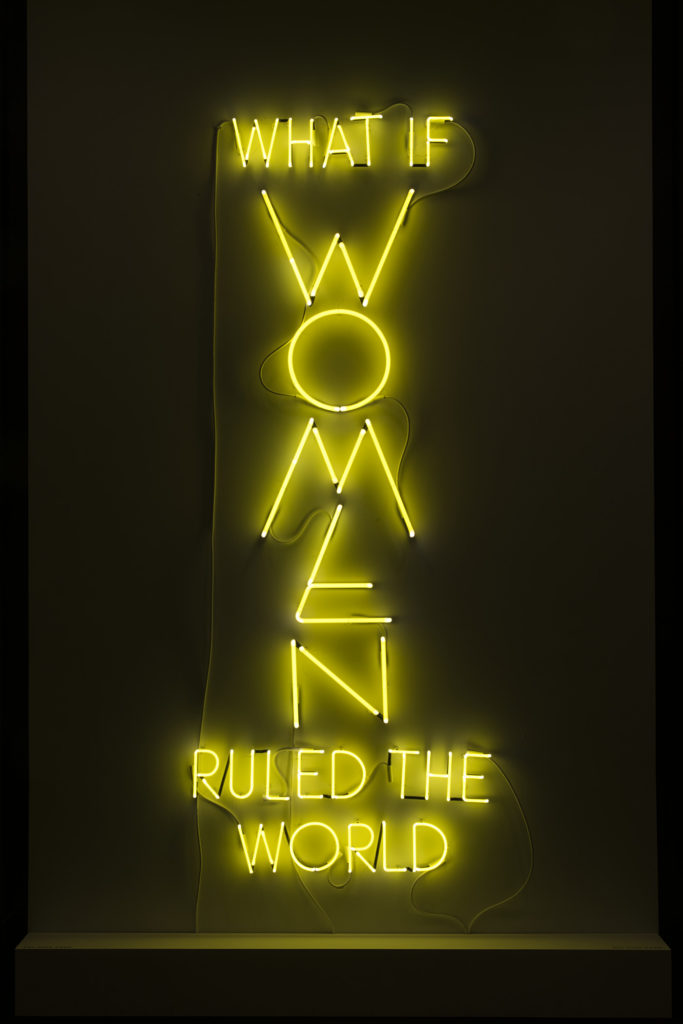 2. Multimedia Maven
Bartana is known for her films, installations, and photography. Her complex, multimedia pieces often address and question the ceremonies and rituals that affirm national identity. Her work demands reflection on the ways in which countries develop and sustain dominant narratives.
3. Turning the Tables
Inspired by Stanley Kubrick's 1964 film Dr. Strangelove, in which a select group of powerful white men assemble to discuss nuclear war and unilaterally determine the fate of the human race, Bartana's What if Women Ruled the World both proposes and proclaims a peaceful alternative.
4. Women Rule
Approximately 10% of United Nation member countries are led by women. To learn more about trailblazers and current women leaders, check out this Al Jazeera interactive and Pew Research Center 2017 study findings.
5. "Year of the Woman"
The United States House and Senate midterm elections, on November 6, 2018, could bring about a tidal wave of change: 260 women are on the ballot. Inform yourself and vote! Check out this Vice video and the Rutgers Center for American Women and Politics "2018 Summary of Women Candidates" report.