August 3, 2022
8/3/22
Throughout 2022, NMWA's award-winning #5WomenArtists campaign champions emerging and underrepresented artists. With the help of partner arts organizations around the country, we're featuring the work and voices of selected artists each month. This week, get to know Amy Hughes Braden, nominated by Washington Project for the Arts (WPA).
Amy Hughes Braden is an artist based in Washington, D.C. She works in both DIY and commercial art spaces in the D.C./Baltimore area as well as nationally. Her work is influenced by feminism, personal history, current events, and art historical imagery.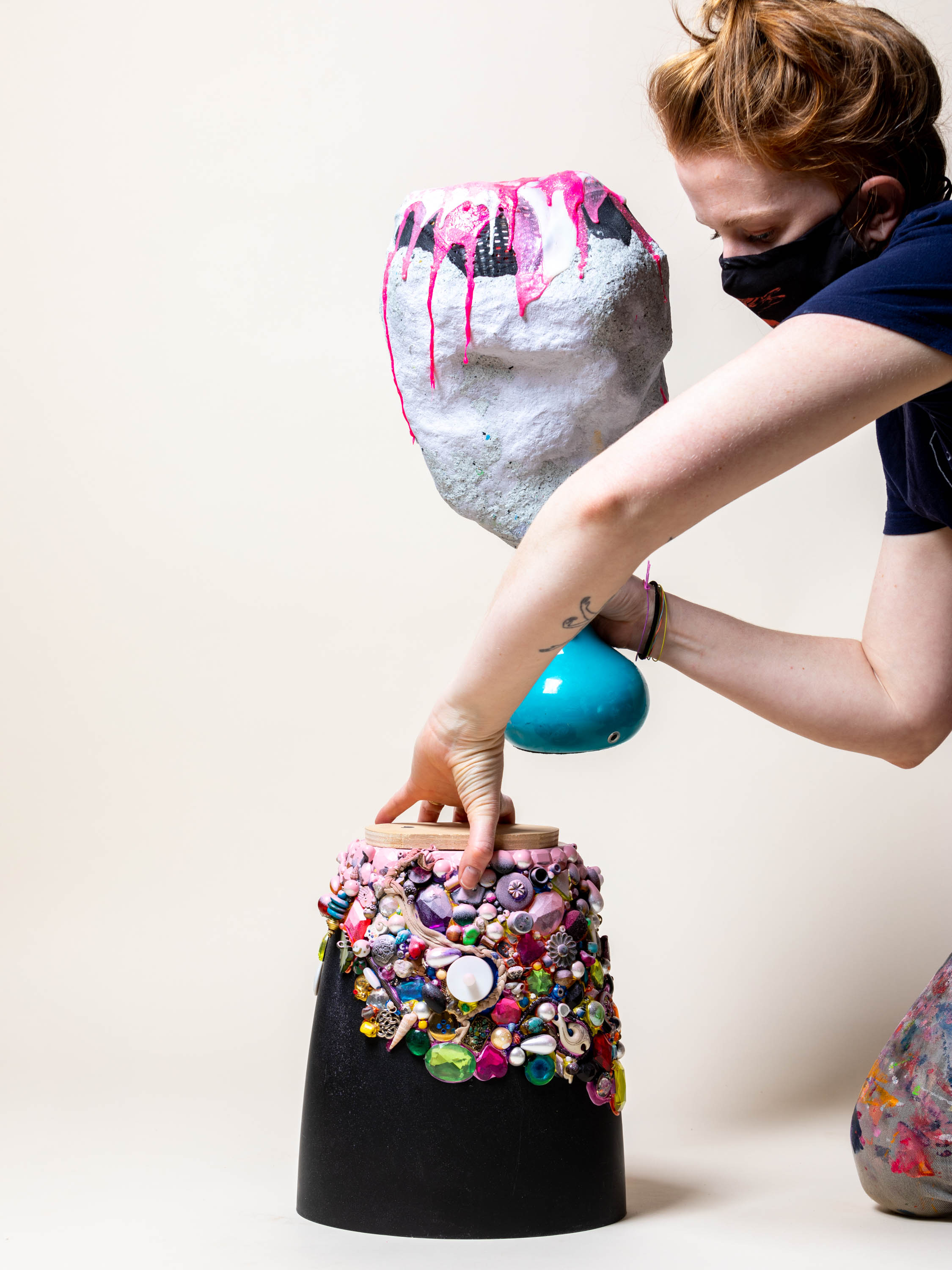 1. Tell us a bit about your work and practice.
I gather up the constantly flowing debris of my domestic parent life. These are my primary materials, which I meld with glue, slime, resin, and paper pulp into bulbous shapes called Blobs. Material is paramount in the work, not just the collected detritus, but also the documents I shred to make the paper pulp. Glitter, cheap jewels, precious gems, and the contents of the studio dustpan are bedazzled onto the blobs. I build on feminist art traditions by utilizing these domestic and kid-friendly materials. I reject the ways in which girly/youthful pursuits are deemed kitschy, low-brow or unprofessional. I take up puffy paint and slime as rebuttal. The pile of blobs accumulates infinitely, as the faucet of material debris does not shut off.
2. Who or what are your sources of inspiration and influence?
Specific inspiration changes throughout the bodies of work. For example, in my series of paintings called Woundhead, I looked at imagery of scabs and wounds. An overarching inspiration could be distilled into the experience of inhabiting the body, and how to navigate the world with that body.
3. As an artist, what is your most essential tool (besides your hands!)? Why?
An X-acto knife. I don't use it as often with my sculptures, but it was revolutionary in my painting practice. I still remember the first time I cut into a painting, and can see the impact of that liberating action in all of my work to date.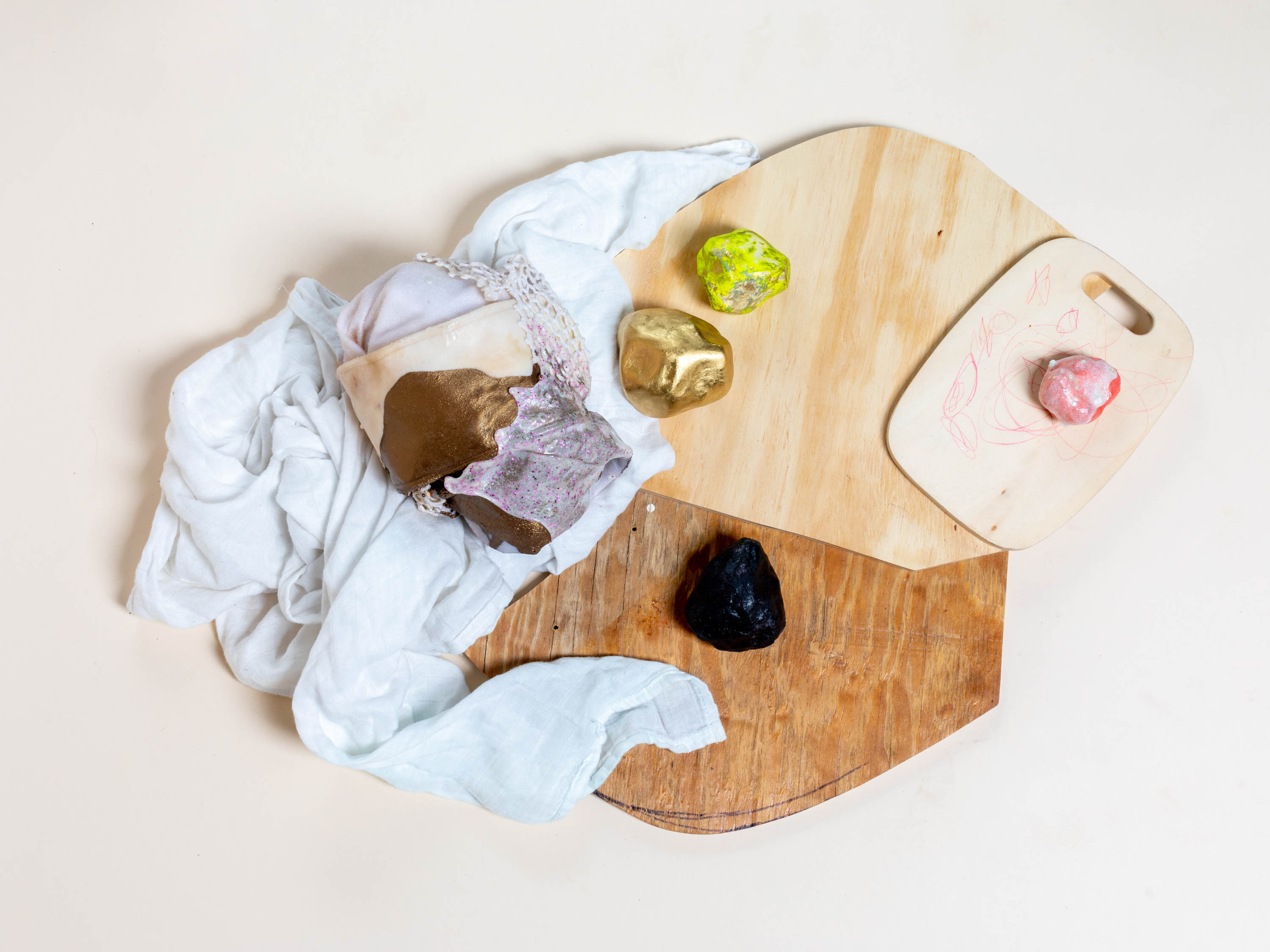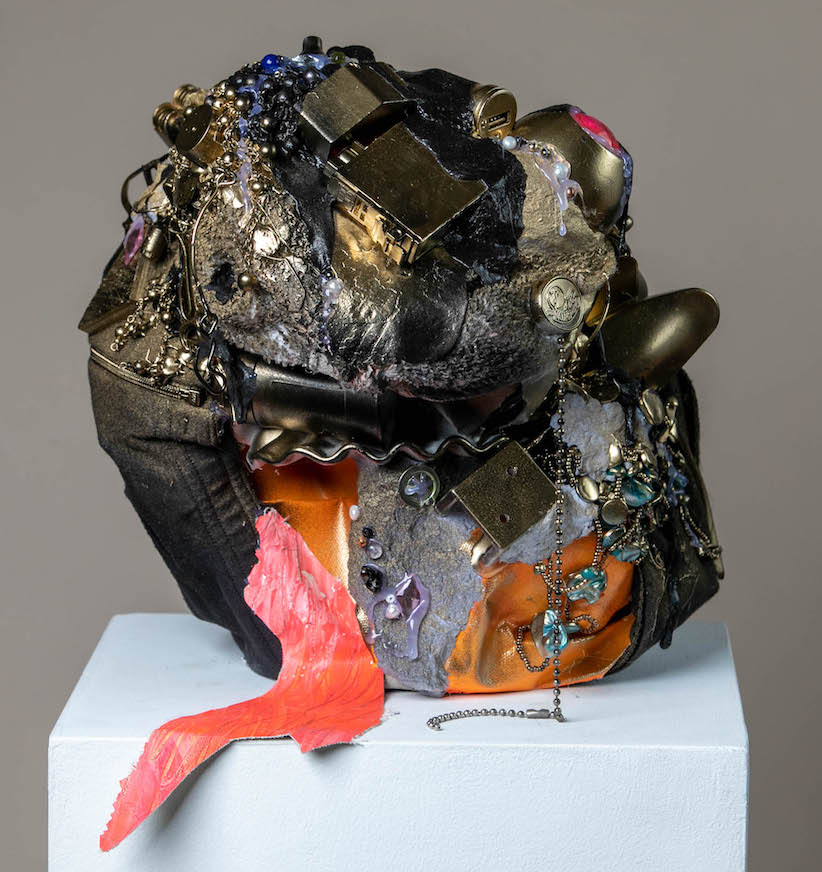 4. Where do you obtain your materials?
They come to me! I do purchase some typical painting supplies but aside from that I collect all manner of trash from my life, including but not limited to: empty hand sanitizer bottles, old curtain rings, broken sunglasses, baby tylenol syringes, all manner of packaging and packing related trash, fabrics too worn to re-circulate, cloth diapers, prescription bottles, broken glass, plastic bits.
5. Who are your favorite #5WomenArtists?
Maria Lassnig, Isa Genzken, Huma Bhaba, Danielle McKinney, Lily Van der Stokker
---
Washington Project for the Arts (WPA) is a platform for collaborative and experimental artist-organized projects, dialogue, and advocacy. Artists curate and organize all of our programming—as an extension of their own intellectual research. Their projects can take many forms, from conversational dinners, exhibitions, field trips, film screenings, grass-roots organizing meetings, and installations, to lectures, performances, podcasts, publications, symposia, workshops, and more.