July 25, 2022
7/25/22
Washington, D.C.-based muralist, designer, and illustrator MISS CHELOVE (a.k.a. Cita Sadeli) creates vibrant, larger-than-life works that cover the walls of businesses, alleyways, and public façades around the District and beyond. Her monumental artwork Reseeded: A Forest Floor Flow (2022) envelops NMWA's west-facing exterior in the first installation of Lookout, a series of public artworks on the building's exterior during our renovation.   
Check out Reseeded: A Forest Floor Flow before it closes on September 26, and read on for MISS CHELOVE's poetic statement on the work: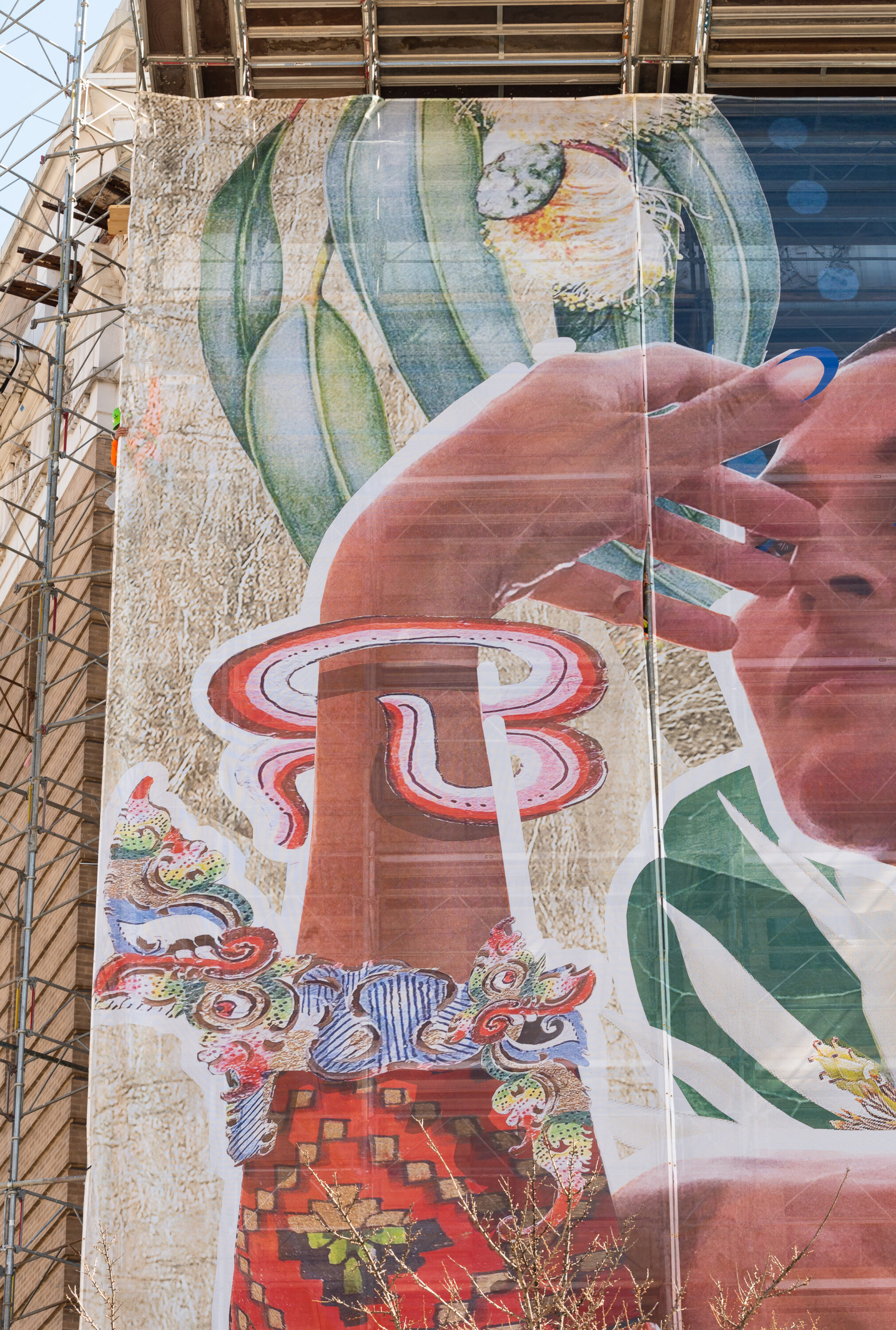 As a first-generation American woman of color, my roots lie halfway around the world in Java, Indonesia. This separation has created a long tether connecting me to my ancestral home, where Animism dictates what Spirits inhabit the volcanoes, forest, jungle, and sea—from the fanciful bird of paradise to the mighty orangutan to the tumbling kamboja (frangipani) blossoms.
This Javanese DNA whispers to me, curling through my soul like twisting wisps of kretek (clove cigarette) or incense smoke. It guides my hands as I create graffiti, the sinuous lines of the bold, linear parang batik fabric pattern emerging into the flow. Our kendang drums answer back when I hear the congo's go-go beat thundering on the street corner. The tiny intricate details and gold metallics of wayang kulit shadow puppets fall from my brushes when scaling a building to create a mural. 
Reseeded: to be planted again to start anew. I was moved by three central themes: the act of being physically replanted through migration or displacement, the regeneration of our precious environment, and personal reinvention as we evolve through life's chapters and experience post-traumatic growth.
We stand on our ancestors' shoulders, our roots the foundation from which we draw strength. Beneath my bare feet the forest floor cradles me, providing healing polarity and fortifying minerals. Its glossy leaves protect and nourish my skin, their canopy providing shelter from the rains and hot sun. The blossoms and seeds fill my belly…and the cycle repeats itself. Pachamama gives so selflessly. As she protects and provides, we too must ensure the relationship is reciprocal. 

This theme of regeneration is especially present during the COVID-19 pandemic. If the adage is true—that only through struggle do we truly grow—the coming expansion will be something for the record books.