May 6, 2016
5/6/16
In the U.S. "only 27% of the 590 major solo shows organized by nearly 70 institutions between 2007 and 2013 were devoted to women." The Art Newspaper outlines how influential donors, prizes for women, and diversifying museum leadership can help rectify the gender imbalance.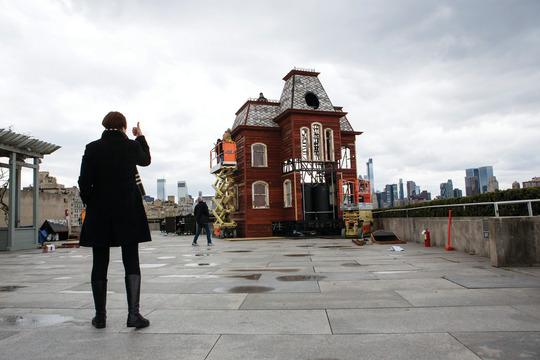 Helen Molesworth, the chief curator of MOCA, says that although the art world is progressive, "that doesn't set us apart from the larger cultural forces at play, which have for the past several hundred years promoted the idea that genius and men and power and money are all very intertwined with one another."
Front-Page Femmes
Marisol Escobar, known in the 1960s for her wooden Pop Art sculptures, died at the age of 85.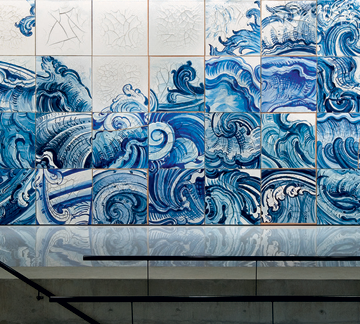 Adriana Varejão's hand-painted tile mural covers Rio's 2016 Summer Olympics aquatics stadium.
Tauba Auerbach makes a large, geometric pop-up book.
Mona Hatoum's survey includes endoscopic video of her internal organs.
Iranian cartoonist Atena Farghadani was released from prison.
A fire at German artist Rosemarie Trockel's home damaged and destroyed more than $30 million worth of art.
Cornelia Parker installed a Hitchcock-inspired barn on the roof of the Metropolitan Museum of Art.
The Los Angeles Times traces 89-year-old artist Betye Saar's oeuvre through her recent and upcoming exhibitions.
Unnerving, surreal characters in Floria González's photographs explore the impact of motherhood on her life.
Virginia-based teen Razan Elbaba uses photography to "break the stereotypes and significantly express the true goal of Muslim women."
Art Basel visitors will help performance artist Alison Knowles toss a giant salad before it is served.
Heather Phillipson's three-part installation for Frieze New York involves dog sculptures, video, trampolines, pillows and more.
The Guardian shares the @52museums Instagram project—highlighting one of NMWA's posts.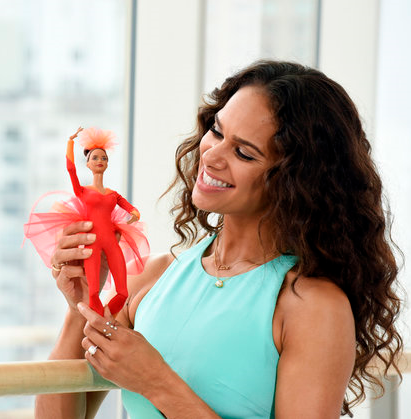 "It's so empowering for this generation to see a black ballerina doll that has muscles," says Misty Copeland about the new Barbie made in her likeness.
NPR describes a new album by Anohni, formerly Antony Hegarty, as "a pop album that is simultaneously an act of dissent."
Gabriela Burkhalter's The Playground Project explores forgotten artistic playgrounds of the 20th century.
Sweet Lamb of Heaven, by Lydia Millet, is "an extraordinary metaphysical thriller."
The New Yorker delves into two articles written by Harper Lee about the case that brought her to Kansas with Truman Capote.
The documentary Eva Hesse, structured around excerpts from her journals, provides a psychological portrait of the artist. Watch the trailer.
Shows We Want to See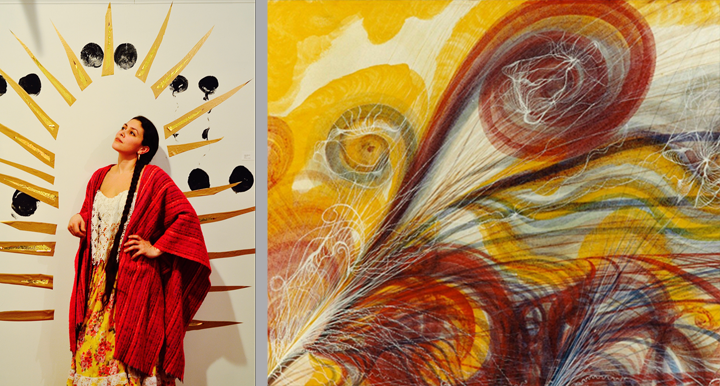 Five women artists from the Electric Machete Studios collective locked themselves in their studio for 48 hours. The resulting works reflect the "complex identities of the women as feminists and artists." Interventions: A Xicana & Boricua Guerrilla Perspective explores the relationship between art, feminism, and indigenous identity.
Abstract work by overlooked Victorian spiritualist Georgiana Houghton will be featured in London. The Guardian writes, "Houghton would host a seance, talk to her spirit guide and draw complex, colourful and layered watercolours."
Carmen Herrera—now 101 years old—"distills painting to its purest elements."