May 9, 2016
5/9/16
In Arabic, the word rawiya means "she who tells a story." Each artist in NMWA's summer exhibition She Who Tells a Story: Women Photographers from Iran and the Arab World offers a vision of the world she has witnessed.
Lalla Essaydi
(b. 1956, Marrakesh, Morocco; lives New York)
Essaydi began her career as a painter—she developed an interest in photography first as a means of documenting her other work, and then, she says, "It became a medium I fell in love with." She creates multilayered images that confront the historical Orientalism of Western artists, particularly sexualized depictions of North African and Middle Eastern women.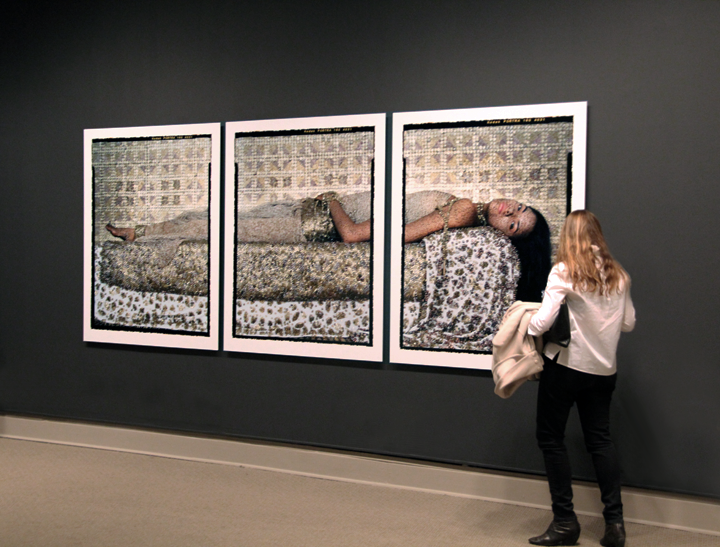 Her images often focus on a woman or small group of women whose clothing and bodies are decorated to match their surroundings. She uses henna—reclaiming the traditionally "male art of calligraphy"—to challenge gender dynamics within Moroccan and Arab cultures and between the East and West.
In Her Own Words
"When I was at school I made a huge Orientalist painting, and a curator from a museum was interested in it. When I tried to show her my other works, she had less enthusiasm. She only wanted the big fantasy. I started talking about the work, and she was surprised, she had thought the image was autobiographical. I was shocked that an expert in this area of art didn't even know it was just a sexual fantasy."
"From that moment, I knew I needed to do something. I am an Arab woman, and I don't see myself in these paintings. A lot of people ask me why I choose to dwell on this issue, and it's because it's not solved.  It may not be about the odalisque now, but the odalisque is what later became the veiled female figure. If we don't unveil that founding myth first, we cannot begin to address the rest."—Lalla Essaydi, interview in ArtAsiaPacific
What's On View?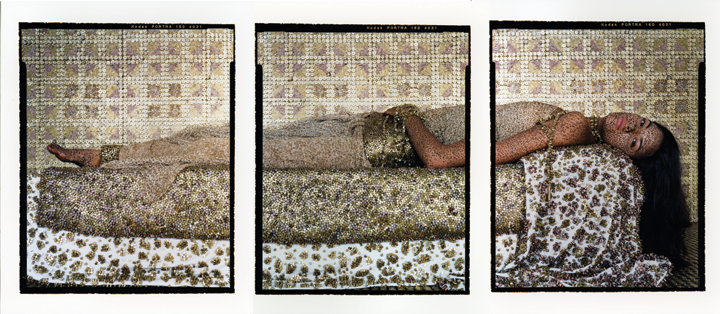 The large-scale triptych Bullets Revisited #3 (2012), a set of chromogenic prints on aluminum, is in many ways characteristic of her work: it references Orientalism by depicting a woman lying down, and her body and clothing provide a canvas for henna calligraphy. In addition to henna, however, her surroundings are elaborately decorated with silver and golden bullet casings. With these, Essaydi evokes symbolic violence and restrictions on women.
The work's visible black film borders emphasize the image's artifice. It is large and visually lush, but Essaydi uses the borders, as well as the elaborate setup and deliberately abstracted, uninviting space, to underscore the fact that it does not reflect reality.
Visit the museum and explore She Who Tells a Story, on view through July 31, 2016.