September 2, 2016
9/2/16
Last Sunday, more than 700 women artists gathered outside of Hauser Wirth & Schimmel in Los Angeles for a group photo. The Huffington Post, Los Angeles Times, and Artsy shared the story. The Art Newspaper called the event a "wake-up call that women artists still have a long way to go. It's not a question of making history—it's a question of fighting it."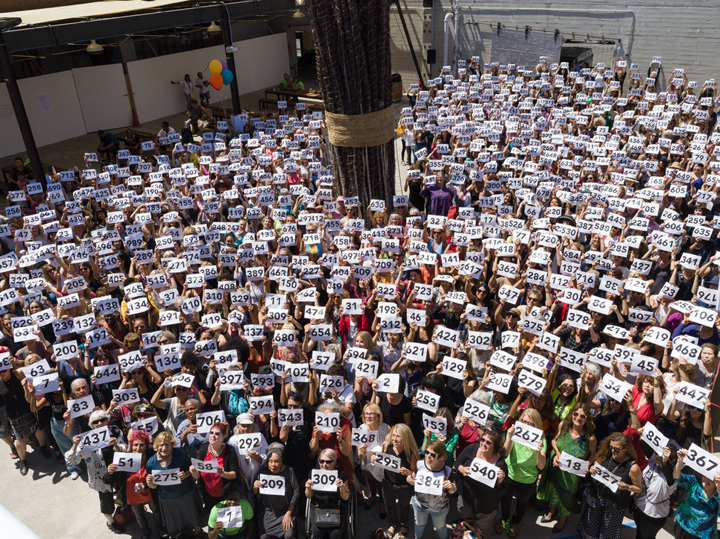 Artist Kim Schoenstadt began the project, Now Be Here, by emailing 200 of the city's artists, who in turn forwarded the email to others. The gathering was, in part, inspired by Hauser Wirth & Schimmel's current exhibition Revolution in the Making: Abstract Sculpture by Women, 1947–2016.
Front-Page Femmes
Frances Morris, the head of Tate Modern, says the art world is "still a boys' club."
Hyperallergic examines Betty Tompkins's "striking and unapologetic" works.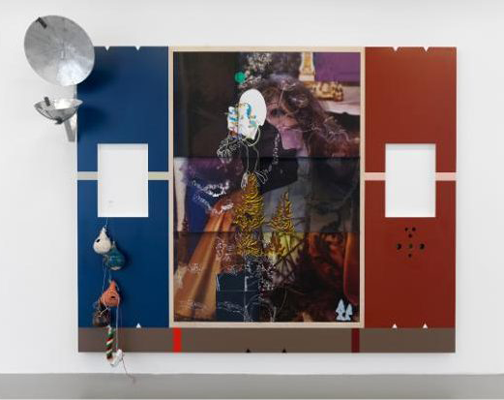 NO MAN'S LAND artist and Turner Prize nominee Helen Marten discusses how her assemblages defy easy categorization.
Hyperallergic discusses the "raw tenderness and explicit sexuality" in Catherine Opie's intimate photographs.
Multimedia artist Wendy Red Star talks about contemporary Native American art, her artistic practice, and collaborating with her daughter.
As part of Simone Leigh's The Waiting Room, the Black Women Artists for Black Lives Matter collective unites against "institutionalized violence that continues to plague black communities."
Juxtapoz shares Erika Lizée's "ominous and mysterious" trompe-l'oeil installation.
Amber Cowan fuses fragments of vintage glass to create complex vessels and sculptures.
"Random items in Fluxus spirit exemplifies that everything is art" in Alison Knowles's exhibition at the Carnegie Museum of Art.
The Art Newspaper and the Guardian explore Björk's new exhibition.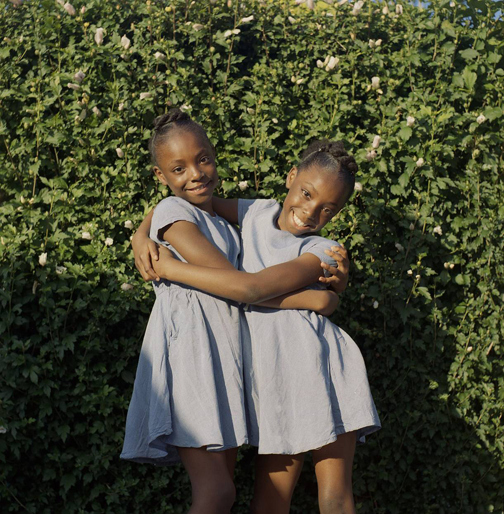 In her series "Doubles," Miranda Barnes explores the friendship between black twin girls.
Olek yarn-bombed a two-story house in Finland with pink crochet.
Costume designer Sandy Powell discusses working with Martin Scorsese, her favorite designs, and her early inspirations.
The New Yorker explores the life and work of piano prodigy Yuja Wang.
Ileana Cabra's first solo album contains "folk-inspired ballads and infectious Latin jazz standards."
New Marvel Comics covers show "a diverse field of heroes for the covers."
Imbolo Mbue's debut novel, Behold the Dreamers, depicts a "country both blessed and doomed" during the global financial crisis of 2007 and 2008.
The New Yorker shares Bernadette Mayer's poetry.
NPR shares an interview from October, 2015 with author Gloria Steinem.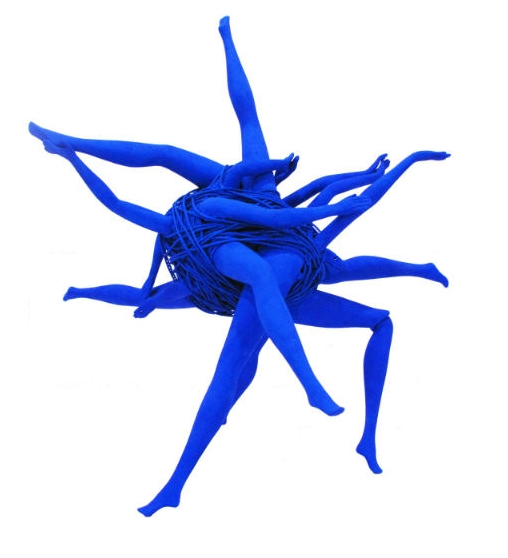 Shows We Want to See
Her Crowd: New Art by Women from Our Neighbors' Private Collections at the Bruce Museum showcases works by established and emerging women artists, including Yayoi Kusama, Kiki Smith, Betye Saar, Dana Schutz, and Tara Donovan.
Visitors wander through a "cardboard labyrinth" to view photographs of hundreds of visitors to the Perth Amboy home in Rachel Harrison's installation at the Museum of Modern Art (MoMA).
The Norwegian city of Bergen hosts seven exhibitions and events showcasing Lynda Benglis's works throughout the year.