September 7, 2016
9/7/16
This year marked the seventh Art, Books, and Creativity (ABC) Teacher Institute at NMWA. For one week this past July, 18 teachers from New York to North Carolina came to NMWA to explore ways to combine the arts with other classroom subjects.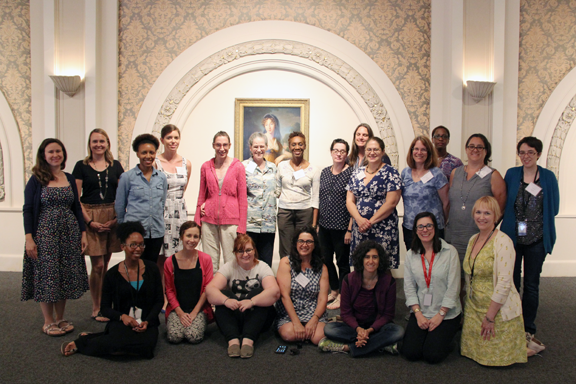 The ABC curriculum encourages growth in students' visual literacy and critical thinking through the creation of artists' books. It also incorporates the cultural contributions of women artists and provides teachers with resources to help them integrate the visual arts into their classrooms.
Participants began this year's program with a visit to the Betty Boyd Dettre Library and Research Center (LRC), where they were able to view a selection of artists' books from the museum's collection. After seeing examples of the different techniques, participants buckled down to create their own books.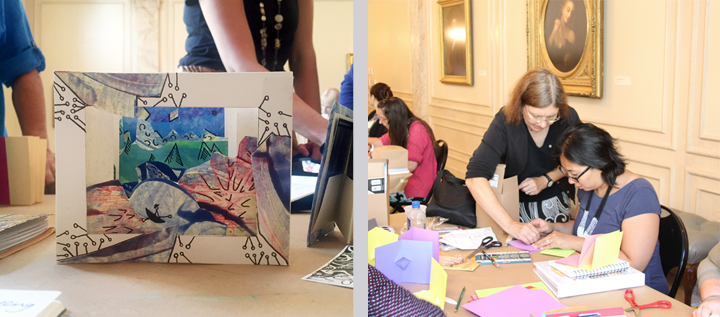 Over the course of the week, participants created a portfolio of artists' books and writing samples to use as future classroom models. Highlights included the opportunity to learn pop-up techniques from paper engineer Carol Barton. Attendees also experimented with printmaking methods by designing journal covers inspired by the exhibition Alison Saar In Print, currently on display in the Teresa Lozano Long Gallery. Over the course of the week, the teachers also learned the basics of Visual Thinking Strategies (VTS), a method of facilitating discussions about art that encourages close looking and engaged thinking.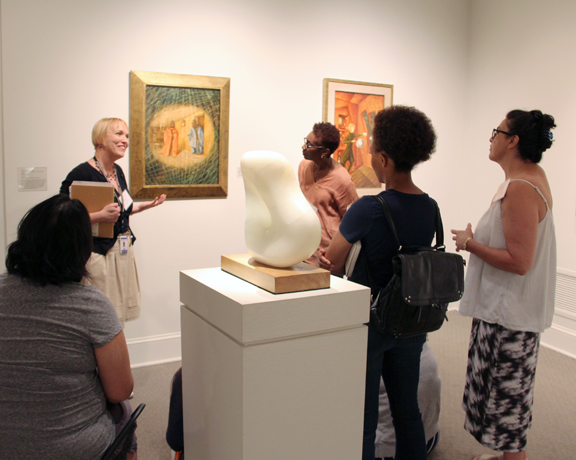 At the end of the week, teachers brainstormed ways to adapt the presented book formats for students of varying ages and abilities. Each teacher completed the program by submitting a lesson concept that incorporated one of the book forms for their own classroom. Ideas ranged from using accordion books to compare French and English fairy tales to flag books examining the similarities between ancient and modern symbols.
These creative lesson concepts showed the many cross-curricular applications of the ABC curriculum and left the participants excited to adapt the ideas for their own classrooms. One teacher commented, "The course gave me wonderful ideas to use in my classroom. It introduced me to new concepts, and got me excited to use more art and creativity in my classroom."
To access the free curriculum, visit the ABC website. To learn more about the annual ABC Teacher Institute, check out NMWA's Teacher Institute page.