May 6, 2019
5/6/19
On Saturday, April 6, NMWA held its first-ever Language Immersion Conversation Piece. Based on the same framework as daily 30-minute discussion-based experiences, visitors from the Young Women's Francophone Meetup Group explored the collection galleries to learn more about Francophone women artists while practicing their French. Together, the group found common threads among three sculptures on view in the collection: Après la tempête (After the Storm) (ca. 1876) by Sarah Bernhardt (1844–1923), Pregnant Nana (1993) by Niki de Saint Phalle (1930–2002), and Spider III (1995) by Louise Bourgeois (1911–2010). While these pieces differ greatly in style, they're tied together by a common theme—the artists' depiction of maternal love.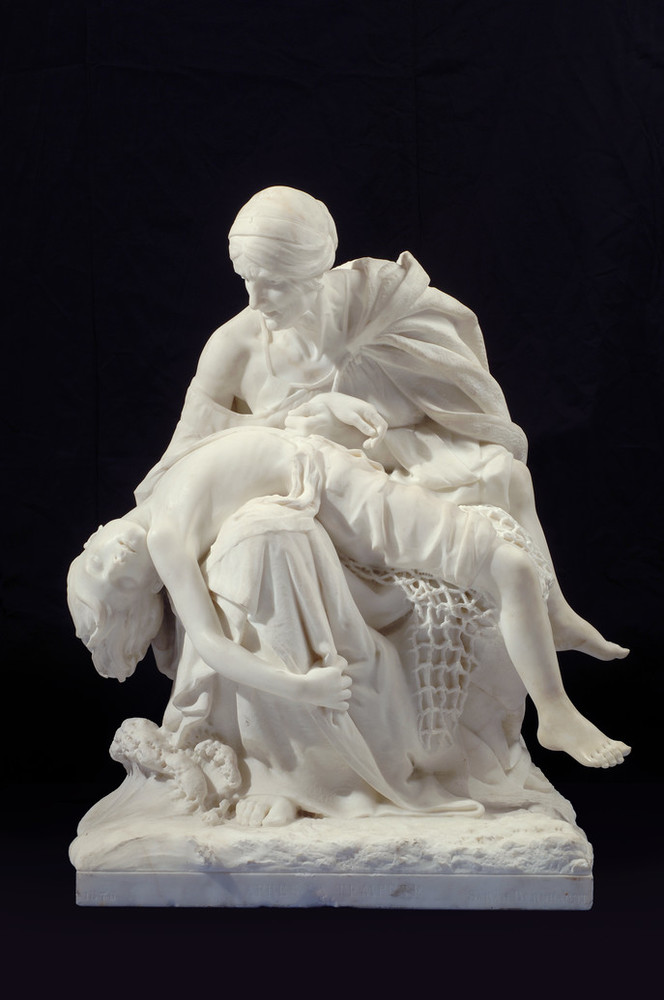 Viewing the first sculpture, Après la tempête, the group took a few moments to look closely at minute details. They noticed the contrast between the smooth skin of the young boy and the rough, wrinkled face of his grandmother, as well as the careful carving of the fishing net draped between the figures. Despite the somber tone of the piece, some visitors discussed the grandmother's strength as she cradles her dying grandson. Others noted the possibility of a hopeful ending to the otherwise tragic scene, suggested by the power with which the young boy grasps his grandmother's robes.
Following this solemn piece, visitors explored the uplifting themes in Saint Phalle's Pregnant Nana. The group noted the vibrancy of this piece in comparison to the first—the bright patterns of color adorning the breasts, stomach, and buttocks of the figure drew their attention to these stereotypically feminine parts of her form. They also discussed the meaning of the title, and learned that nana is actually a slang term for "chick" or "broad" in French. The figure's celebratory, carefree pose, combined with an informal title, speak to the joy of motherhood, rather than the pain that Bernhardt depicts in the first sculpture.
The last thematic piece immediately stood out from the others, and the group questioned what Bourgeois's Spider III had to do with the concept of motherhood. Some mentioned Charlotte's Web as a possible connection, and learned that Bourgeois associated spiders with her own mother due to their fierce protectiveness and ingenuity. The abstract portrayal of motherhood in this work urged the group to think outside the box when it comes to what maternal love can look like, and also provided the opportunity to learn a new word—tisserand—meaning "weaver" in French.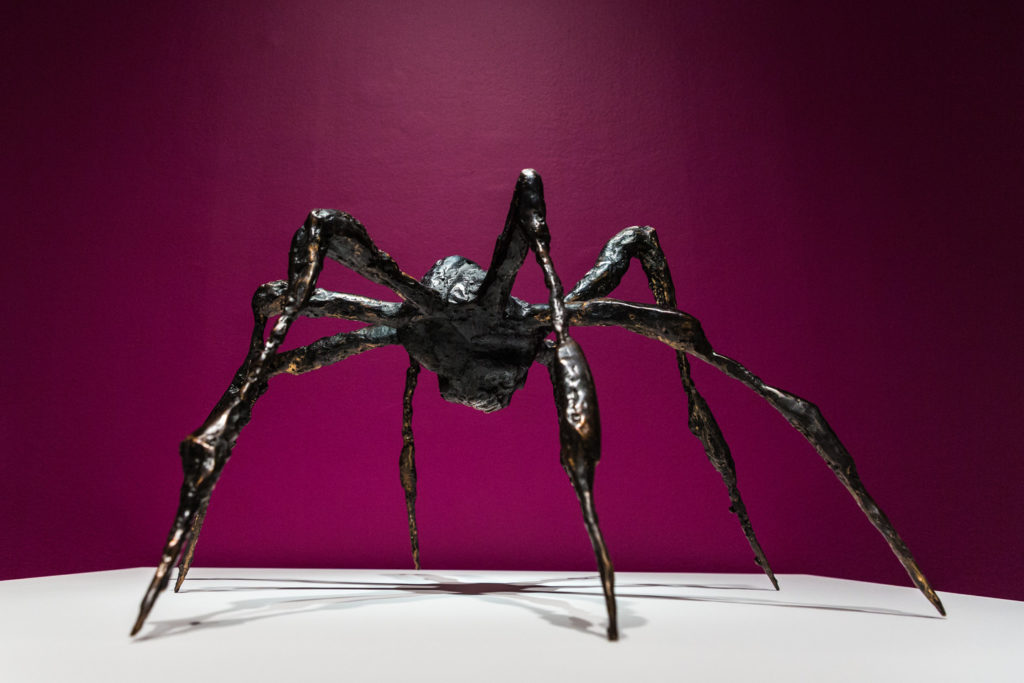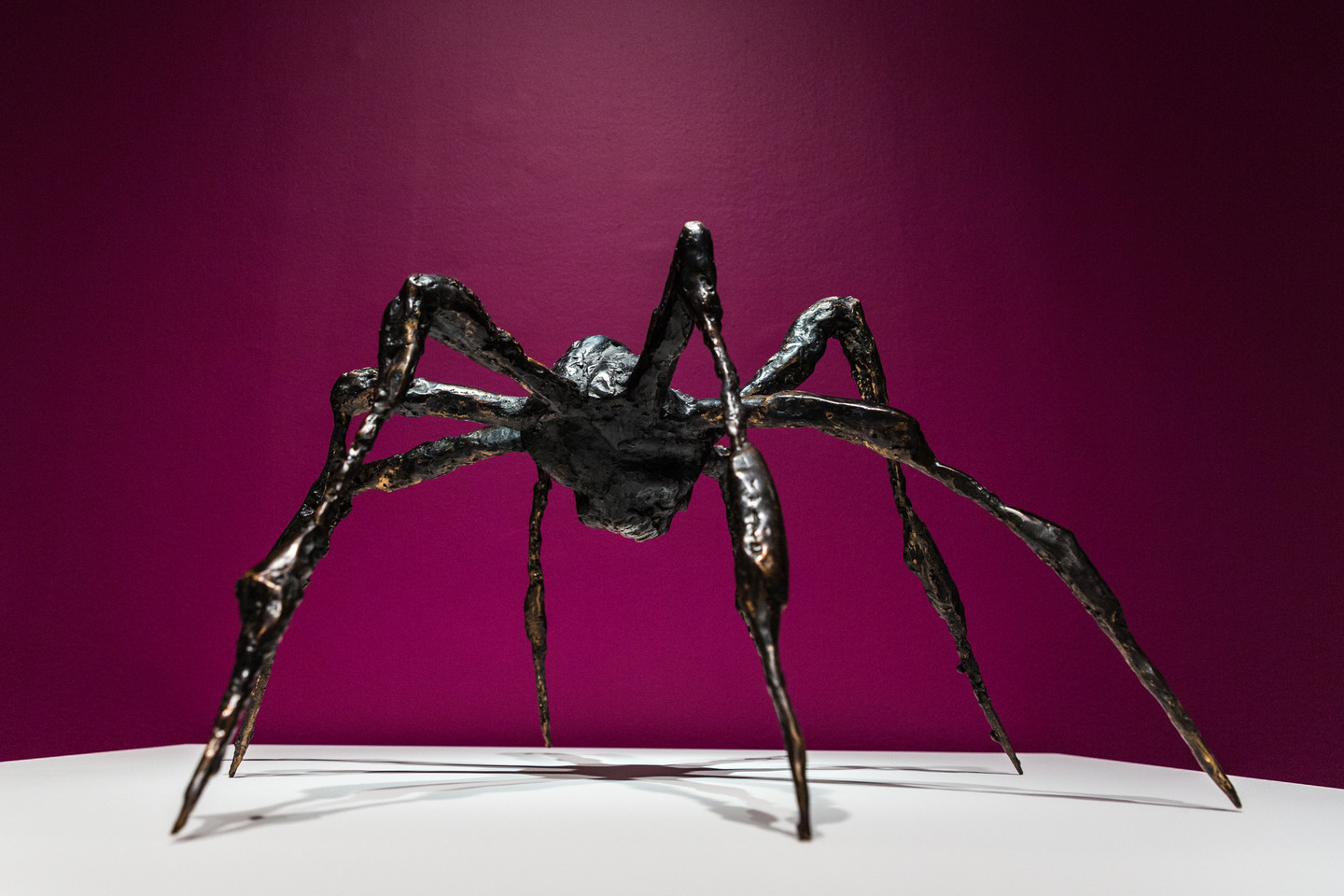 Discussing these sculptures in French prompted an engaging conversation about the significance and cultural context of the artwork. This Language Immersion Conversation Piece offered visitors the opportunity to practice speaking a second language, and also provided a platform for creating new dialogues between works by Francophone women artists.