October 4, 2023
10/4/23
Since 2017, thematic installations of NMWA's collection have mixed and mingled artists across time and place. These innovative groupings—in some cases anchored by a medium, in others by an idea—aim to transform visitors' perceptions of art objects and their creators. Within NMWA's newly renovated building, galleries will continue to reject outdated chronological and gender-based art hierarchies. A joyful and provocative combination of works spanning six continents and six centuries emphasizes the illimitable vision of women artists worldwide.
Fresh Themes
Throughout the third-floor collection galleries, nine thematic categories disrupt conventional ideas about women and nonbinary artists' approaches. Several themes—such as the large-scale sculptures in "Heavyweight" and the creative applications of textile techniques in "Fiber Optics"—highlight artists who upend gendered expectations of those mediums. Others aim to show the work in NMWA's collection in a new light: "Elemental," for example, highlights the work of modern and contemporary artists who view earth, water, fire, and air as creative tools and forces of life, purification, and destruction. For the first time, two themes, "Seeing Red" and "No Shrinking Violet," gather works that share common hues, pointing to the varied emotion and symbolism that artists can express through color.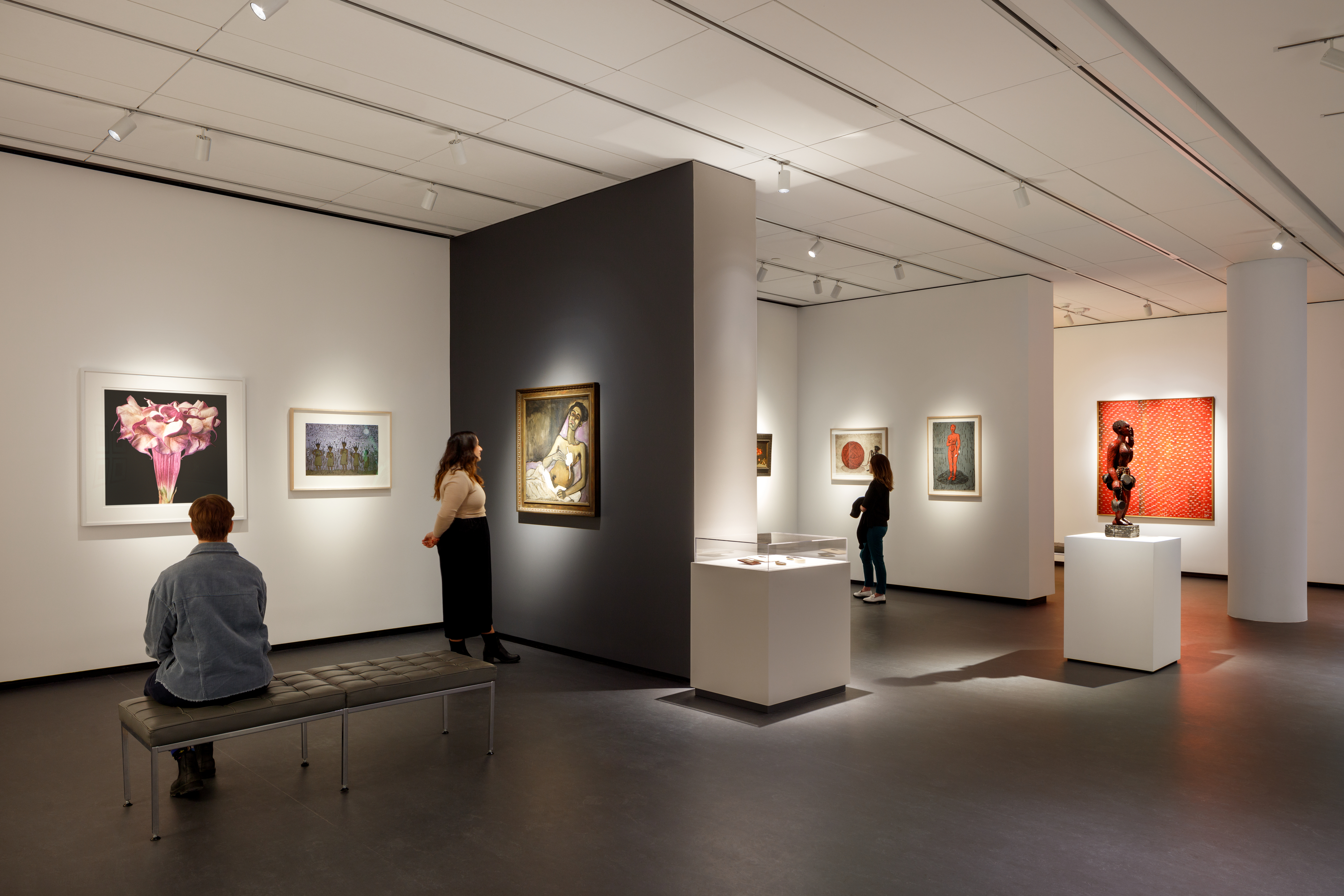 Seeing Red
Red, more than other hues, commands attention. Although specific responses to it reflect personal experiences and cultural influences, red consistently provokes emotional extremes and antithetical associations. Shades of crimson, cherry, ruby, and rose, among others, can seduce or warn, allude to ardent love or impassioned anger, and signify both danger and good fortune. It evokes our life's blood as well as fire, a source of vital warmth and light but also fearsome energy. Artists throughout the centuries have wielded the color red in its many variations for formal, realistic, and symbolic purposes.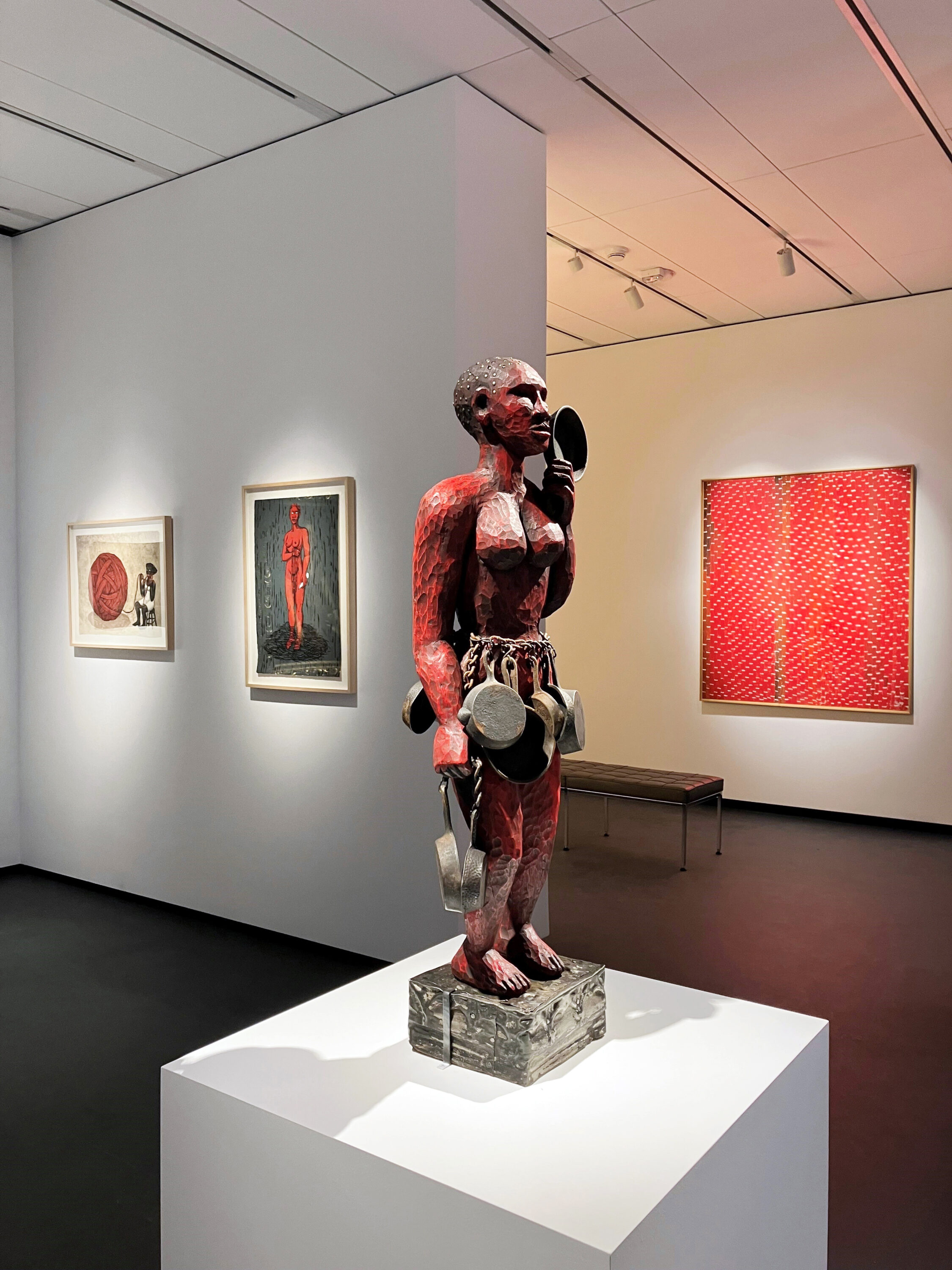 Featured works employ red to illuminate artists' emotional responses and elicit ours. In her sculpture Scorch Song (2022), Alison Saar (b. 1956) presents a carved wood female figure, warrior-like in a skirt of cast-iron skillets and brandishing another as weapon. The sculpture's red hue, alluding to the Yoruba deity of thunder and lightning, heightens her ferocity.
The color serves symbolic purposes, yet also formal ones, as it organizes a composition or creates visual rhythm. In her abstract painting Orion (1973), Alma Woodsey Thomas (1891–1978) used varied shades of crimson and scarlet to express the power required for a rocket to leave the planet's atmosphere. Inspired by the Apollo space missions in the 1960s, her mosaic-like brushwork suggests flickering starlight, while the red palette signifies the heat and energy required to break Earth's gravity.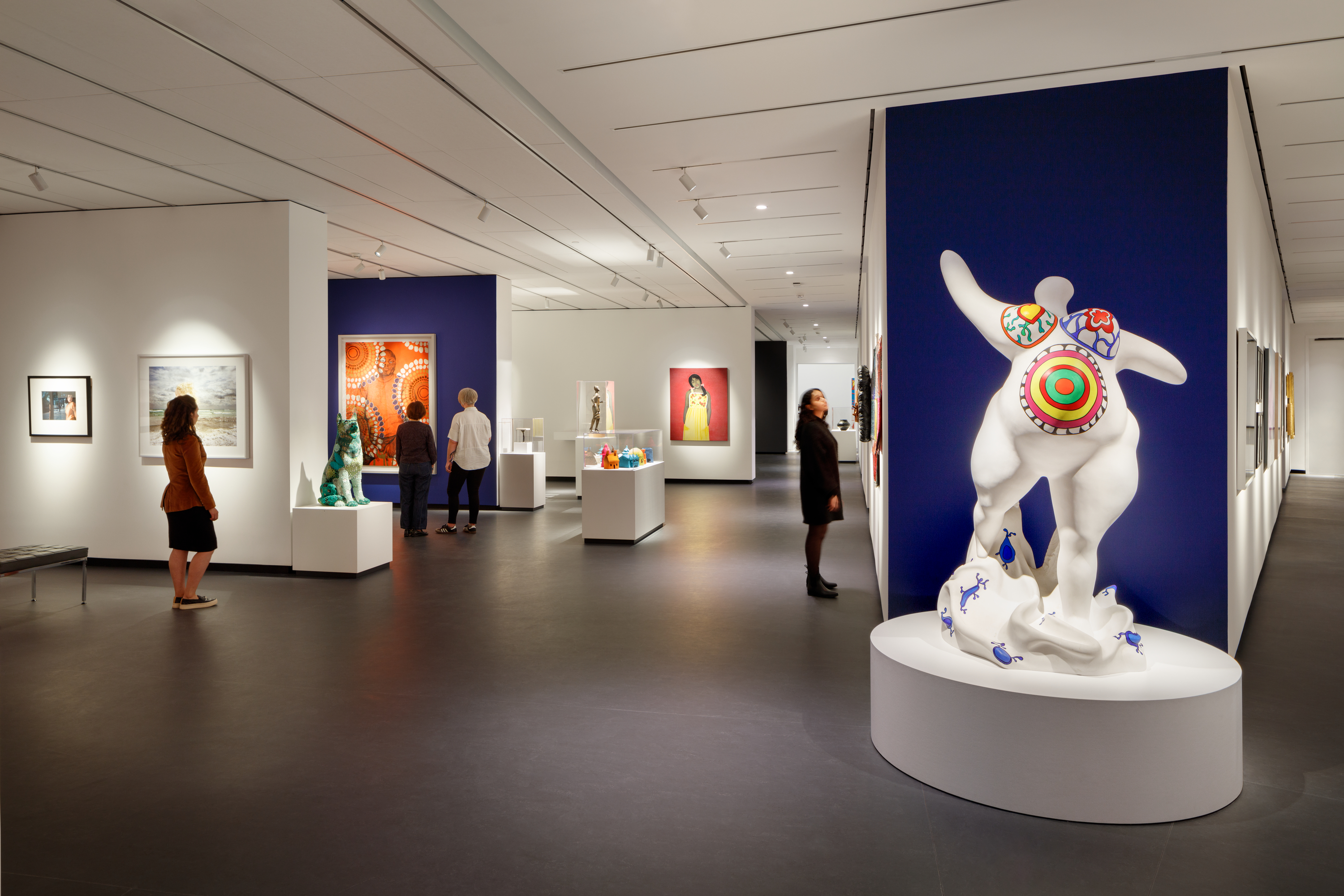 Evoking its long association with love, luck, and life, artists also employ red in works of celebration. Niki de Saint Phalle (1930–2002) communicates a joyful vision of womanhood in Pregnant Nana (1995). Boldly colored patterns adorn the voluptuous breasts, buttocks, and stomach of this "everywoman" who recalls fertility goddess effigies from ancient civilizations. The figure's monumental scale underscores women's empowerment, while her animated pose and expressive gesture exude pleasure and playfulness.
Get Red-y for Our Reopening
NMWA reopens on October 21. Plan your visit and experience the remixed galleries—in all their glorious hues—in person.