March 22, 2011
3/22/11
"Her pictures are of an intimate kind that people like to get near. In fact, at exhibitions they are apt to be hanging crooked as, it is said, people take them down so many times to hold them and look at them."–New York Times, 1922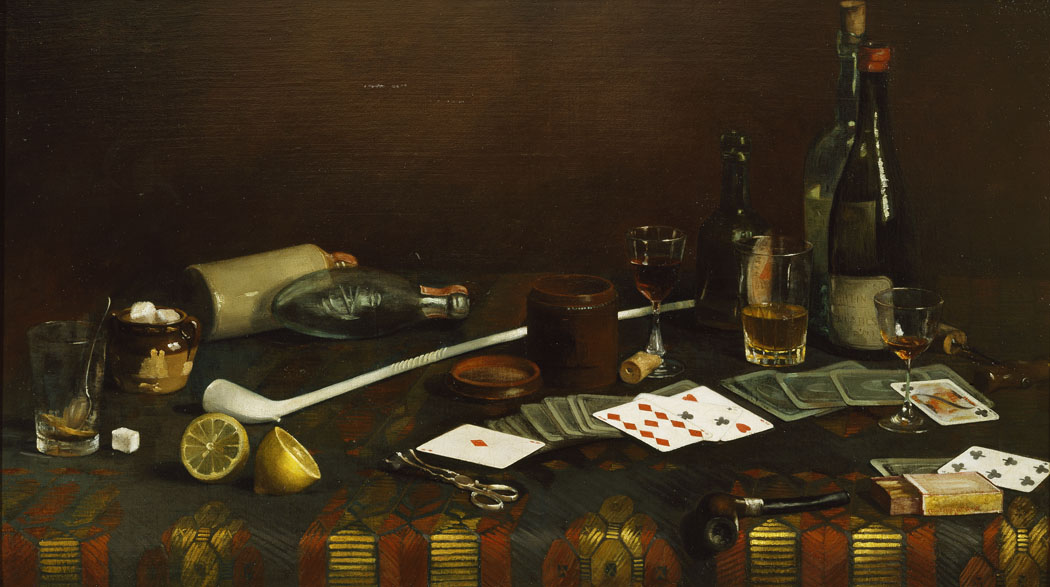 Trompe-l'oeil (literally "tricks the eye") can be applied to more than just the artwork of Claude Raguet Hirst. She changed her name to a masculine variation of Claudine most likely to avoid sexist bias and to have her work be taken seriously. Hirst (1855–1942) also imbued her artworks with proto-feminism; by transforming the typically fragile, transparent "lady watercolorist" genre into stolid, hyper-realistic bachelor still lifes, Hirst contradicted not only gender stereotypes but also the general expectations of watercolor as a medium.
One work that bears taking a closer look is A Gentleman's Table (late 1890s to early 1900s) on view in NMWA's collection galleries. In a piece that was commissioned for a Chicago men's club, Hirst subtly critiques male culture. At first, this painting resembles typical male trompe-l'oeil with pipes, playing cards, and glasses strewn on a rich tapestry. However, true to Hirst's form, there is more beneath the fine modeling and depth of surfaces in the composition. As one examines the painting, the viewer can sense Hirst's disdain, transforming the manly activities into vices. There are several bottles of alcohol with only one bottle still containing liquor and even a cork still attached to a corkscrew to indicate that drinking was most certainly occurring. To the lower left of the painting is a glass with a lemon slice and sugar cubes, typically served with absinthe, which is a potentially lethal liquor once known as the "cocaine" of the nineteenth century.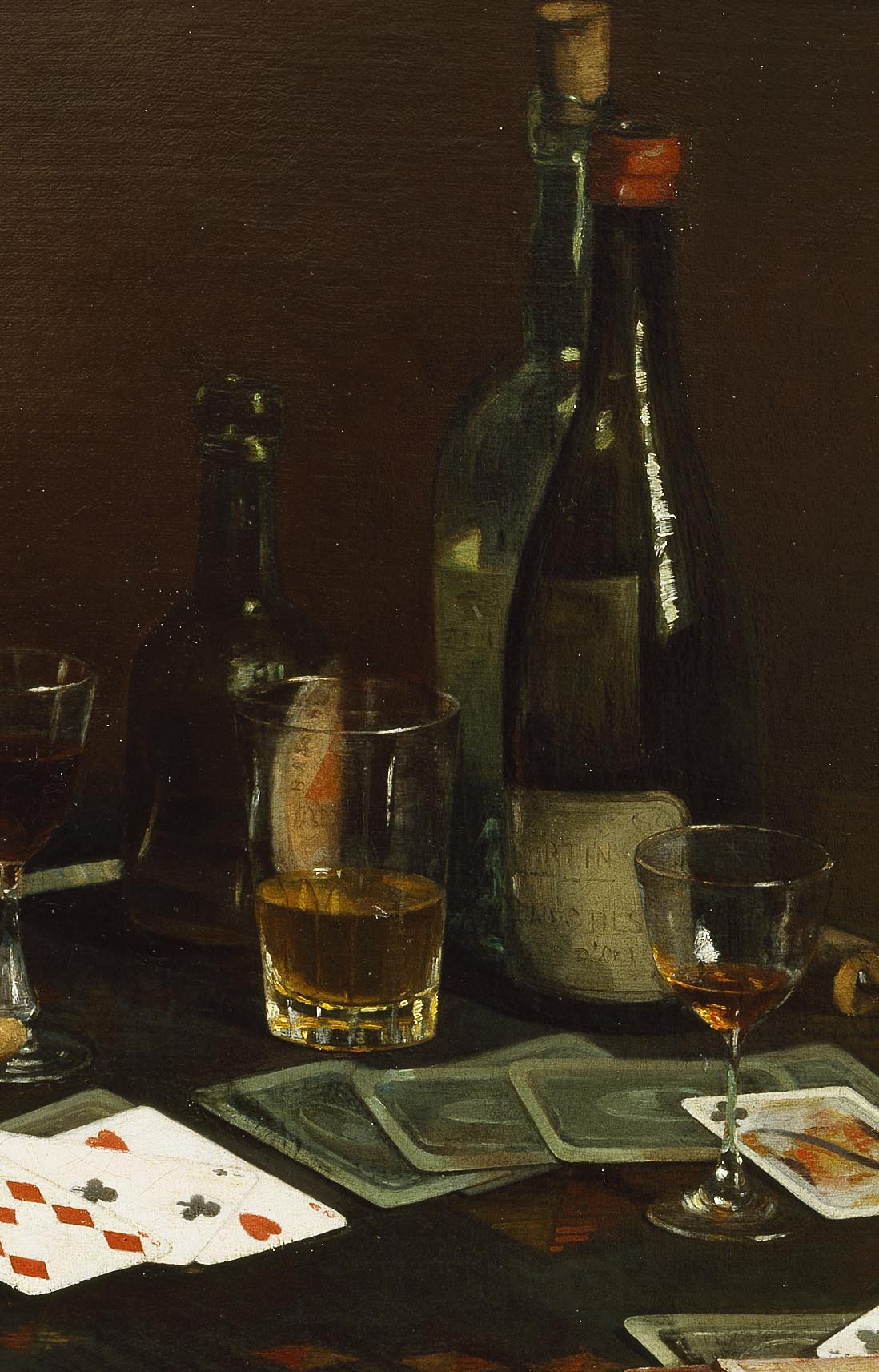 In Hirst's personal life, her family history connects to her disdain for these masculine vices. Not only was her father an alcoholic but her uncle, Henry Beck Hirst, prematurely died, most likely from his absinthe addiction. A Gentleman's Table becomes a larger discourse on late nineteenth-century social ills such as gambling and alcoholism ingrained in male culture. While her male trompe-l'oeil counterparts like William Michael Harnett (1848–1892) focused on more acceptable male leisurely pursuits, Hirst quietly imbues this painting and the institution it was commissioned for with criticism.
Born in Cincinnati, Ohio, Hirst first studied at the University of Cincinnati School of Drawing and Painting, then privately in New York City after she moved there in 1879. She mastered the skill of painting intricate, detailed still lifes and within a few years began exhibiting small flower and fruit works. Ten years into her professional career, Hirst abruptly abandoned her former floral subject matter in favor of the highly illusionist still lifes in trompe l'oeil style.
Another notable innovation was Hirst's inclusion of detailed, recognizable representations of books in her works. Many of these texts were proto-feminist works by early progressive women writers, featuring resourceful, independent heroines living untraditional lives. Hirst's The Bookworm's Table, exhibited in 1901, includes Memoirs of Madame de Remusat by a French aristocrat who wrote daring pieces in support of the education of women. Hirst's meticulous incorporation of books with legible pages and engraved illustrations draws viewers' attention to the writings and beliefs she is thought to have championed as a woman and an artist.
In the 1920s, when Hirst was in her sixties, her exhibited works began to receive widespread acknowledgment in the form of jury prizes and critical acclaim. She lightened her palette and rejected the pipes and masculine accessories from the still lifes twenty years earlier. A work from late in Hirst's career, Ode to Superstition, 1923, features stacked and open books piled on a table, an indication of her ongoing love of literature. She continued to paint and exhibit into her eighties, leaving a legacy of more than one hundred still lifes.
Thirty-five innovative trompe l'oeil paintings and watercolors by Hirst, featuring literary texts on women's concerns, were exhibited at NMWA in 2004. Explore A Gentleman's Table in great detail on the Google Art Project.
Works Cited
Evans, Martha M. "Claude Raguet Hirst (1855–1942)." American Art Review, vol. 16, no. 6, 2004, 78–85.
Evans, Martha M. Claude Raguet Hirst: Transforming the American Still Life. Ohio: Columbus Museum of Art, 2004.