December 17, 2014
12/17/14
Impress your friends with five fast facts about Italian artist Artemisia Gentileschi (Rome, 1593–Naples? 1656), whose work is currently on view at NMWA in Picturing Mary.
1. Wunderkind
Gentileschi completed several of her best-known works, including Madonna and Child (Madonna col Bambino) (1609–1610) and Susanna and the Elders (1610) before her 18th birthday. Check out Madonna and Child at NMWA in Picturing Mary: Woman, Mother, Idea, December 5, 2014–April 12, 2015.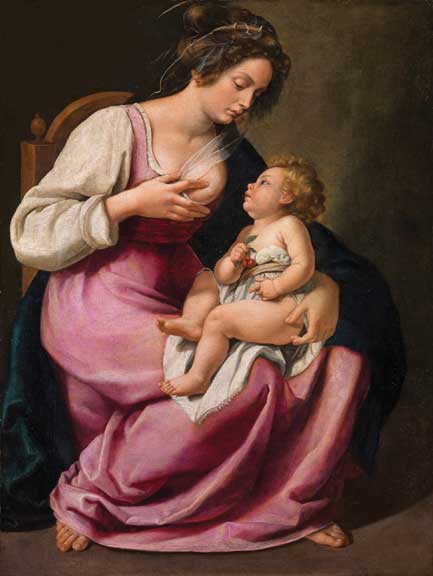 2. Baroque, Not Broke
Considered the only female artist to follow the tenets of Caravaggism (after Caravaggio), Gentileschi skillfully depicted extreme contrast between light and dark in works like Judith and Holofernes. This ability to evoke drama caught the eye of wealthy patrons including King Philip II (Spain) and Charles I (England).
3. Mistaken Identity
Artemisia trained and worked side-by-side with her father, Orazio, in his painting studio. Owing to their similar aesthetic and entwined professional relationship, scholars today disagree on the attributions of many works from the Gentileschi workshop.
4. In the Stars
Gentileschi led a progressive life for a woman of her time by sustaining a career independent of male oversight. Finding a kindred spirit in the unconventional Galileo, she befriended the famed astronomer while living in Florence and maintained their relationship through letter-writing.
5. Wanderlust
Gentileschi lived and worked in Florence, Naples, London, and Rome. Gentileschi's legacy lives on in these cities, all of which are home to works by her hand. Stateside, you can see her paintings at the Metropolitan Museum of Art, Columbus Museum of Art, and Detroit Institute of Arts.