January 19, 2018
1/19/18
Magnetic Fields: Expanding American Abstraction, 1960s to Today places abstract works by multiple generations of black women artists in context with one another—and within the larger history of abstract art—for the first time, revealing the artists' role as under-recognized leaders in abstraction.
Idea Waiting to Be Heard (1984)
By: Betty Blayton (b. 1937, Williamsburg, Virginia; d. 2016, Bronx, New York)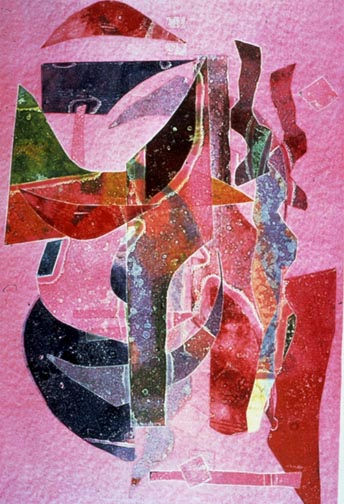 A self-described "Spiritual Impressionist," Betty Blayton created works featuring layered, aqueous colors and elemental forms that invite viewers to reflect. Blayton's monoprint Idea Waiting to Be Heard (1984) exemplifies her exploratory approach to art as well as her interest in color, texture, and form. Magnetic Fields is the first time that this vibrant work, as well as her monoprint Dream Forms #3 (1984), has been exhibited.
Despite growing up in the 1940 and '50s in then-segregated Williamsburg, Virginia, Blayton pursued her passion for art at the encouragement of her parents. Blayton later became a founding member of the Studio Museum in Harlem in 1968 and the Harlem Children's Art Carnival in 1969. The impetus for Idea Waiting to Be Heard came from an art project Blayton often assigned to students at the non-profit art center, instructing them to cut out shapes and ink them.
Although Blayton employed techniques from Abstract Expressionism and Color Field painting, she noted that her work did not grow out of any particular artistic tradition, but rather the feelings generated by her own thoughts. Blayton said, "The intent of my work is [twofold]: The first is personal, because the act of creating artworks allow me opportunities for meditation and self-reflective thoughts related to life's mysteries and the meaning of being and becoming. The second is to hopefully provide my viewers with opportunities to also engage in meditation and self-reflective thought."
Visit the museum and explore Magnetic Fields, on view through January 21, 2018. Learn more through the Magnetic Fields Mobile Guide.