November 29, 2017
11/29/17
Magnetic Fields: Expanding American Abstraction, 1960s to Today places abstract works by multiple generations of black women artists in context with one another—and within the larger history of abstract art—for the first time, revealing the artists' role as under-recognized leaders in abstraction.
Bale Variant No. 0017 (2009)
By: Shinique Smith (b. 1971, Baltimore, Maryland)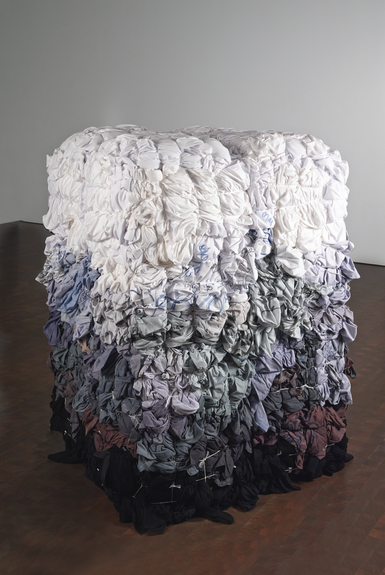 Shinique Smith's Bale Variant No. 0017 is comprised entirely of found material; the massive installation involves more than 110 cubic feet of bundled fabric—mostly clothing—arranged in a white-to-blue gradient. Consequently, the density, scale, and weight of the piece all speak to Smith's fascination with the ever-increasing velocity of American consumption. Bale Variant No. 0017, with its murky color scheme and battered textiles, conjures images of ocean debris and landfill compaction. Despite the almost overwhelming amount of content in the work, however, Smith's roots in minimalism are evident in her dedication to clean, even shapes.
Bale Variant No. 0017 equalizes the personal narrative in each piece of found material. In treating both well-loved and long-forgotten articles of clothing with the same detachment, Smith assigns these fabrics a new sense of connection that questions the foundation of their original value. Additionally, there are personal notations from Smith and her friends hidden inside the folds of the clothing, further emphasizing the many contradicting perspectives contained within the bale—and, by association, within the act of consuming and discarding.

Like Bale Variant No. 0017, another work by Smith in Magnetic Fields, Whirlwind Dancer (2013–17), is both massive and densely layered. However, Whirlwind Dancer contains a distinct sense of motion that Bale Variant No. 0017 lacks. As the title suggests, Whirlwind Dancer's climbing lines, twisting colors, and nebulous form create a cyclone of ink, acrylic, paper, fabric, and wood.
Smith's attraction to collage, as a medium, lies in what she calls a "hybrid" nature. "The more hybrid something is, the stronger it is—think about DNA, in that sense—that really stuck with me. I feel like the more things can be brought into the mix and combined together, the stronger it can be visually, and the more interesting it is as a problem for me to solve."
Visit the museum and explore Magnetic Fields, on view through January 21, 2018. Learn more through the Magnetic Fields Mobile Guide.