January 10, 2018
1/10/18
Magnetic Fields: Expanding American Abstraction, 1960s to Today places abstract works by multiple generations of black women artists in context with one another—and within the larger history of abstract art—for the first time, revealing the artists' role as under-recognized leaders in abstraction.
Sunset (1997)
By: Evangeline "EJ" Montgomery (b. 1933, New York, New York)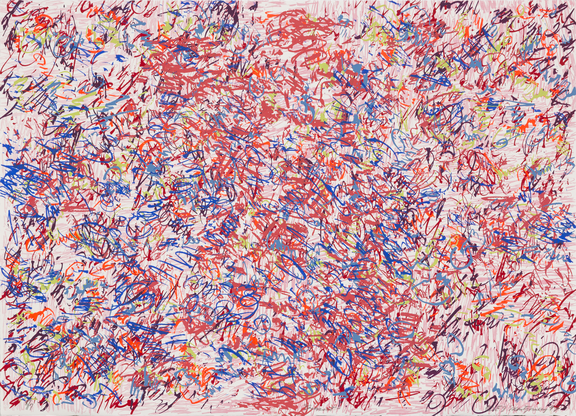 Both of Evangeline "EJ" Montgomery's works in Magnetic Fields represent and explore memory. While Sunset (1997) captures the burning redwoods in the mountains of California, Sea Grass (1998) depicts the kelp groves and coral reefs surrounding the Catalina Islands—reputedly a favorite cliff-face of California skin divers. To Montgomery, these pieces are "abstractions of life experiences and cultural connections," flash imprints that blend observation, dialogue, and emotion. Montgomery considers the marks and characters in Sunset and Sea Grass to be a form of universal communication; their content speaks to shared human experience.
Montgomery was diagnosed with Parkinson's disease in 1994, which prevented her from continuing to work in metal as she had in the past. The artist shifted her focus to etching, lithography, and monoprint. Sunset and Sea Grass are both offset lithographs; they involved transferring an image onto an intermediate surface before printing it onto a final sheet. The practice behind Sunset and Sea Grass also affects Montgomery's presentation of memory—as if in contemplation of the past, each piece is mirrored twice, appearing on the final sheet the same way it was originally etched.

In addition to being an accomplished artist, Montgomery is also an independent curator. Since 1967, Montgomery has organized more than 150 exhibitions in museums, university galleries, and art centers. Montgomery moved to Washington, D.C., in 1980. Three years later she pursued a career with the United States Department of State as a program development officer for the Arts America Program at the United States Information Agency (USIA), specializing in American exhibitions touring abroad. Through her efforts, she implemented successful fine arts programs domestically and abroad. In 2005, Blacks In Government (BIG) established the Evangeline J. Montgomery Scholarship Program, a fund for artists who are interested in working with the government to promote the arts.
Visit the museum and explore Magnetic Fields, on view through January 21, 2018. Learn more through the Magnetic Fields Mobile Guide.