July 9, 2013
7/9/13
"I didn't want people to be able to look, and look away, because a lot of people do that with art. . . . I want them to look and see. I want to grab their eyes and hold them, because this is America."
—Faith Ringgold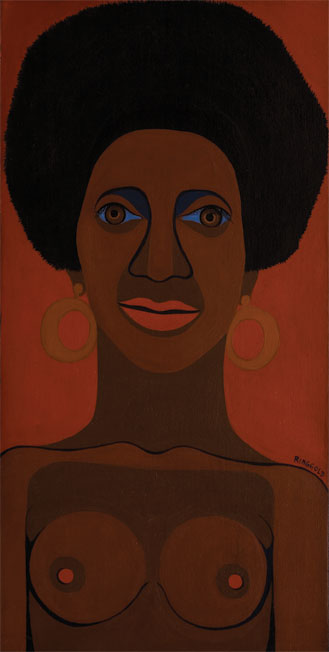 Faith Ringgold—forthright about demanding viewers' attention—made this statement in regard to her controversial "American People" series, which often depicted violent and uneasy interactions, but it applies to her innovative "Black Light" series as well.
Through this series, produced from 1967 to 1971, Ringgold embraced and elevated the notion that "black is beautiful." Especially in a work like Black Light Series #3: Soul Sister, Ringgold rejects a standard of beauty determined by white culture, celebrating the features that make this bold female figure visually stunning.
Unlike many of the abstracted, almost mask-like faces that appear in the series, Soul Sister presents a realistic representation of a figure. The woman's natural hairstyle and gold hoop earrings represent popular trends in the black community in the 1960s, and Ringgold uses them to exalt a distinctly African American style as beautiful. The long vertical canvas emphasizes the statuesque confidence of the bare-breasted woman.
In her "Black Light" works, Ringgold focused on depicting the subtle tonal range of African American skin, a skill she was never taught in art school. In creating the varying shades, the artist blended colors specifically without the use of white paint. Even for this single figure, Ringgold crafted several different shades of skin tones, which vary at least three times in the distance from her breasts to her face.
In her portrait of a contemporary black woman, Ringgold celebrates the power of her identity as both an African American and a woman. In other "Black Light" paintings, the artist presents gradations of skin tones or mask-like works that incorporate influences from African art. In this piece, however, the lone figure stands simply and proudly, reflecting Faith Ringgold's vision of a broader definition of beauty and a more inclusive future.