July 10, 2017
7/10/17
In celebration of NMWA's 30th anniversary, and inspired by the museum's focus on contemporary women artists as catalysts for change, Revival illuminates how women working in sculpture, photography, and video use spectacle and scale for expressive effect.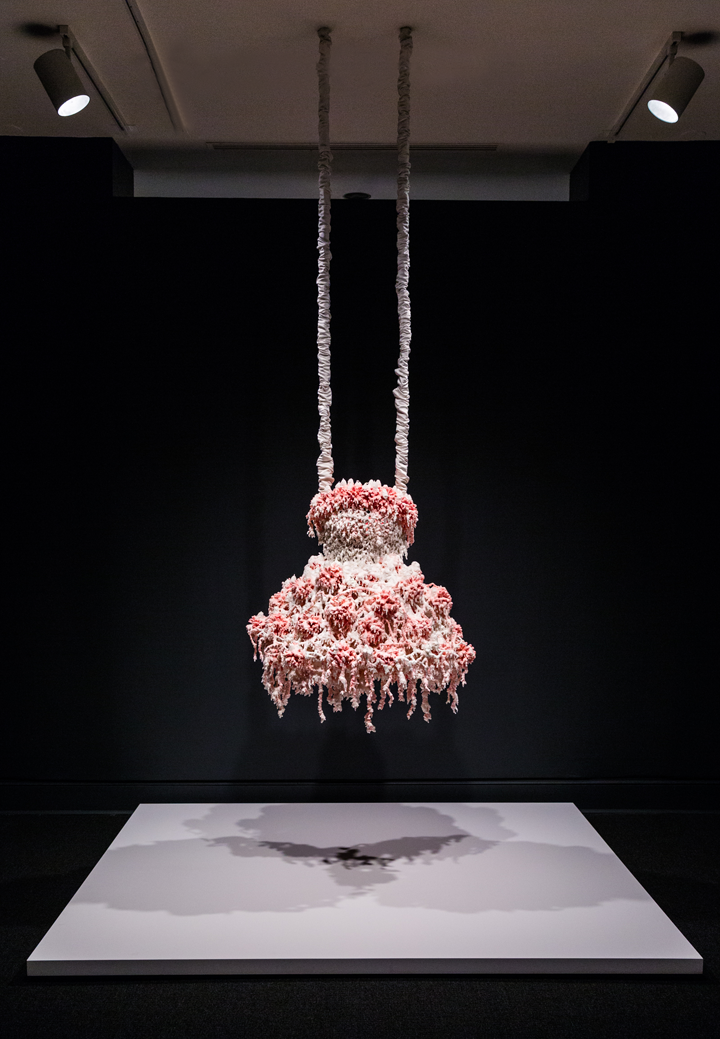 Petah Coyne (b. 1953, Oklahoma City)
Called the "queen of mixed media," Petah Coyne creates attention-grabbing sculptural works and photographs. Examples of both are on view in Revival. Her sculptures incorporate unusual materials like wax, sand, silk flowers, and taxidermy animals. Coyne's massive forms are often seen suspended from the ceiling or snaking up gallery walls. She breathes new life into objects that may not otherwise be used, and incorporates obscured forms of the human body. Coyne spends years with each piece, and her creative process is as mysterious to her as the works themselves appear to viewers.
The Artist's Voice:
"When material seems devoid of life, of possibility, I want even more to make something of it. I have an obsessive attraction to these kinds of materials. They are functionless yet carry all sorts of associations and memories."—Petah Coyne, interview with Carrie Pryzbilla
"All of my pieces seem fragile. But that is deceiving, because they're all begun with steel understructures. Yet I want each one to look incredibly delicate and to have that feminine sense of appearing soft and seductive. But as any number of women have shown, we have an internal strength and drive that is hard to fathom."—Petah Coyne, interview in Sculpture Magazine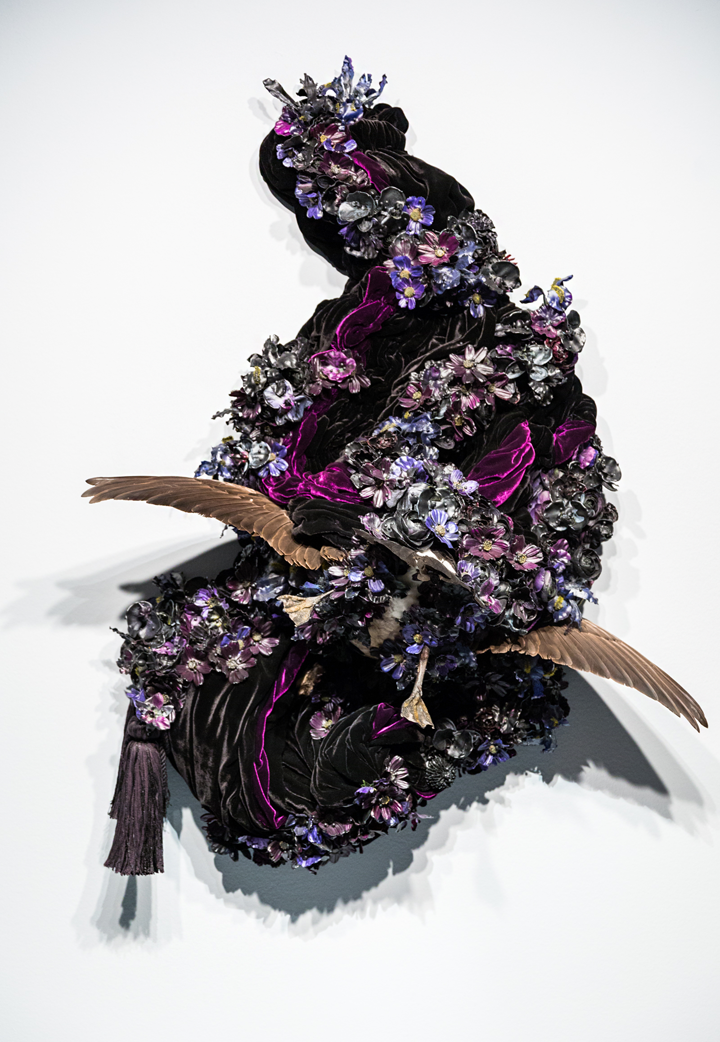 Revival Highlight:
Revival features sculptural and photographic work by Coyne that can evoke a range of emotions. Her photograph Untitled #885 (Saucer Baby) (1997) evokes feelings of playfulness, like the child in the pool, but also has a haunting quality. The intrigue and extravagance of the layers of wax and other media in her large-scale works Untitled #1287 (Tati) (2009) and Untitled #781 (1994) jog memories and form new associations in the viewer's mind.
Untitled #1287 (Tati) features a taxidermy goose diving into a swirl of deep purple velvet and wax-dipped silk flowers. Coyne's use of a stuffed bird and fake flowers recall associations with the past-life of "dead" objects. Lush and dramatic, Coyne's work presents a spectacle that grabs and holds the viewer's gaze.
Visit the museum and explore Revival, on view through September 10, 2017.
—Meghan Masius was the spring 2017 publications and communications/marketing intern at the National Museum of Women in the Arts.